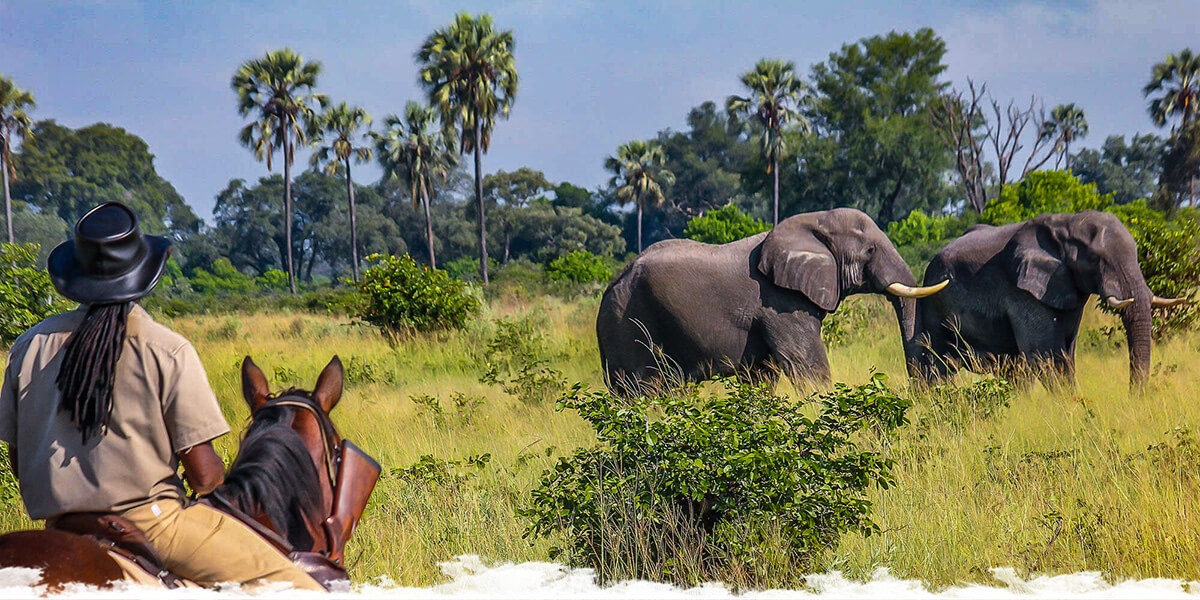 Getting ready for an African horse safari!
Booking and preparing for your horseback safari is probably about as exciting as actually going on safari! In this blog post, Equus team members Iris and Louise give their top tips to help make your preparations as smooth as possible.
1. Choose and book the right riding safari for you

Nothing beats the excitement of being face to face with an elephant or the tranquility of watching a herd of grazing zebra in the distance. If an African horse safari has long been on your bucket list, we will be delighted to help you – we have been on safari ourselves and love nothing more than sharing this very special experience with our guests. The first, very important question is: what sort of wildlife do you want to see? Safaris where you might encounter elephant, lion or buffalo are only for experienced riders. We also offer safaris in areas where there is no dangerous game and they are suitable for riders of all levels and young children too.
This blog post
will help you understand what sort of wildlife can be seen on each safari.
Another question is: how adventurous do you want this to be? Riders looking for a very adventurous experience might prefer a mobile safari. Those after a more relaxed holiday should probably opt for a centre-based holiday. A little more on that very subject…

On a mobile riding safari you move on each day and spend your nights at a different campsite. You keep your same horse for the week and departure dates are usually fixed. Ideal for adventurous riders who want to sleep under canvas or ride in completely different areas each day.


On a static riding safari (or "centre-based" safari), you ride out each day in a different direction, returning to the same camp or lodge every evening. You may ride a number of different horses during your stay and arrival/departure days are usually flexible. Ideal for non-riders as well who can view game from safari vehicles.

If you are planning on bringing your family or friends with you, please contact us and we will help you find the most suitable rides – we can offer special children rates or group discounts on most safaris, so please make sure to ask!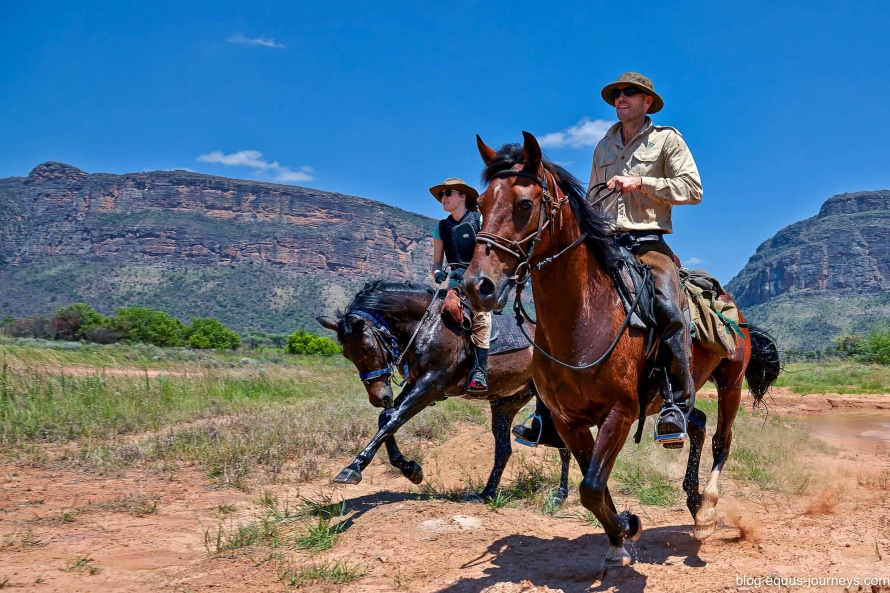 2. Book insurance that is valid for a horse safari

We require all our riders to take out a travel insurance policy that covers medical expenses and repatriation to your home country. You should be mindful of the conditions of your usual policy: do they cover riding? If they do, does that include riding with wildlife? Will you be covered if you choose not to wear a helmet? This should be the first thing you do after booking your holiday and we cannot emphasize enough just how important this is. A good insurance policy might reimburse the cost of your holiday if you need to cancel, will help cover your expenses in case of a delayed or cancelled flight, and most importantly, will take care of your medical bills if you need medical assistance during your trip.

Some credit card companies will act as travel insurance if you have used your card to pay for your holiday. Make sure to check conditions with your bank before taking on another policy – there is no point in being over insured.

Note: in remote locations in Tanzania and Kenya, most safaris include a "Flying Doctor Membership", providing medical evacuation services from the bush to the capital. If you're unsure, please contact us.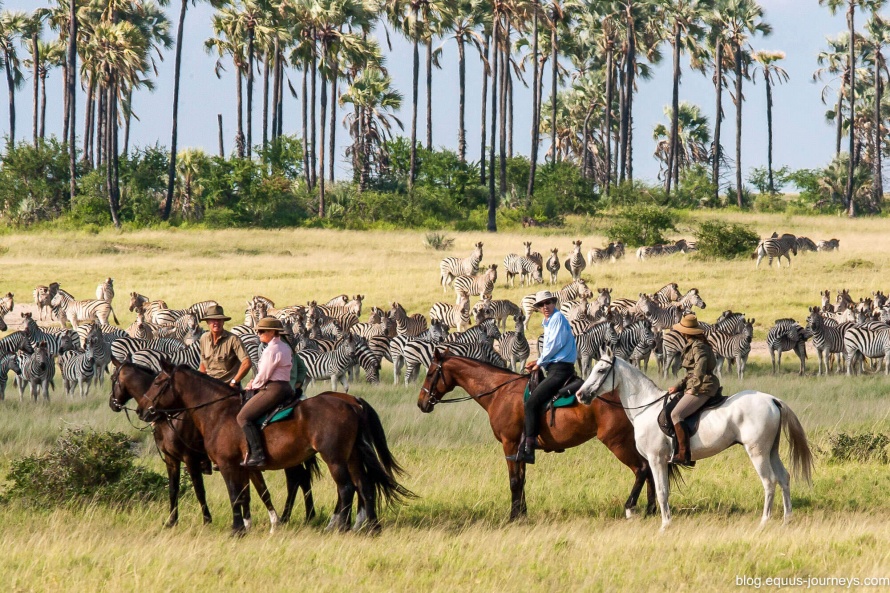 3. Check entry requirements, visas and vaccinations

Travelling to Africa requires a certain amount of research. Visas might be required and you may need specific vaccines or medication. Make sure that you research this before you go. We will help you understand what documentation is required for each ride.

Some countries require you to organise a pre-arrival visa, like Kenya. Others like Zimbabwe allow you to get your visa on arrival. Namibia, South Africa, or Botswana, for instance, do not require a visa for most nationalities unless you are planning on extending your trip to more than 3 months. We are here to help and will point you in the right direction, using resources such as the UK foreign travel advice (
https://www.gov.uk/foreign-travel-advice
) or US travel advisory (
https://travel.state.gov/content/travel/en/traveladvisories/traveladvisories.html/
). Ultimately, it is your responsibility to get your paperwork in order and we cannot fill in any applications on your behalf. Oh, and another thing: make sure your passport is still valid!
We recommend that you ideally arrange an appointment with your GP a couple of months before travel. Before travelling to Africa, you should be up to date with routine vaccination courses and boosters as recommended in your home country. For most countries, it is recommended that you get vaccinated against Hepatitis A, Tetanus and Typhoid. Other vaccinations can be recommended on a case per case basis, but against, your doctor is the best person to ask.

Malaria is prevalent in many African countries, and especially between November to April (the wet season in many African countries). If you are considering a safari in a high-risk area, such as the
Okavango Delta,
this is definitely something to keep in mind. Did you know? The Waterberg mountains in northern South Africa is a malaria-free area, and we have some pretty fabulous safaris there! This is especially great for families with younger children and those who prefer to avoid antimalarial medication. If you are unsure, contact an Equus advisor and we will be happy to help, or check this website:
https://travelhealthpro.org.uk/
– a very helpful resource!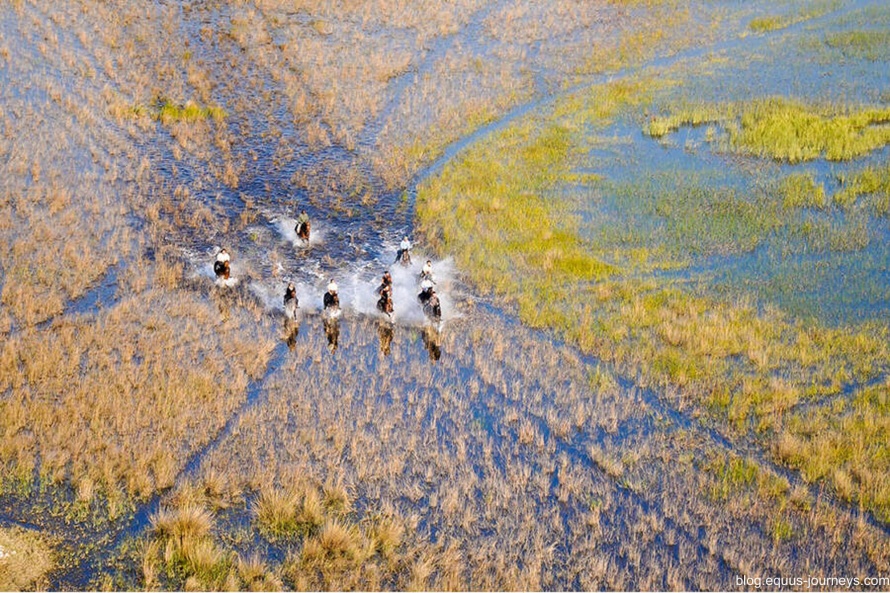 4. Getting fit before your riding safari

You don't need to be super fit to enjoy a safari or horseback holiday, and we welcome riders of all ages and abilities on our rides. Centre-based safaris do not require you to be in tip-top shape as the riding is very flexible. Mobile riding safaris can be however a little more demanding and require better levels of fitness to cope with long hours in the saddle. If you ride regularly, this shouldn't be a problem. There are lots of things you can do at home to build stamina or get stronger. Pilates or yoga will help strengthen your core. You can also go on long walks, run, go swimming or cycling.

"Some of the riding stages on a mobile safari can be long. On the Tuli Trail, I remember one day in particular that was rather hot. We got up at the crack of dawn and had been riding for 7 hours before we finally reached camp, as we had to take the long route around a particularly large herd of eles. All those pre-safari runs and extra riding really paid off – it was a physically demanding day. I was mighty glad to be welcomed to camp with warm towels and ice cold drinks… It felt heavenly" - Iris

"I can't recommend cross training enough, core strength in particular: the fitter you are the easier and more fun the trip will be :)" - Louise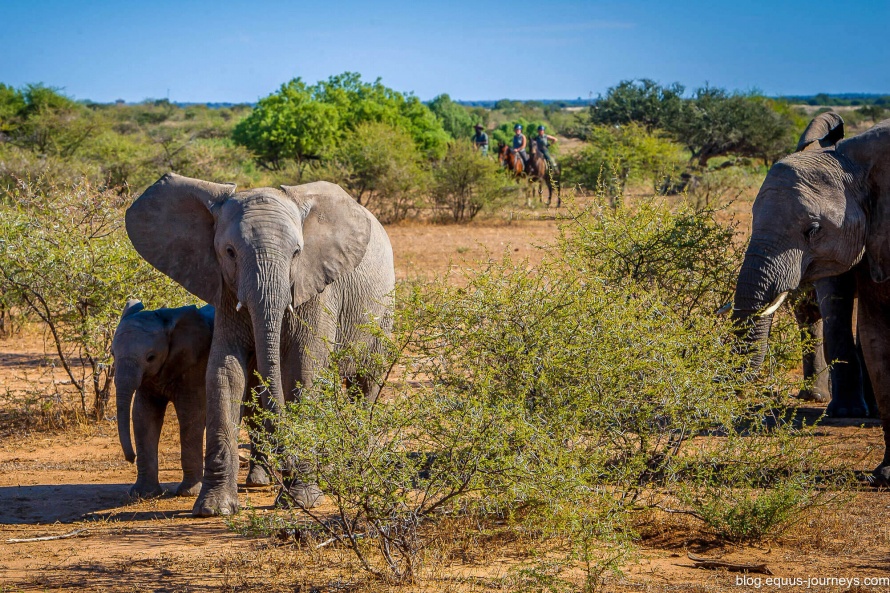 5. Do your research

Learn about the country, the wildlife, the culture. Your guides have a wealth of knowledge when it comes to the flora and fauna. You will learn about ecosystems that you might have never encountered before. The bush is a fascinating, alien new world that is waiting to be explored. You might want to read up on the wildlife and plants you might encounter to get a head start!

Africa is steeped in fascinating history and culture. You can learn about the Maasai culture in Kenya or Tanzania, the Himbas of Namibia, the Oromo tribes of Ethiopia… Each country has its own customs, and they differ throughout Africa and everywhere else in the world. Make sure you understand these before making a cultural faux-pas!

"I love reading! I would be delighted to recommend some books, fiction and non-fiction for before or during your ride. It's lovely to have a good book for the siesta hour. Definitely a must bring." – Louise.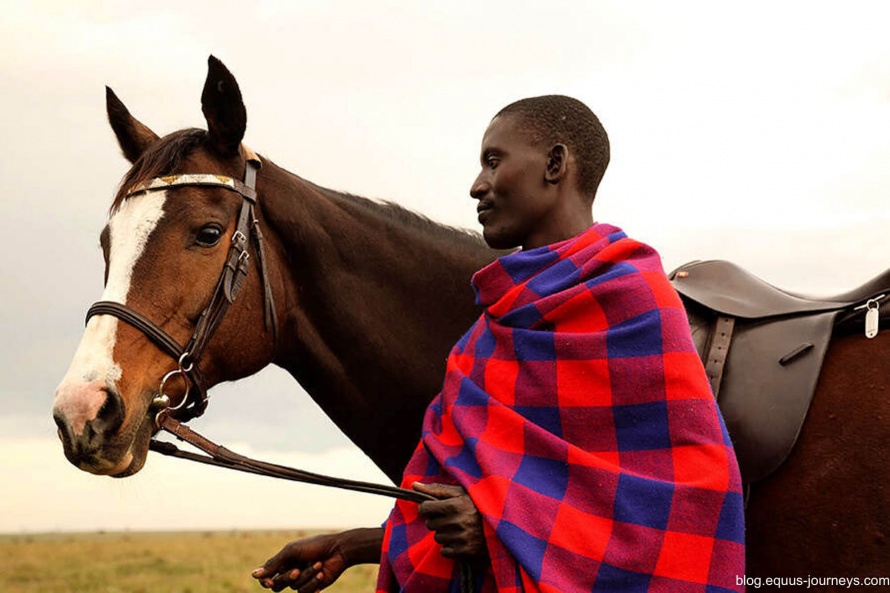 6. Packing for your riding safari

Clothes - Wherever possible you should wear neutral colours, such as beige, brown or natural bush colours for riding. Bright colours, such as red, yellow or white can startle the wildlife and they will see you long before you've seen them. In the evenings, long sleeves and light trousers are recommended to avoid mosquito bites, especially if you ride in an area where malaria is prevalent. It's also a good idea to bring some kind of deet-based spray, although this is available at most camps for guests to use.

"Although the African winters (June-September) are normally cool and dry, the summers can be hot and humid. Don't forget to pack a light rain jacket too – yes, even in Africa! When I was at Ant's Lodges in March, we had beautiful clear weather for most of my stay, and then one day the skies opened. That night we were treated to a dramatic thunderstorm. A pretty spectacular sight, but the rain persisted and we got soaking wet the next day" - Iris

Boots - We recommend short boots with half chaps. We don't recommend taking your favourite long leather boots in case they get damaged. If riding in the Okavango, during the flood season you may wish to take a second pair so that you aren't putting wet boots on – it's worth looking into getting a pair of mesh chaps that will dry more quickly.

Water bottle – these are provided on some safaris but you can bring yours.

"I love having a bum bag for these trips. It's easier to access than a saddle bag and small enough that it won't bother you when you canter. Perfect for a small camera/phone/sunblock/sunglasses…" - Louise

Luggage - Please don't take a hard sided suitcase. Your luggage should be soft sided, particularly for light air transfers. If your camp is remote or if there is a small aircraft transfer to reach the start of the safari, there is usually a luggage limit of 20kgs including hand luggage.

Others - Bring your camera/helmet cam and spare batteries! On certain safaris, you will have no or limited access to electricity and recharging batteries can be challenging. Or perhaps you might want to consider bringing a solar pack. You can also pack a pair of binoculars.

Be eco-friendly
– a horseback safari is an extraordinary, "leave no trace" way to watch wildlife. You can make your trip even more eco-friendly by going the extra mile. You can make sure to pack light, choose an airline using renewable biofuels, and use biodegradable shampoos and soaps. For more sustainable practices, make sure to read
our blog on sustainable travel.
We recommend travelling in your riding boots and carrying your hat and some riding clothes, as well as essential paperwork/documentation in your hand luggage - then if your luggage goes astray you still have everything you need.

"Remember to pack a journal! It's really fun to be able to remember names, places after you a back home! You will often meet other guests who have been on the same horse safaris and it's fun to compare notes…" - Louise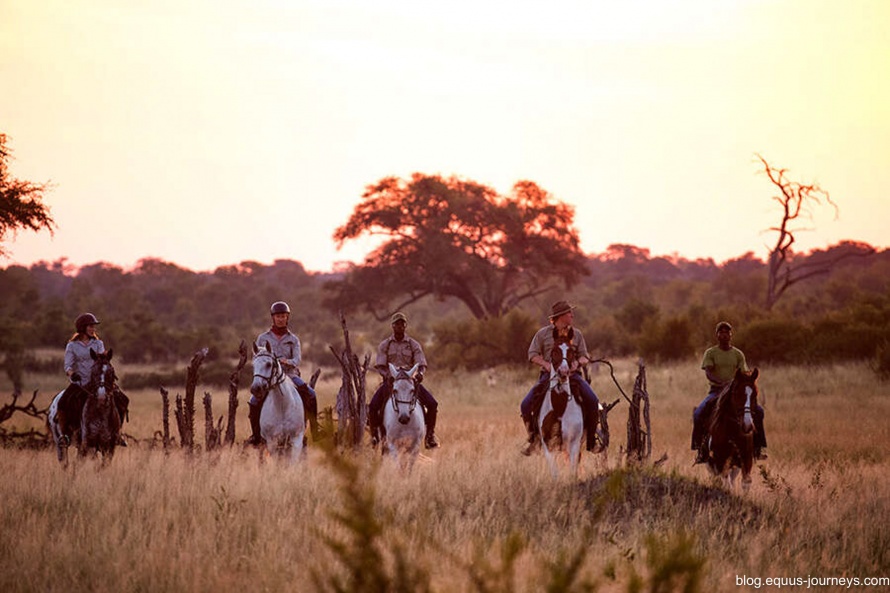 7. Enjoy the ride!

You're going on a horse safari… You're in for a treat! This is undoubtedly one of the most exhilarating horseback experiences you'll ever get to do, so enjoy every minute of it. And don't forget to tag us on all of your fabulous Instagram and Facebook photos. We look forward to seeing them :)

"I've been lucky enough to go on many trail rides, ranch trips, and dressage/x-country holidays with Equus Journeys. But my African safaris hold a very special place in my heart – Africa really does get under your skin. From cantering alongside a herd of wildebeest to quietly watching a family of elephants around a waterhole, or enjoying sundowners in the most incredible locations, those are memories that will stay with me forever" - Iris

"Yes! If you want to be a part of the African savannah then ride a horse, if you wish to be an observer then ride in a jeep :) Horse safaris are a truly authentic way of experiencing the bush" - Louise

More information

You may also enjoy reading: