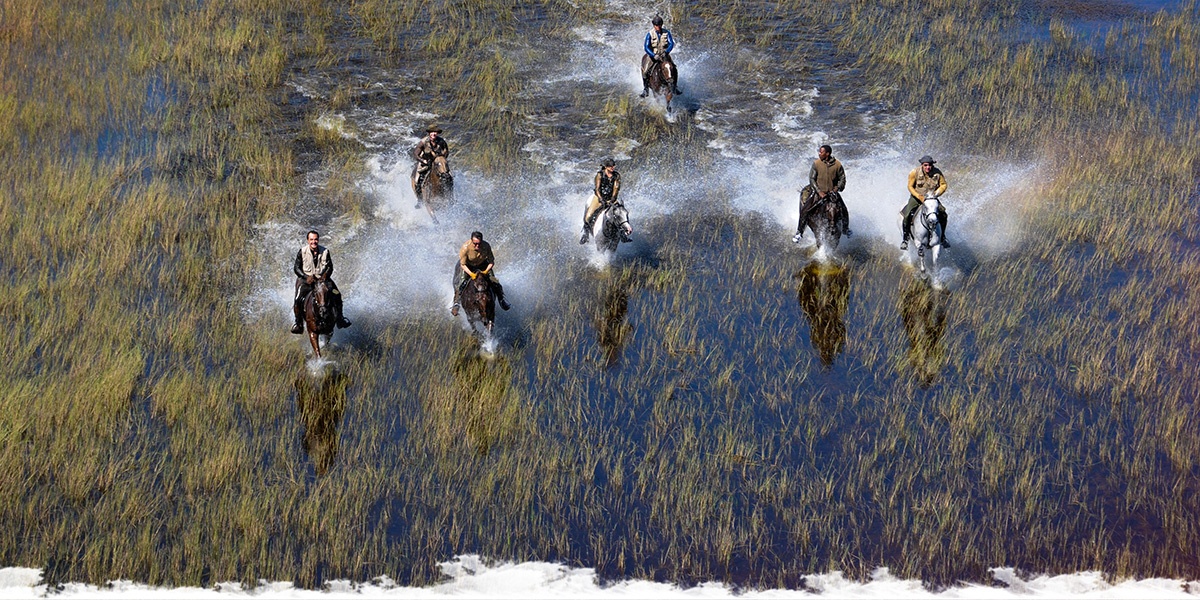 Choosing the right Okavango Delta safari in Botswana

A riding safari in the Okavango Delta is one of the ultimate horseback experiences and is on many a rider's bucket list. There are quite a few options available and many riders do not really know where to start! We hope that this little guide will help you understand how each of our horseback safaris in the Okavango is unique and special in its own way. Of course, if you are still not sure which is the right option for you, then best give us a call - our advisors are always happy to help.
The Okavango Delta, the pearl of Botswana

The Okavango Delta is one of the world's largest inland Deltas and one of Africa's prime wildlife watching location. This 15,000km2 wetland and wildlife haven is located deep within the Kalahari Desert: every year, usually come April/May, waters coming from Angola in the north of Botswana flood into the Delta, swelling it to three times its permanent size. The Delta is also a very flat area, with endless expanses of land and nothing to block the horizon. Ideal for faster riding! The Delta was named one of the Seven Natural Wonders of Africa in 2013. The following year, it officially became the 1000th site to be inscribed on the UNESCO world heritage list. All of the Big Five (elephant, rhino, buffalo, lion and leopard) are present in the Okavango Delta, and there are also plenty of opportunities to see an abundance of plains game – but this is a vast area and you never really know what you may see on a horseback safari.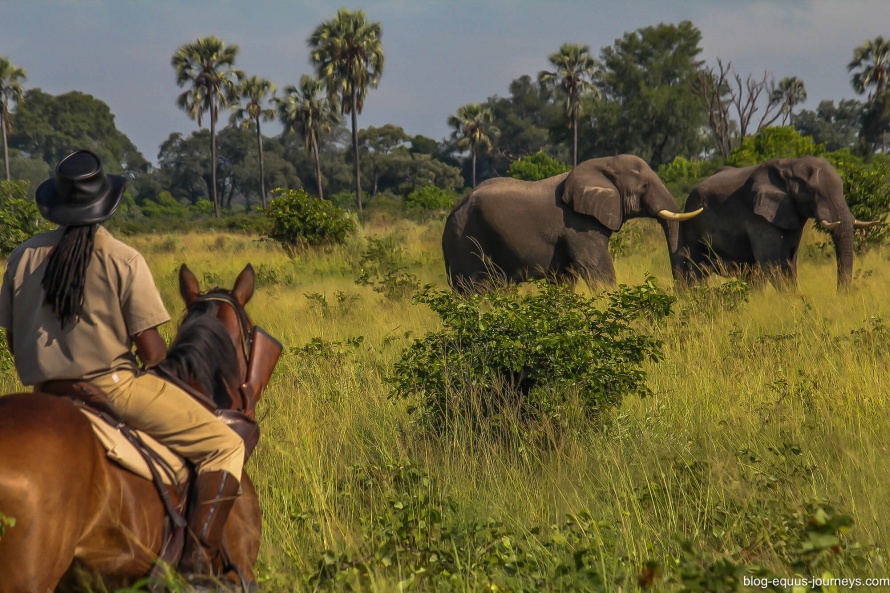 Is this for me?

Due to the presence of big game, riding safaris in the Delta are reserved to experienced riders, who are comfortable at all paces and able to handle a horse in open spaces. You should be secure in the saddle and able to stay on if the unexpected happens or if you need to make a swift exit. That being said, horses on these safaris are extremely well-trained: they are used to the wildlife and quite sensible around the game. Our safaris in the Okavango Delta are always accompanied by a qualified, experienced lead guide, as well as a back-up guide for maximum safety. On most safaris, non-riders or inexperienced riders will be offered other activities, such as game drives, walking or mokoro safaris, fishing, etc. So there are no excuses not to bring your loved ones with you, even if they do not ride! If you aren't a very strong rider yet but still want to experience the thrills of a riding safari, or would like to bring younger children, please contact us so we can discuss options for you.

When to go?

The Okavango Delta is a seasonal floodplain and so different times of the year offer different experiences - each magical in its own way. Remember that the seasons in southern Africa are the reverse of the UK! The water level in the Delta depends on the rainfall in Angola and the floods usually arrive around April/May and recede around September/October, but this varies every year and is difficult to predict. June, July and August are always very popular months but the Delta can be enjoyed pretty much all year-round, depending on the type of riding you are after, and on how well you can cope with the heat... It does get pretty hot and humid during the African summer (so, if you are following, during our European winters!). The following guide may prove useful when planning the best time for your holiday.

March/April: Daytime temperatures are warm/hot (25-35c) and will drop to 10-20c at night. There is a small chance of rain and the bush is green and lush. There will be waterholes left over from the rainy season but the flood may not have arrived yet. Because of the rain, lush grazing and plentiful waterholes, the game is dispersed and not gathered in big herd but will look fat and healthy.

May: Daytime temperatures are falling (20-30c) and it is starting to feel cooler at night (5-10c). The floods normally arrive in May which brings high levels of bird life. The large herds of lechwe antelope and buffalo will start to move into the area, but game is still dispersed as there is plenty to eat and drink.

June-August: Daytime temperatures are still pleasant (20-25c) but nights are cold (3-5c) and so the early morning and late evenings are chilly. The floods are at their highest and so there is plenty of wading from island to island and boat activities. Hippo and crocodile may move into the area as well as large buffalo and antelope herds. This is a great time to go if you like splashy canters and if you do not cope very well with the heat!

September/October: The dry season starts to slide into the wet season. Spring arrives and temperatures start to climb with daytime temperatures of 30-45c, dropping to 15-25c at night. The floods are starting to recede, the islands are dry as there has not been rain for months. As a result, the game starts to concentrate around the water holes, and this provides interesting wildlife-watching opportunities.

November - February: The rain can arrive anytime in November. Daytime temperatures are high before the rains (30-40c) but drop after each shower. It is unlikely to rain persistently, but usually for a few hours. Nights are still warm (15-20c). The bush turns green after the rains and the grass starts to grow again. Once the waterholes start to fill again the game will disperse. The antelope will give birth during this time of plenty.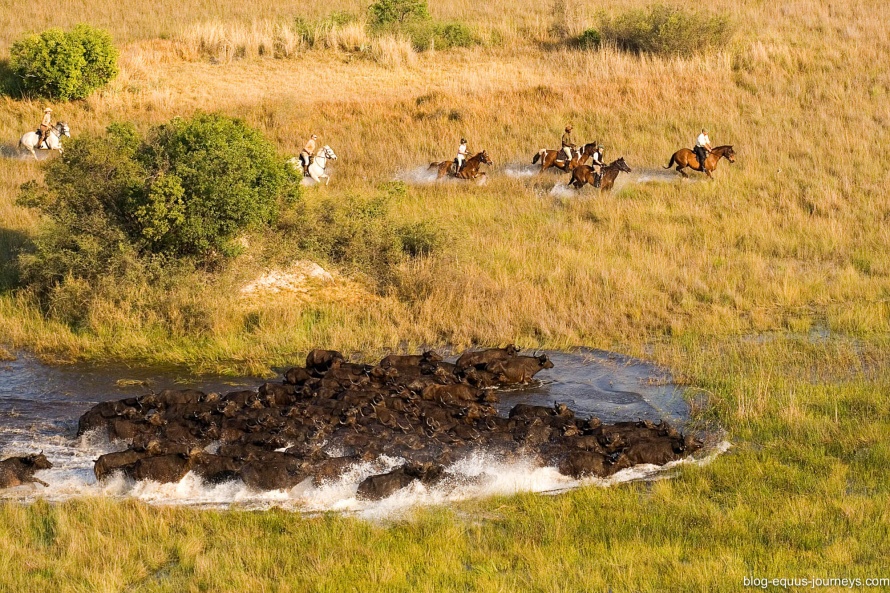 Horseback safaris in the Okavango

A small, exclusive permanent camp in the heart of the Okavango Delta. Macatoo is a luxury bush camp and a rider's paradise! The morning rides are normally fast and exhilarating. You usually ride out at dawn when the game is most active, with plenty of opportunities for long canters on the dry islands or splashy gallops across the flood plains. When water levels are deep it may also be possible to swim the horses across some channels. The afternoon rides are usually shorter and more relaxed, allowing riders to get as close as possible to the wildlife, with great photographic opportunities. The camp was very recently renovated and offers luxurious, walk-in tents on raised platforms. Each tent has its own en-suite shower and loo. There is no WiFi and no electricity inside the tents, so be prepared to disconnect from the outside world! Accompanying non-riders are welcome and are offered walking, boat or vehicle safaris (dependent on water levels) and a 10% discount.

This horseback safari in the western region of the Delta comprises two camp options: Kujwana camp and Mokolowane Camp (*). What makes this safari so special is that you will experience all of these camps within your week: a great way to explore a wider area and enjoy different environments. This is an exciting choice if you like to ride a lot, generally at a fast pace, and get close to the wildlife. Non-riders on this safari have their own guide and will be offered game drives, powerboat/mokoro safaris, walking safaris and fishing. Guests move with the riders to the various camps and join non-riding activities and picnics. We love that you can choose to fly into camp by helicopter - a 25-minute scenic flight which is an incredible experience.

* Please note - as of 2022 and due to the proliferation of big cats at Moks after covid, we no longer take the horses to that camp overnight. We only spend one night there and drive to camp in jeep vehicles, until further notice.

This itinerant horseback safari in the Okavango Delta is perfect for you if you are not necessarily seeking the luxury of the permanent camps, but instead are interested in an eco-friendly and sustainable holiday with very little impact on the environment. This safari focuses on the reality of the Delta: the experience, the wildlife, and top-level guiding, often by bush guru David Foot himself. David boasts a wealth of over 25 years of experience guiding throughout Africa and is an amazing guide to ride with. The fully mobile camp is made of lightweight tents big enough to stand in, stretcher beds, bucket showers and short drop loos. It may not be as luxurious as some of the permanent camps in the Delta, but it is still quite a step up from your usual camping situation! And of course, all meals are freshly prepared each day by the camp cook. Your belongings are transported by mokoros when the Delta is flooded, and by a flotilla of donkeys once the waters have receded. The team closely rely on the locals and are highly respected members of the community.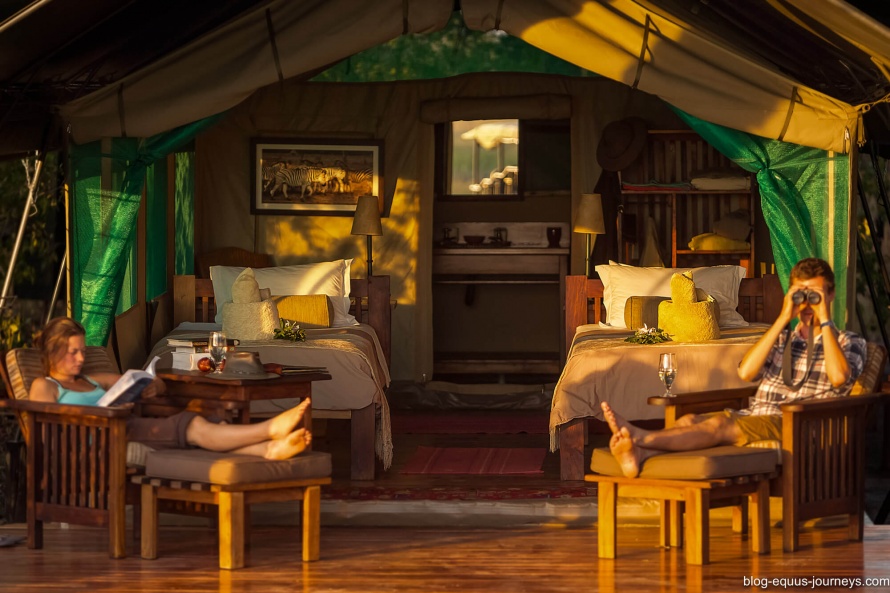 And beyond...

Understandably, some of you will want to make the best of your time in
Africa
and combine a
riding safari in the Okavango
with another ride or extension.
If you want to extend your riding adventures, we can really easily combine a Delta safari with other
rides in Botswana or in Africa
: the "
Best of Botswana
" safari, for instance, combines Macatoo camp with 6 nights on the Tuli Trail safari (Mashatu game reserve). David Foot's mobile safari goes well with a few nights in the
Kalahari desert
. After an adrenaline-filled holiday, relax in South Africa with a
gourmet trail ride in the Winelands
... There are many possibilities and we will be happy to advise.
We can also look into non-riding extensions. Victoria Falls is a very popular choice and the Delta is just a short charter flight from Kasane, where we can organise a private transfer to the Falls. Mozambique is a fabulous option if you are after pristine beaches and perhaps a spot of diving. Or maybe a canoe safari along the Zambezi river is what you are looking for... It's all up to you!

More information

You might also enjoy reading: