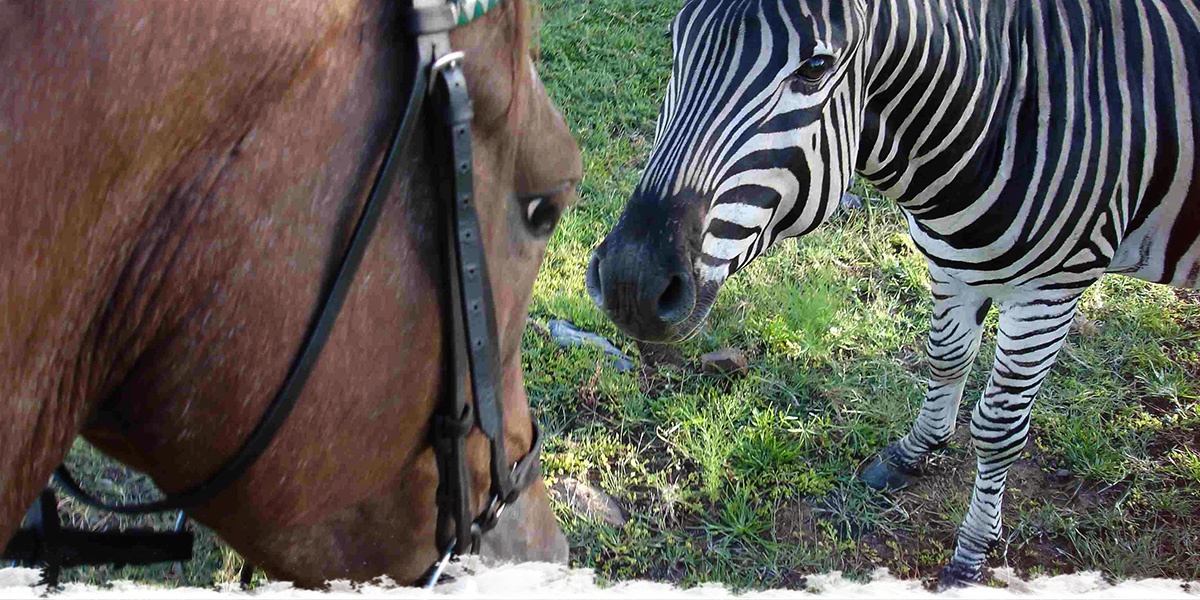 A weekend at Ant's Lodges
After her African Explorer Safari, Iris also visited our partners at Ant's Lodges, back in the Waterberg Mountains of South Africa.

Visiting our riding partners is indeed a wonderful part of my job, and Ant's was definitely on my ever-growing list of exciting places to visit.
Ant's
is a popular
riding safari in South Africa
: being a private reserve with no lions or elephants, it is ideal for
groups of mixed abilities
or people coming with non-riding partners. Sadly I could only manage a few days before having to go back to the reality of normal life, but managed to make the best of it!
Ant's Lodges - The nest and the hill

Ant's Lodges are divided into two distinct parts. Ant's Nest, the old colonial homestead in the valley, and Ant's Hill, a newer bush home offering breath-taking views across the Waterberg. I arrived on a Friday evening at Ant's Hill, just on time for one of those magical African sunsets that seem to paint the world a hundred variations of gold. Jess, one of the managers at the Hill, was waiting for me. She showed me around and we made a plan for the next few days so I could fit in as much as I could during my stay! Later before dinner, I met with the lovely ladies who were also staying at the Hill. Most of them had come as single riders: Ant's is a great place to visit as a solo traveller, as there is a friendly atmosphere and everyone sits together for breakfast, lunch and dinner. If you are a solo rider and would like some company, we will happily check for you which week is the best to meet other riders.

Horseback safaris and activities

Riders are divided into groups of similar ability, but if you are travelling as a family or a group you are welcome to ride together. Everything is super flexible and you can do as much or as little riding as you like. I would also recommend you try some of the other activities included in your package: guided walks, jeep safaris, cycling trips, snake talks, bug walks for the kids, etc.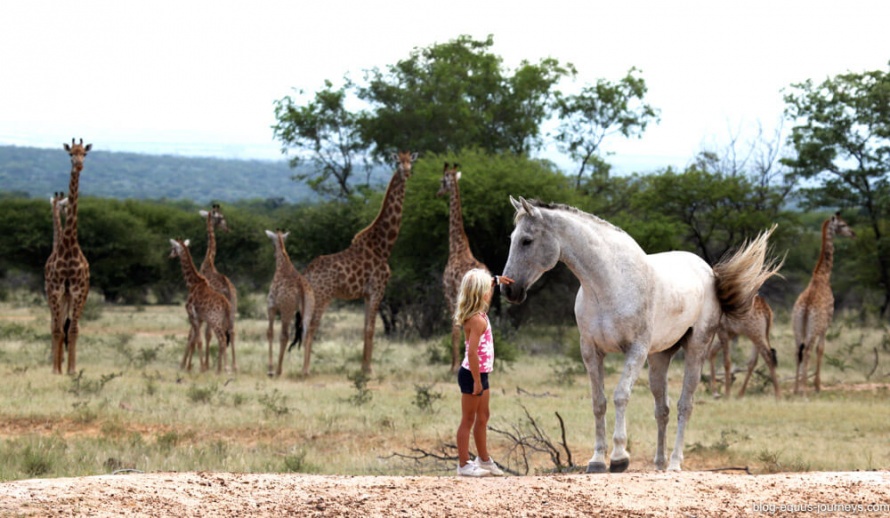 I had the chance to try the "rhino activity". Ant, the owner, is well known for his amazing rhino conservation efforts. As you may know, African rhinos are under constant threat from poachers who hunt them down for their horns. A rhino without a horn is a tragedy, and Ant and his team are doing a marvellous job at protecting the species and making sure they have a safe environment to live and breed. In the evenings, they come down to the Nest where they get a little boost of food pellets. Guests can attend and watch the rhinos enjoying their snack, and I even had the chance to pet Max the rhino… Not something you get to do every day!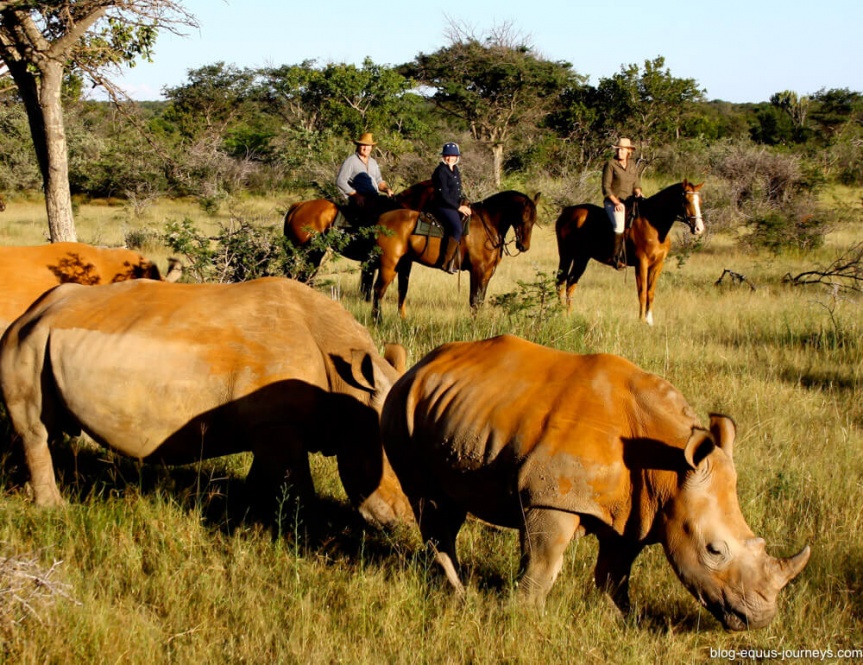 I rode three different horses during my stay. On my first ride, I rode Phinda, a thoroughbred-type horse, super responsive and easy to ride. This ride was quite fast with lots of fun canters – it had rained during the night and some of the wildlife remained hidden, but we saw buffalos (another Big Five ticked off the list!), giraffe, and antelopes. One afternoon I rode a lovely small Arab called Karoo, quick and nimble and possibly a little bit cheeky! We managed to see quite a few species, from wildebeest to warthog and mongoose. Chase, one of the managers at the Hill, led this ride and we had a really good time with long canters and beautiful views over the valley.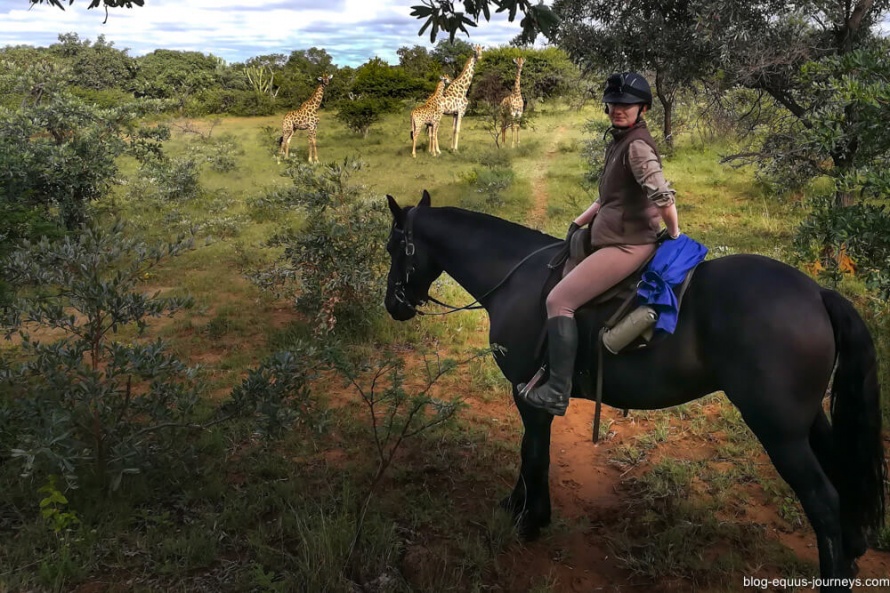 On my last ride, I was given one of their Friesians, Zaire. Although he could be quite cold to the leg, he was very comfortable and had a lovely rocking canter. I found our guide that day to be very knowledgeable and I learnt loads about the local fauna and flora – almost felt like I could survive in the bush on my own after that (almost…). There is a horse for everyone at Ant's: complete novices and experienced riders alike will be sure to be matched with the right horse. The riding possibilities are endless, and whether you are looking for a fun, exciting ride or perhaps something more laid back with a focus on the wildlife, the staff will make it happen. Every night at dinnertime, a member of the team will ask you what you want to do on the morrow, which is a very nice touch.

Accommodations at Ant's

I was very impressed by the standards of accommodation. The standard rooms are lovely and perfectly suitable for riders who prefer to spend money on the experience rather than accommodation. However, I would also recommend considering an upgrade to some of the deluxe rooms and cottages. There are family and honeymoon cottages that are ideal if you are looking for more privacy. You can also easily combine a few days at the Nest and a few days at the Hill. At the Nest, the rooms and cottages are sitting close together and you are potentially closer to some of the wildlife, and especially the rhinos. The Hill is higher up in the mountains (about 8 km from the Nest) and boasts amazing views. The cottages are also further apart from each other so it feels a little bit more private. Would 100% recommend for a honeymoon!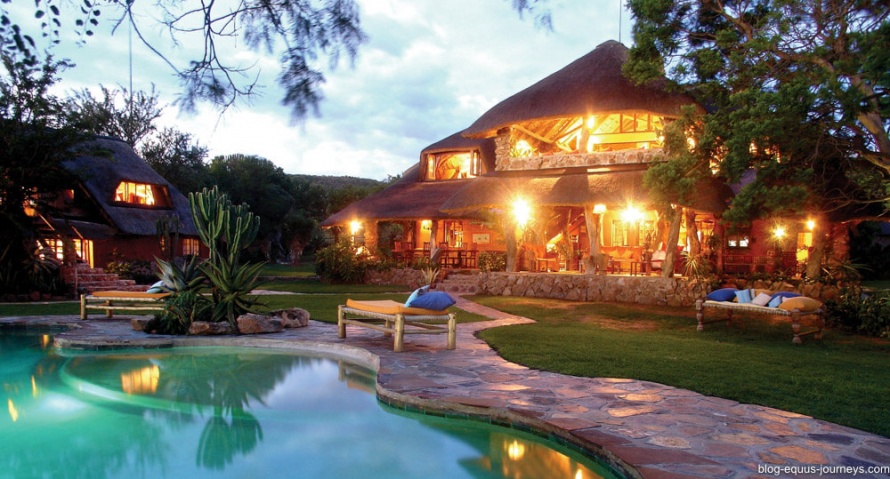 I should also mention the food... Everything was delicious, fresh, and homemade – the team can take care of any dietary requirements too. We enjoyed traditional European food such as steak dinner and chocolate cake, but also got a taste of the local gastronomy and I tried some traditional South African meals, such as bobotie. Sunday lunch was a surprise braai (South African BBQ) by the dam after our ride. Really lovely attention for all the guests. The bar is always open and you are very welcome to help yourself to some beer, cider, house wine, G&T, soda, etc. – there's nothing like a cool drink on the verandah after a day out.

Something for everyone

To sum up... Ant's is a great place for pretty much anyone, whether you are an individual, a honeymooning couple, a group of friends, or a family with children. Non-riders are also very welcome, and there is plenty to do and see! Ant's Lodges are rather luxurious and will suit anyone who likes to get back to the comforts of a home away from home after a ride, enjoys a glass of wine (or two...) at sundowners and delicious gourmet food for dinner. However, it is what I would describe as a luxurious/comfortable holiday and probably not the ride for you if you are a very adventurous rider looking for a tough, challenging ride out in the wilderness... But we have other rides for you if that's what you are looking for ;)

Everything was so well organised and everyone was well looked after. It is a top quality establishment and one I would gladly visit again – and perhaps bring my family too!

More information

For more information, please visit our website:
Ant's Lodges
You might also enjoy reading: