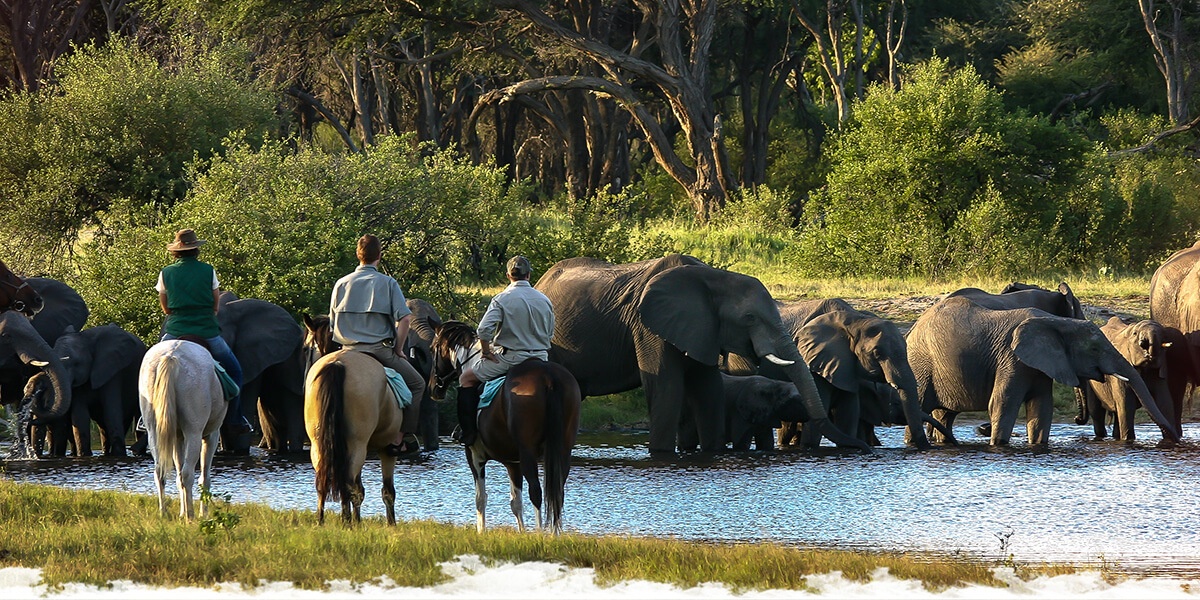 Hwange horseback safari: the Elephant ride.
In August 2019, we were delighted to have Louise Carelsen escort one of our new rides: a riding safari in Hwange National Park, Zimbabwe. You may already know Louise and her husband Cor from Limpopo Valley Horse Safaris in Botswana, that they owned and managed before handing the reins to Laura and Shane Dowinton a couple of years ago. Louise is not only a professional rider and horse trainer, she is also an expert in riding safaris and well used to navigating the bush. We couldn't have hoped for a better trail leader on this trip, alongside our superstar guide James Varden and his wife Janine, who together run our Zimbabwe safaris. Louise was kind enough to share an account of her adventures with us.
Wonders of Africa

Have you ever wondered what it would be like to do a horseback safari in Zimbabwe? I have wanted to return to Zimbabwe ever since I was a child and did my first African safari with my grandmother. As a keen rider, what better way than on a horse safari? With Equus Journeys, I joined a "Ride Zimbabwe" safari hosted by James and Janine Varden; who have been living and working in Zimbabwe for more than 30 years.

As I stepped off the plane in Vic Falls, I took a big breath and inhaled the sweet dry sent of wood fire, dust, and something sweet in the air. It is now the end of August, springtime in Africa. Perhaps what I am smelling is the smell of trees in bud, maybe one of the Acacias? For the past 3 years, I have been living in the USA with my family. Up until then we lived and worked in Botswana, Mashatu game reserve in The Tuli block; running Limpopo Horse Safaris. This is my first visit back and that first moment of stepping off the plane is magical. As many Africa lovers can tell you: nothing smells quite like Africa!

Zimbabwe was the ultimate tourist/safari destination for many years and a real showcase of African parks and diversity. Hwange National Park was our destination for this riding safari, a park the size of Belgium with more than 40,000 elephants alone. In fact, it was Hwange park that I visited with my grandmother in the 1990s and this visit was one of the deciding factors in coming to live in southern Africa eventually. More recently, Zimbabwe has been plagued by bad press and political instability, and until recently many tour operators have not been comfortable promoting Zimbabwe. Now that Robert Mugagbe is no longer president, things are changing and there is hope again for many people in Zimbabwe. Tourists are coming back to visit not only Vic Falls but the many beautiful parks in the country.

Hwange, the jewel of Zimbabwe

On arrival at the new and modern International airport in Victoria Falls, we are greeted with great courtesy and a very warm welcome by all officials. Our driver meeting us at the exit was no exception. The 2.5-hour transfer passed by in a flash as we all enjoyed the scenery and watching the little villages on the outskirts of the park. The landscape is very reminiscent of the Tuli block, studded with giant baobab trees and little traditional huts made of cow dung/earth bricks and lala palm thatching. As we travelled on deeper into the park, we started to see more wildlife and less people. Warthogs and impala, of course, as well as some baboons who seemed refreshingly wild and totally ignored our little group. Our group on this riding adventure consisted of 6; all experienced horseback travellers, this time 5 from the USA and 1 from Germany.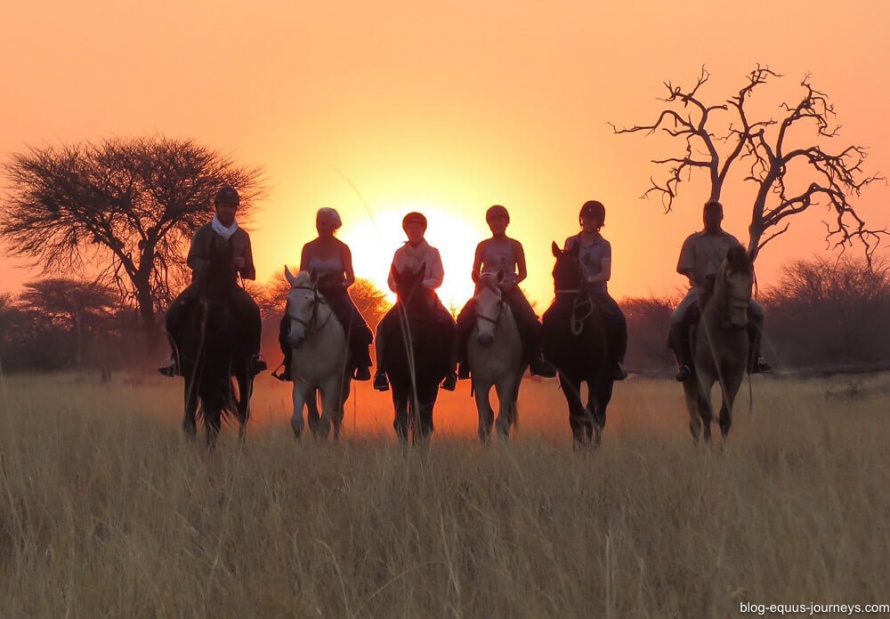 We were met at Hwange Main camp by James Varden, our safari guide. As our luggage was unpacked we got to hear the story of Lucy the Zebra... Lucy was caught in a village eating crops so had been relocated to Hwange. However, since discovering the horses stabled there, she refused to leave them again and has taken up permanent residence at the Varden's "Ride Zimbabwe"! Twice she has been taken away, and once again she was found back at the stables; so there she stays now.

Our first impression of Hwange park is that it is huge and very dense. Thick mopane tickets makes it hard, on first impression, to see everything out there. Luckily the park has some very modern solar panels that pump water to the many water holes. These are prime viewing spots and we were lucky to see much there. Within 5 minutes of entering the park, we had wonderful sightings of zebra, many elephants, baboons, crocodile and wildebeest. A short time later we were at Dobi camp where we were to spend our first 5 nights*. Pronounced "Doopi" camp, this was a charming set up of A-frame tents, all very tidy and with lovely feminine touches provided by Janine. As it was getting late, we had a quick change of clothes and set out to meet our horses. I loved mine straight away, a very straightforward boerperd, comfortable and very responsive. A quick safety speech and some elephants by our water hole and we were back at camp again. There we were met with a lovely surprise; sparkling wine! The Varden's cook outdid himself on a day-by-day basis, with scrumptious uncomplicated meals - just what you need after a day in the bush.

* Note: the first five nights are usually spent at a mobile camp. On this occasion, it was decided to keep the camp at the same location to offer the best wildlife watching conditions.

An African riding adventure

The next morning, we were up with the sun and huddled around the fire to have our morning coffee and breakfast. Then it was up and away; canters were twisty turny affairs and I was thankful to have a sure-footed horse, as were my fellow travellers. Giraffe were the highlight of this ride, their very elegant and effortless way of moving through the bush was such a pleasure to watch. Back for lunch and a siesta, we all enjoyed the Varden's amusing anecdotes about their time in Zimbabwe and the bush.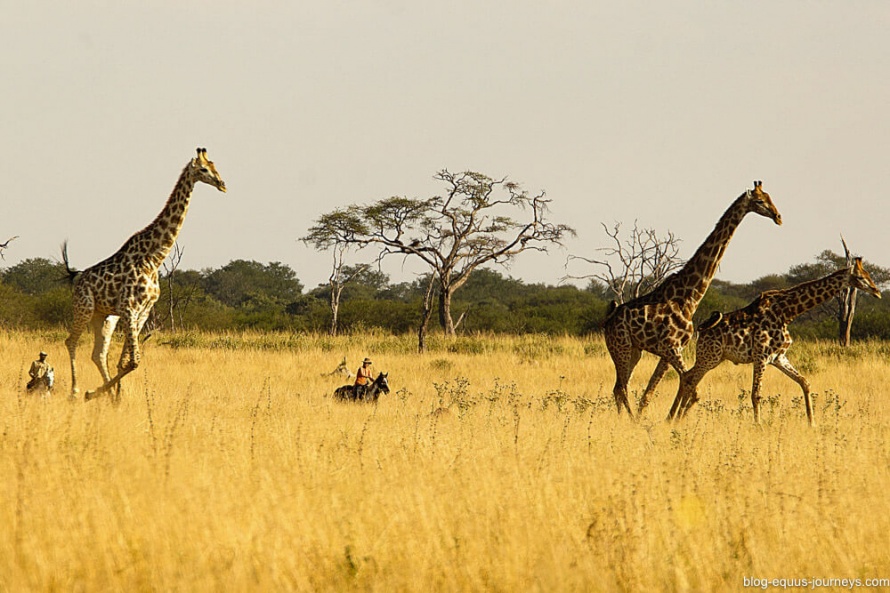 A very civilized tea in the afternoon was followed by another shorter ride. We got to see more elephants this time: coming across them in the thick bush is quite a thrill. All the horses pause and stare, their hearts start to beat... as do ours. Then the elephants moved on and so did we, privileged to enjoy this encounter. Once in the open again, we saw more and more elephants come to drink. They rush across the open areas and then seem to take their time, drinking their fill and enjoying a mud bath!

The next few days passed at this rhythm, including a lovely picnic ride to a distant waterhole called Nyamandhlovu where we saw hippo, crocs, secretary birds, zebras playing, and wildebeest again, all whilst we enjoyed our lovely meal. We enjoyed the afternoon's fun, twisty and more importantly long canters through the bush. The horses were all fit and sure-footed, and I am happy to say everyone thought theirs was the best mount.

We also saw lions mating from a game drive one afternoon, along with the other visitors to the park (this is a national public park). One particular group of guests had us all on the edge of our seats as they had their kids hanging out of the windows of a combi van while looking at the lions. This is a "no no" while watching lions but they survived to tell the story!

Horse safari & big game

For our last two nights we rode over to Somalisa Expeditions, a private concession within Hwange. This was an all-day ride; and probably our most exciting one to date. We started off the day with some long canters on sandy jeep tracks: heaven! Then we came across a very spread-out herd of elephants which we had to circumnavigate to get to our next water point for the horses. These elephants had bush pigs in their midst and as a result, they were a little bit on edge, so we got to see all the action while carefully going around them. Once we had met up with Janine and got everyone a drink, we had to mount up quickly as more elephants were coming our way. There are a lot of elephants in Hwange, as we quickly found out. Then we enjoyed a couple of long slow hours through thick Acacia bush again, followed by a rest for everyone under a Zambezi Teak - which interestingly had a mopane beehive in it. These are stingless bees and it was very interesting to watch them come and go. Soon after we mounted up again, we came across another very busy waterhole and watched what seemed like thousands of elephants all taking their turn at drinking. Also interestingly we saw a bachelor herd of buffalo go down to the waterhole. Surprisingly, the elephant made room for them to drink! Zebra, roan and sable antelope too had to take a chance to drink while they could. Again we had to wait a little before finding a gap and deciding to move on to our destination before letting our horses drink.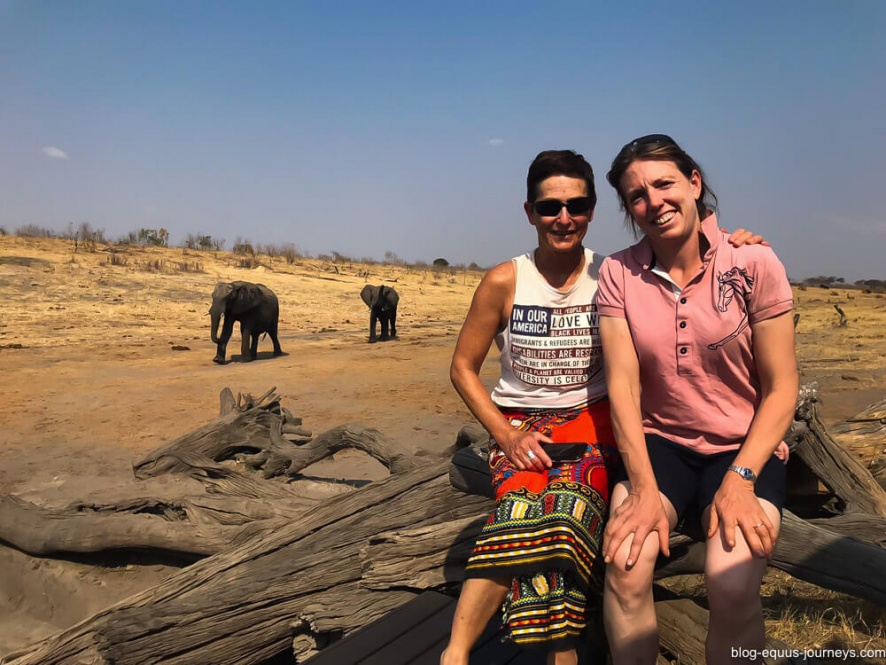 Once at Somalisa we were greeted by the amazing spectacle of elephants drinking out of what used to be a swimming pool for the guests but obviously was now a waterhole. This was right next to the lounge/dining area of the camp, with amazing views of elephants. The lovely staff at Somalisa greeted us with a cheery song and hot towels to wipe off the sweat. Part of the African Bush Camps group, this is a gorgeous camp, with no comfort spared and also eco-friendly. A perfect way to end our riding adventures with some luxury glamping!

The next day, the horses were given a break as we headed out on a game drive instead. Surely a game drive would be a relaxing day!? Early on, our driver got a call over the radio to say that lions had been spotted. We hurtled over to the particular water hole and sure enough down came a lioness with cubs for a drink. Then our driver asked us if we would like to see the rest of the pride on a kill. "Of course", we said... So off we headed. Almost to the kill we had a puncture! James and our driver asked us to get out so they could jack up the vehicle. We stood by the vehicle as they worked quickly to change the tire. But then we saw the lioness on her way back from the waterhole coming towards us. Well - that got our hearts going again. We were told to stand quietly, and as we watched she moved on past us back to the kill which was close by. Some swear words were said but finally we were all back in the vehicle, safe and sound. What a place to have a puncture. Luckily, it didn't spoil the fun and we then enjoyed the sight of 8 or more lions.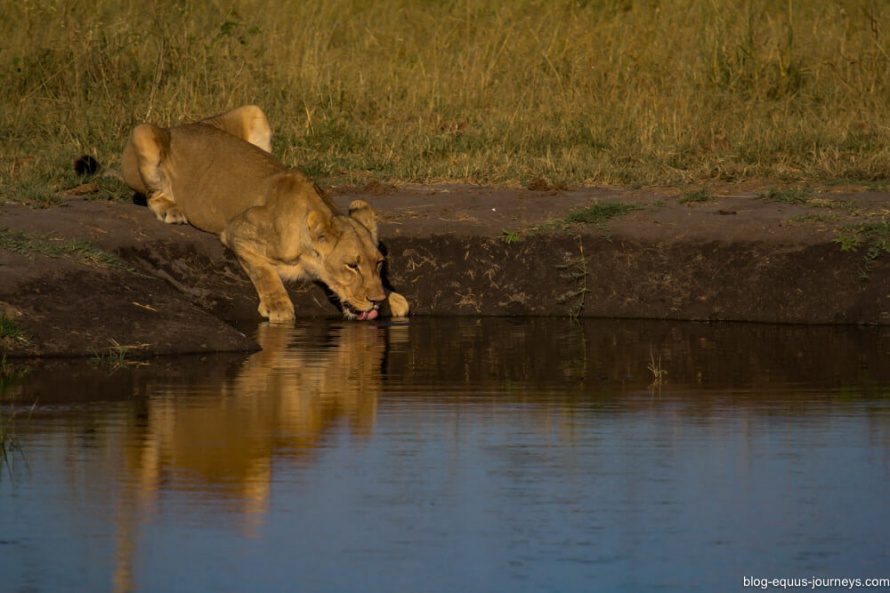 That evening we got a glimpse of leopard, African wild cat, sable antelope and numerous birds including really nice sightings of a southern ground hornbill from our drive. After a spectacular sundowner, we were back to Somalisa for a lovely last dinner. We were sad to leave the next day but unanimous in our intention to call this the Elephant Safari ride and come back again as soon as we could.

More information

You may also like