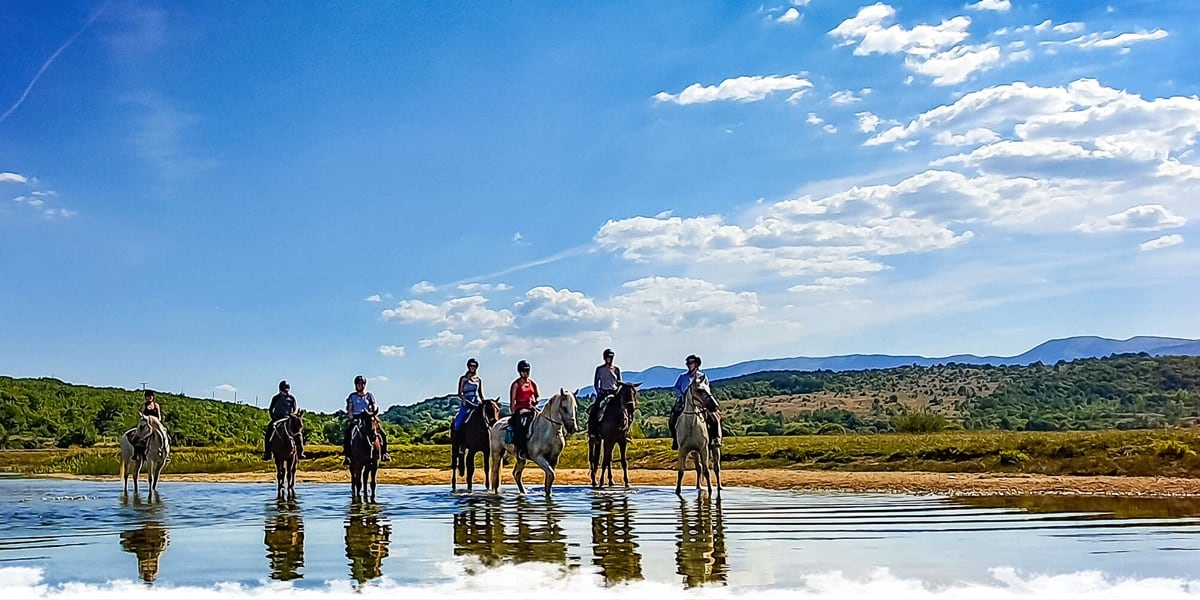 Let me tell you about the Krka trail, in Croatia...
It's easy to think of Croatia as the new touristic hub of the Balkans: a place where people come to party, work on their tan, and drink cheap beer. Instead, what I found on the Krka trail* in Dalmatia is a little corner of the world that is still full of charm, authenticity, and steeped in equestrian traditions. (* yep… good luck pronouncing that!)

Riding the Krka trail in Croatia

It's a hot summer's day when I arrive in Split, a charming Croatian town on the Adriatic sea. I have been checking the forecast before getting on the plane and was becoming slightly concerned at the rising temperatures - 30-32°C on average, rising up to 36°C during the week. As someone who doesn't cope so well with the heat, and self-described as pasty at best in the height of the summer, I'm starting to feel like this might be slightly problematic. But I'm here, I've packed my sunscreen, and I'm ready to ride!

It's a 50 min drive to the ranch and I get there just in time for dinner. I am welcomed by Dijana and Bosko, the lovely couple who runs the trails, and their family. This is a family-run affair and it's lovely to see. The riding business is overseen by Bosko, who is a skilled horseman and gifted storyteller. He seems to have conveyed his passion to his kids and nephews who are often seen around the stables. Bosko's sister and brother run the restaurant and small guesthouse: Angela is an absolute angel, always making a fuss of us and ensuring our bellies (and glasses!) are full.

Around dinner on the first night, Bosko asks us about the sort of horses we like to ride. There is really one thing I don't enjoy in a trail riding horse - and that's a horse that needs to be held back all the time. When Bosko tells me he's giving me one of his best, fastest horses (a former racehorse), I can't help but think he's probably over-horsing me a bit. So it's with a certain amount of trepidation that I meet my horse, Alkasin, the next day. He's a lovely bay gelding with a very athletic look. Bosko tells me "he's the Mercedes of horses". Well, I'm more used to the Ford Fiesta type nowadays, so this could be interesting...

Very quickly I realise that I couldn't have been more wrong. Alkasin is strong and powerful, sure, but also very balanced and with a really soft mouth. He listens to me beautifully and is an absolute pleasure to ride. I could get used to this… Sunday's ride is a half-day ride culminating in a canter along the local race track. All in all, it is a great first day in the saddle and I'm already excited for what the rest of the week may bring.

After two days however, another guest is struggling a bit with her horse's big paces - he's a big horse and she's used to smaller breeds, therefore finding him a tad uncomfortable to ride. After a little chat with Bosko I suggest she tries Alkasin, who I know she would really enjoy. At dinnertime around a glass of wine, we seal the deal and I get acquainted with the gorgeous Oscar the following day. Bosko reckons I'll like him too. He says that if Alkasin is a Mercedes Benz, Oscar is a BMW… And I start to suspect he might have a few Ferraris in a paddock somewhere! He insists he has the best horses in Croatia, and after a week I'm starting to realise he might well be right. Alkasin was definitely a top horse, but Oscar is actually another fantastic match for me. A tad spooky, but really fun to ride and with a big heart. Just like Alkasin, he is very responsive and easy to bring back when more distance is needed.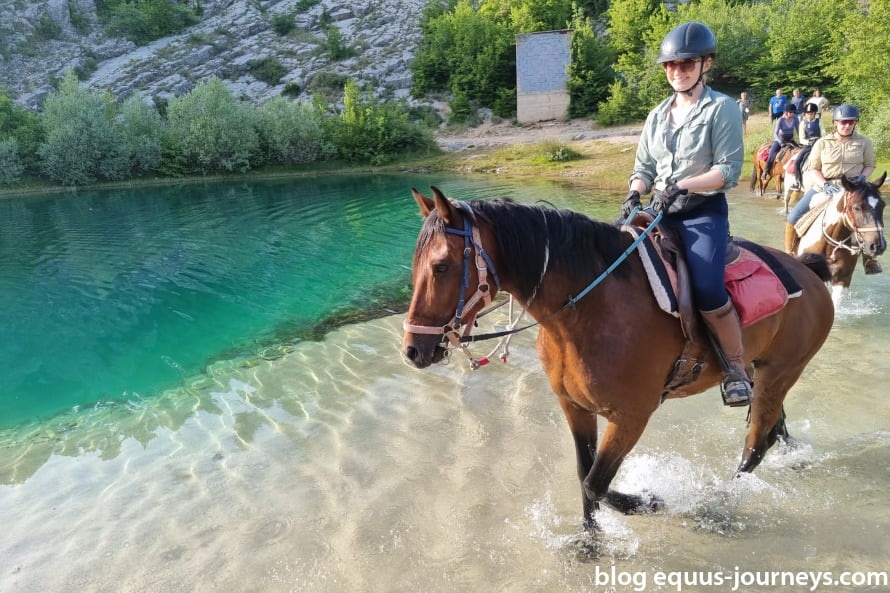 The other riders in our group were all very pleased with their horses as well. They are hardy and resilient, in good shape and obviously love being out on the trail. Most of them are retrained from the racetrack, and none of them need any encouragement to pick up the pace. Our guide Marco and the rest of the riding staff are all excellent, compassionate riders who obviously care for the horses very much. Marco rode a new horse for a few days, to get him used to the environment, and displayed endless amounts of patience with him.

An active trail riding holiday

One thing you need to know about the Krka trail: the pace of this riding holiday is rather active. The wide open fields around the ranch and into the canyon of the river Cikola are very conducive to long canters and gallops (however all done in a single file). Wednesday was everyone's favourite day, with over 15 canters that day! However, please don't expect flat out gallops the whole time. Some of the canters are steady, some are faster, but there are also some long periods of walk as some rocky paths are really tricky for the horses to navigate. Riders definitely need to be experienced, and riding fit. The terrain is in turns flat and grassy, or mountainous and stony. We ride under the (figurative!) shadow of the highest mountain in Croatia, the Dinara, along the river Cetina and all the way up to its source, and around Peruca lake. Every day is different.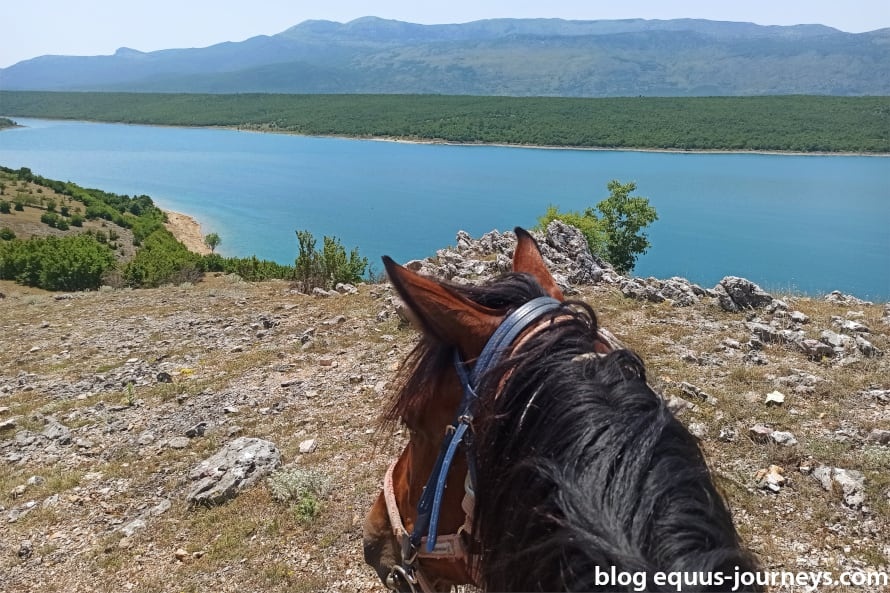 Discover the Croatian hospitality

The first couple of days are spent exploring the area around the ranch: the Bitelic plateau, the fields of Sinj, and the edges of the lake. On Wednesday, we pack our bags and ride to a different location for the night, the cosy family home of a kind and generous elderly couple. They welcome us with open arms and a glass of their homemade fruit liqueur. Marko gives us a tour of their expansive garden: tonight's dinner is a real feast with almost exclusively home-grown produce, including wine from their own vineyard. Of course, I can't leave without buying a few bottles of cherry liqueur to bring home... Two more nights are spent at a farm/guesthouse which is also very comfortable.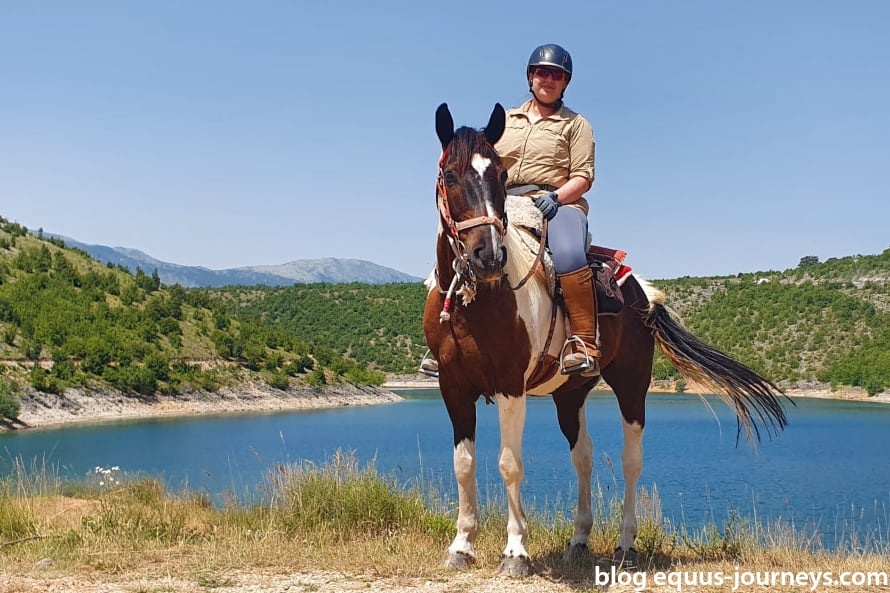 At each place, we are treated like kings and queens. Enormous plates of food are placed in front of us every night and we get to try the local beers and wines. We enjoy delicious, home-reared meats, local delicacies such as punjene paprike (stuffed peppers), Arambasici (stuffed cabbage) and ajvar (roasted pepper sauce), and even get treated to fresh trout from Cetina lake one night.

The trail is designed to showcase the best of Dalmatia and the Krka national park. On a few occasions, we finish riding early to go and explore the park on foot. Some of the tours, such as the boat trip to Visovac island, are optional and although it's a nice change of pace, some may prefer to just relax at the lake, especially in the height of the summer! One of the highlights of the trip for me, however, was a visit to Skradinski buk on the last day: the longest series of waterfalls on the Krka river and a really lovely place (albeit perhaps a little busy in the summer).

Sipping on a cold beer in the garden at the end of a long, hot, dusty day in the saddle, I reflect back on a week of adventures. Excellent riding, wonderful horses, and good company: all you need for a successful riding holiday. This is another ride that gets the "Equus stamp of approval"! And guess what. I even got a hint of a tan...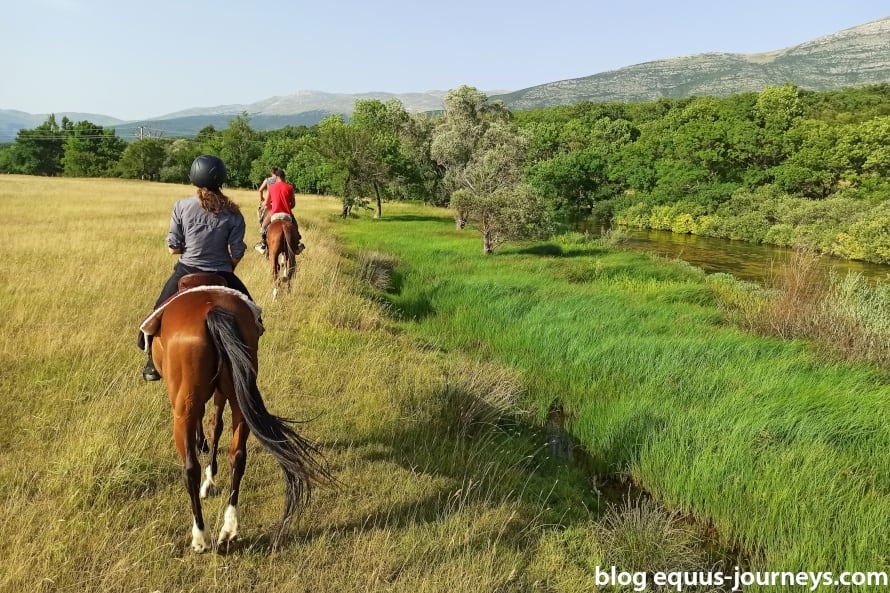 Good to know:

There is no single room on the trail. You must be prepared to share in twin or triple rooms and willing to potentially share bathrooms too.


Come riding fit. This trail is for competent, confident riders who are balanced in the saddle and happy with a fast pace. Previous experience of a multi-day riding holiday is strongly recommended. If you choose to come in the summer (June-August) then be prepared for high temperatures!


Do a little research on the history of the country. The country and the people you'll meet still obviously bear the mark of the fairly recent war of Independence (1991 to 1995) and I wish I'd known more about it before I got there!


Every year in August,

the local town of Sinj hosts the Alka festival.

Riders ride at full gallop along the main street, aiming lances at an iron ring (Alka). This festival first took place in the 18th century as a chivalry tournament commemorating the victory over Ottoman Turkish administration, and is still hugely popular these days! You may find this YouTube video interesting:

click here.
More information

To find out more about the Krka trail in Croatia, please visit
our website.
You may also enjoy reading: