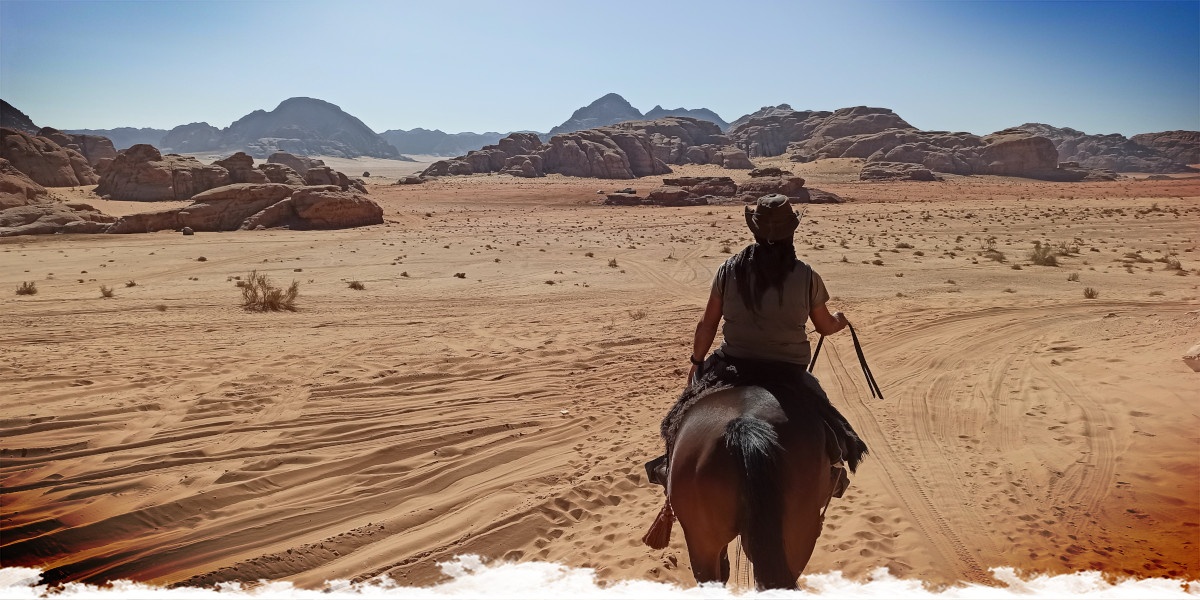 Jordan Explorer: from Petra to the Wadi Rum
Taking your first steps in a new country is always an exciting experience. There is always something new to discover or learn about, and especially in a country like Jordan, with its extraordinarily rich history and culture, and its strategic geopolitical position in the Middle East and the Silk Road.

It is a hugely popular destination for our riders, with fantastic feedback from every
Wadi Rum ride
, and I have long been intrigued by Jordan and the wonders it may offer (even though my dream holiday would typically involve mountains, lush meadows and alpine lakes… which, believe me or not, are hard to find in Jordan). When we decided to add a new itinerary to our portfolio of rides, an adventurous
6-day trail ride from Petra to the Wadi Rum
, someone needed to go and check it out. With travel to Jordan relatively easy for vaccinated travellers, and surprisingly affordable plane tickets, I made the decision to see for myself what all the fuss really was about. Spoiler alert: I was NOT disappointed.
It was definitely all very last-minute, as the last ride of the season was only starting 10 days later. Last-minute travel however seems to be the trend these days, so I guess as a travel agent, it was not a bad idea to hop on the bandwagon! There is always a certain amount of trepidation in the days preceding a riding holiday, and the current covid situation certainly feels like it can add another layer of stress to the whole experience. However, I found travel to Jordan relatively painless. I got everything sorted the week before flying and found the various websites (
https://www.visitjordan.gov.jo/
and
https://www.jordanpass.jo/
) easy to use and very efficient.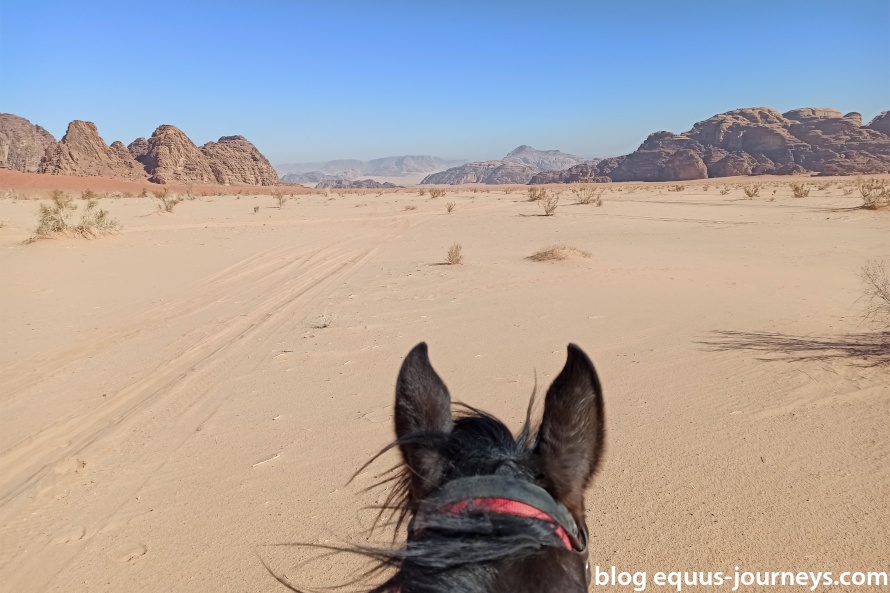 First steps in Jordan….

After a 3-hour road transfer from Madaba, where we'd spent the first night, we arrived in the world-famous Nabatean city of Petra under dark clouds, cold temperatures and unseasonal rain. Pretty unimpressed with the weather, we managed to silver-line it by joking that we may be the only people to see Petra under the snow in 2021... No need to worry, though, as the rain stopped the moment we walked into the visitor centre to get our tickets. We collectively decided to pay for a guided tour (50JOD for the group), which turned out to be a great idea. In addition to being extremely knowledgeable about the site, very friendly, and a skilled group photographer (always useful!), our guide showed us some hidden gems that we would have never discovered on our own. Unfortunately, the night descended quickly and we were not able to make the full trek to the Monastery (Ad Deir) - a reason to come back, some day...

We met our host Patricia over dinner that night. She doesn't very often get to ride the full trails now, but she oversees all aspects of the ride and has a lovely B&B overlooking the stables. She asked us our riding preferences and told us a little about our assigned horses for the week. There was Rosie, a strong independent lady, a TBxArab retired from the racetrack - a little pocket rocket, that required a calm, confident rider. Shams, a chestnut mare that, well, lived up to the stereotype… But boy was she fast! A lovely boy named Jack: in Patricia's own words, "the craziness's gone out of him now that we're nearing the end of the season". Well, he had plenty of craziness left, but nothing his rider couldn't handle. Another rider who had requested a calm horse, was paired up with MishMish, another chestnut mare but calm and gentle with her riders. My horse was named Sylvester… More on him later!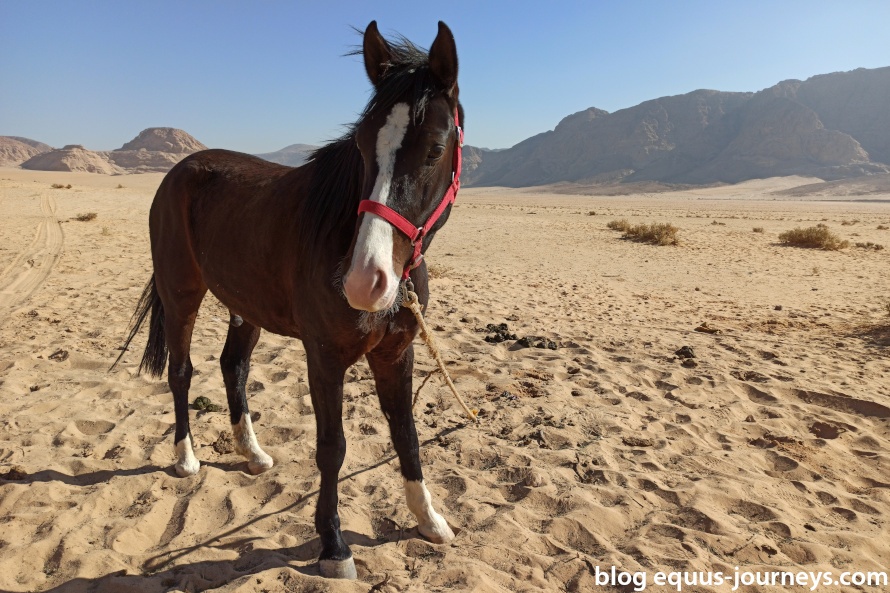 Trail riding holiday in Jordan

One last night in a proper bed before a week of basic camping, and off we went on Monday morning to meet the horses just outside of Petra. Both humans and horses were a little excited - Sylvester pretty much danced his way up the mountain that morning. The first days set the pace for the ride, with the most incredible views of the colourful mountains of Petra and Wadi Araba. Our first lunch stop was set on a stony outcrop overlooking the mountains. Didn't think the view could get any better... Until our camp chef Yunis brought out the food! Everyday, Yunis cooked us delicious, fresh meals - flatbreads, salads, hummus or baba ganoush, vegetable casseroles, stews, grilled meats, soup... All cooked on the back of the pick-up truck. I cannot even imagine the delicacies he might produce with a proper kitchen!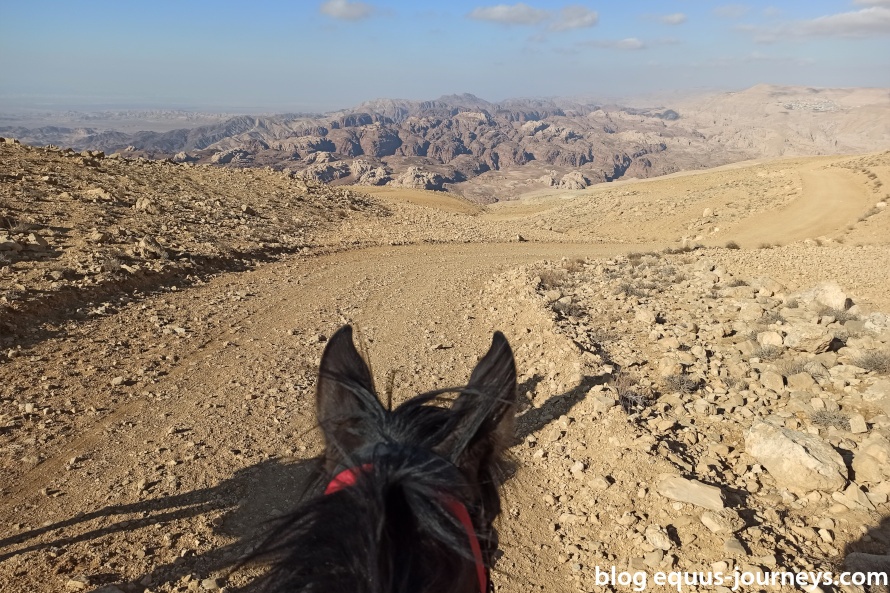 After an active day of riding, including regular trots and canters, we reached our first camp for the night. Our guide Eid announced that it would be a cold night, and to be sure, we could feel it already. Many of us were a little worried that our sleeping bags wouldn't be enough to keep us warm. But the team came prepared and handed out local long coats to wear at dinner and put over our sleeping bags at night. They were very warm and a very nice touch. Over the next few days I noticed that the team was very attentive to our needs and extremely professional. They offered to set up a "shower" (don't get too excited... it's a warm bucket of water inside a shower tent!) before we could even ask, warmed up water for our hot water bottles, helped us put up and take down our tents… Always happy, always smiling, and always up for a little bit of dancing. The "penguin dance", which undoubtedly is a huge part of the traditional Jordanian culture (not), was a highlight of the week. On a separate note, it was the only dance our little group of riders could handle, despite the boys' best efforts at teaching us more elaborate dance moves. Oh well.

"I rode in the desert on a horse with no name"

My horse, in fact, did have a name: Sylvester. A recent addition to the herd, our host Patricia told me during the first dinner that it had taken them a long time to find a suitable name for him. They finally settled on "Sylvester" due to his long white face marking that reminded them of the Looney Tunes cat character. After a week of riding across the desert, I tend to think it's not just a nod to his physical attributes. Like a cat, he is agile, swift… and can also be a bit of a snob!

Having been recently gelded, he has retained some of his stallion-like attitude and liked to be in charge. This was his first time on the 6-day trail and after the excitement of the first day, he settled down a bit. Once I figured out what buttons to press, he was a real pleasure to ride. All of us, in fact, were pleased with our horses. They were a little hot-headed on the first day, as can be expected from Arabian and Arabian crosses, but were controllable and relaxed quickly. They are not novice rides, however: riders should be competent in the saddle, able to keep a cool head, and fit enough for long canters under the Jordanian sun.

After a day and a half of riding in a stark, mountainous environment, we reached the "Desert Highway" that the horses crossed in impeccable order and without a sideways glance. And beyond… the Wadi Rum, the Valley of the Moon. I knew then why many call it the most beautiful desert in the world. We arrived at sunset, the evening light bathing the horses and the red sandstone hills in its golden glow. Our horses seemed to enjoy leaving the hard ground of the mountains for the fine yellow, orange and sometimes rose sand, and gave us a long, lovely canter as the sun neared the horizon.

At one point towards the end of the day Eid stopped, looked at us and said "well, guys, I'm off – see you later". Not a challenge for us to find camp on our own, but rather the start of a very fun game… You see, they don't do collective gallops as the ground doesn't really allow it (there can be holes if you don't follow the tracks). And well, galloping in a single file isn't much fun, especially if you find yourself at the back. Instead, Eid came up with a very clever way of doing things. He would canter away and stop in the distance and then, one by one, we would follow his tracks and let our horses find their 5th gear. They are quite used to "the game" and will stand quietly, waiting their turn. Only Rose (a reformed race horse) and Sylvester (new to the game) showed signs of impatience but held off until their turn came!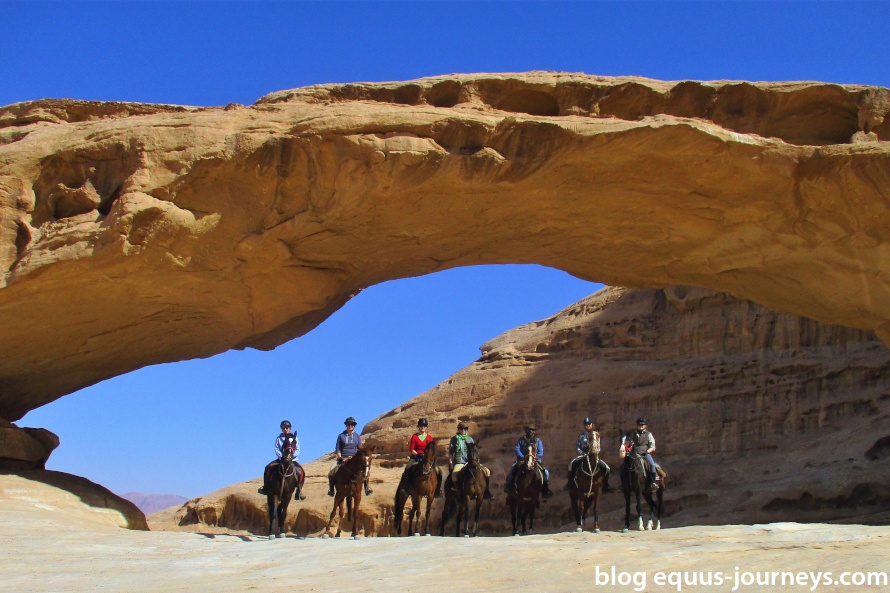 Exploring Wadi Rum in the saddle

We spent four more delightful days exploring the Wadi Rum on horseback. We enjoyed long canters, a few more gallops, I took what felt like a billion photos and yet, not one of them really manages to convey how beautiful Jordan really is. It got warmer as we rode south – across dry mudflats and sandy tracks, or through deep canyons. I was worried that it might be a somewhat monotonous ride, scenery-wise. I was wrong. We saw Lawrence's house and Burdah Bridge, Um Ishrim and Barrah Canyon, a "mushroom" stone and stunning natural rock arches. Every day was different and we went to bed content and fairly tired. The days in the saddle aren't particularly long – 5-6hours on average, which is standard on a trail ride, but most of us got up early to watch the sun rise. We also did yoga every day, under the instruction of one of our fellow riders… By the end of the week, the boys even joined in, displaying various levels of commitment and flexibility, but we appreciated the effort!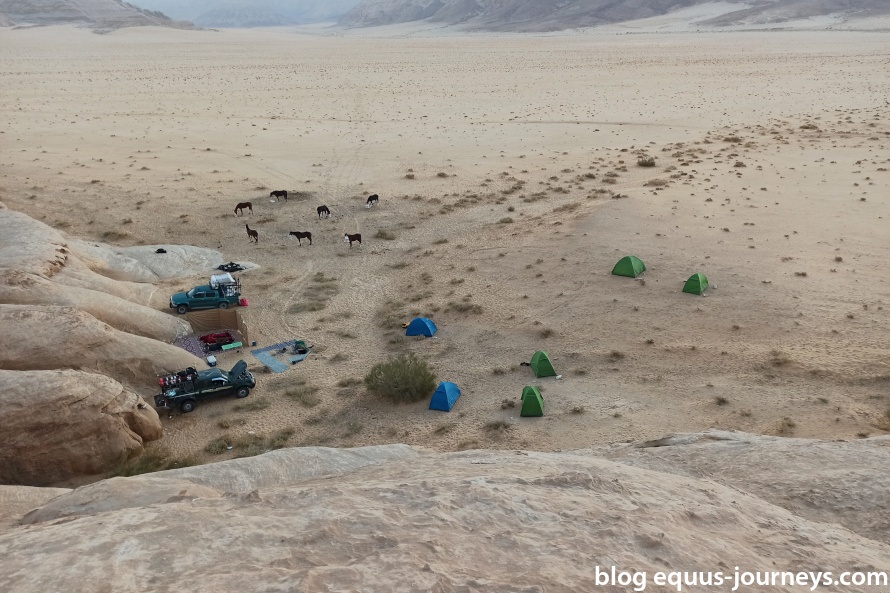 Attalah, who guides another Jordan itinerary (see "
Wadi Rum trails
") and is good friends with Eid, joined us for a couple of nights. It was lovely to finally meet him and he took the time to show me around his farm on the last day, introducing me to his family and horses. When Jack got slightly lame on the last day, Eid was able to give him a break and Attalah sent us one of his lovely mares. Eid gave his horse, Noor, to Daria, as he wasn't sure how Attalah's mare would react to a new group of horses (she was visibly confused but behaved well!). When I asked Eid what the new mare's name was, he thought about it for a moment, and then realised he didn't actually know. And so I guess that, finally, one of us got to "
ride in the desert on a horse with no name…
"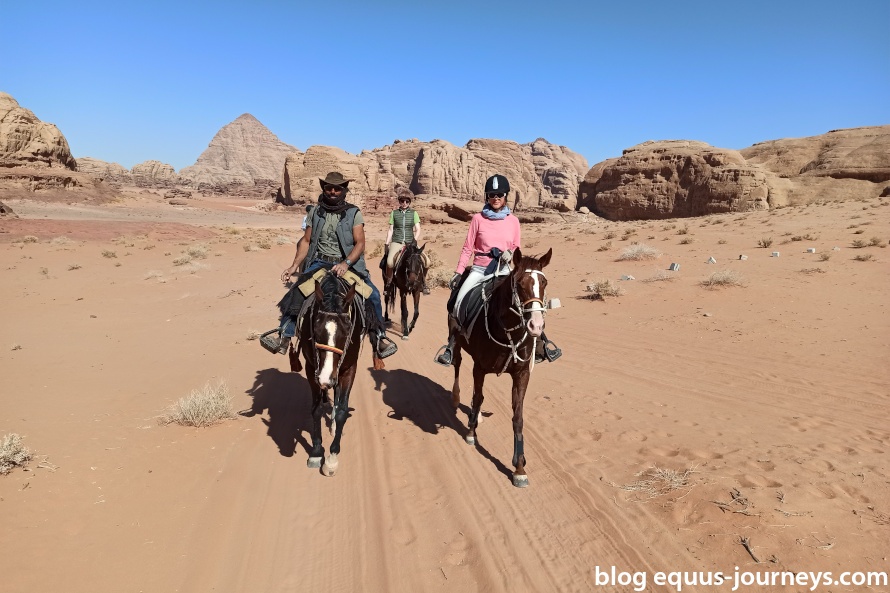 A final trip to the Dead Sea

After a sad farewell to the horses and guiding team, our last day in Jordan took us to the Dead Sea. The Dead Sea is about ten times saltier than normal sea water, and rich in minerals. It is incredibly buoyant, meaning you'll just find yourself floating all the way! It was really fun. We went to the Holiday Inn which is a nice resort, but a bit of a shock to the system after a week spent in the desert. It's definitely not the most authentic resort, but suitable for a day of swimming, sunbathing and relaxing. We were driven back to Madaba in the evening and decided to have dinner at a restaurant that came recommended by Patricia. It was a lovely end to our trip before flying home later that evening.

In a few words…

Good to know: This is a camping trip. Your shower is a bucket of warm water (or you can use wet wipes – they're magic!) and there are no toilet facilities. You also need to put up and take down your own tent. By the end of it, I could put up my tent in under 5 minutes so really, anyone can do it!

Packing considerations: a warm sleeping bag is a must, especially if you ride at the end of November or the beginning in February. The nights in the mountains can be cooler, but it gets warmer in the desert. In the winter, a small hot water bottle would actually be a pretty good addition to the packing list!

Riding ability: Strong intermediate and above. The horses can be a little excited at the beginning of the ride, although they will relax quickly. Some long canters mean that you need to be riding fit.

Also:
For those who only want to ride in the Wadi Rum can join our Wadi Rum trails instead (see itinerary
with
and
without
the Dead Sea).
More information

You may also enjoy reading: