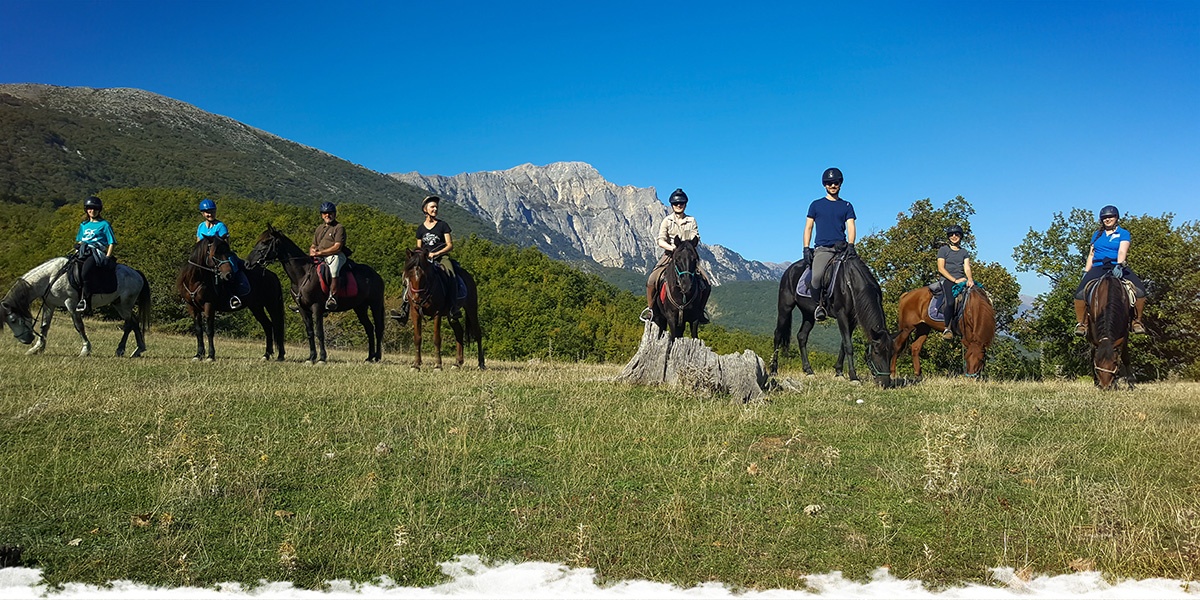 A taste of Albania
In October 2019, Equus team member Iris visited our partners in Albania and joined one of the last trail rides of the season (Ancient Mountain Trails). These are her impressions from this trail, taking place in the mountains near Gjirokastra, in the south.
***

"One raki a day keeps the doctor away". This unconventional twist on a popular saying is brought to you by Aurel, one of our guides on our trail ride across the mountains of Albania. To his credit - it seems to be working. He spills the last drops onto his hands and rubs the alcohol away, leaving only the smell of grapes. A habit he learned from making raki with his father. In rural Albania, almost every family make their own raki - something they are very proud of. It will be offered several times throughout the day: when you get back from your ride, in the evening after dinner, and even at breakfast. Over the course of the week we would learn the stories of our host families, raki and all.

A FIRST TASTE OF ALBANIA

Our own story starts in Gjirokastra. This small medieval city located in the south of Albania (roughly a 4-hour drive from the country's only airport) is also a UNESCO world heritage site. It is perched on the side of a mountain, dominated by an imposing fortress. The castle is open to visitors and is well worth a visit. After a long car transfer from Tirana, my friend and I enjoy stretching our legs as we explore the town's small winding streets and bazaar, taking in the vibrant local atmosphere. Our hotel is a little out of the way, in a more modern part of the town. This is where we meet our group for the week. There's seven of us - an auspicious number - all coming from across the world. Dinner gives us our first taste of the local cuisine: plates of food are brought for us to share, meats and vegetables a-plenty, lovely local wine, and of course... raki. All delicious, and in more than generous quantities. Dinner is our chance to get acquainted, and also to meet our guides and the owners of the stables; which is one of the two only equestrian centres in the country.

Kristina, Ilir and Aurel
are the most gracious hosts, entertaining us with stories about their horses and telling us more about what's on the cards for the week ahead. Kristina takes the time to ask us about our
riding preferences
before she gives us the name of our horses. Names are an important matter: the foals aren't named immediately after they are born. Instead, the team let their personality develop before they can give them a name. Socrates is a philosopher at heart. Propus has a lovely, round, uphill canter. I'm given
Hektor
, and told he is as brave as the Greek hero. Kristina also says he is a "very serious" horse. I'm a little bit puzzled by this, but I guess it is for me to find out (Will he wear glasses and a moustache? Does he stay home on a Friday night? Does that mean he doesn't like raki?!).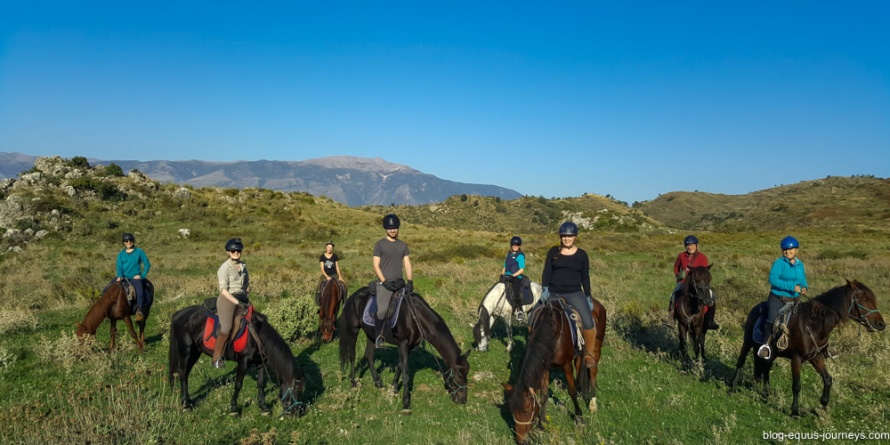 OFF ON A RIDING ADVENTURE

The skies are blue as we arrive at the stables the following morning. The forecast for the week is excellent. There should be no rain at all and the temperatures should stay at a pleasant 25°C. We can't believe our luck as the end of October is usually rainy and much colder. Another good omen.

The horses are all lined up and waiting for us, under the watchful eye of the stables vet (yes, they have their own vet!). I meet my serious horse - he looks at me and tolerates a cuddle. Olti, our back-up guide extraordinaire, helps me get on and makes some last minute checks. And just like that, we are off on an adventure.

Kristina sets the pace for the week. She has three gears: steady when climbing, fast pretty much everywhere else, and very fast whenever she can - and sometimes even when you think she can't. That is our first impression as European and North American riders: are we really going to canter along that steep, narrow, stony path?! Yes, we are. And guess what... It's all fine. My horse is like nothing I've ever ridden. He's fast and energetic. But most of all, I don't believe I ever got to ride a horse quite this sure-footed. He finds his way across the most difficult paths with disconcerting ease. Loose stones, steps, and cracks on the road are no bother to him. I soon realise every horse in our group is the same. They are all from a local breed, which was slowly disappearing before the team started a conservation programme. They are small and strong: we are told it's a cross between Tarpans and Arabians brought over by the Ottomans. After a week of scrambling up and down the mountains, I'd be willing to bet there is a wild goat streak in there somewhere too... The team breed their own horses and as a result, most of them are young. Hektor is only five, but fearless and loves his job. Sometimes his enthusiasm goes a little bit over the top and we disagree on a few things. His name marks him as brave and a fighter, after all - he is happier leading the charge - but I know I can trust him to carry me safely across mountains, over rivers and into deep valleys. After just a day, I know what Kristina meant by a "serious" horse.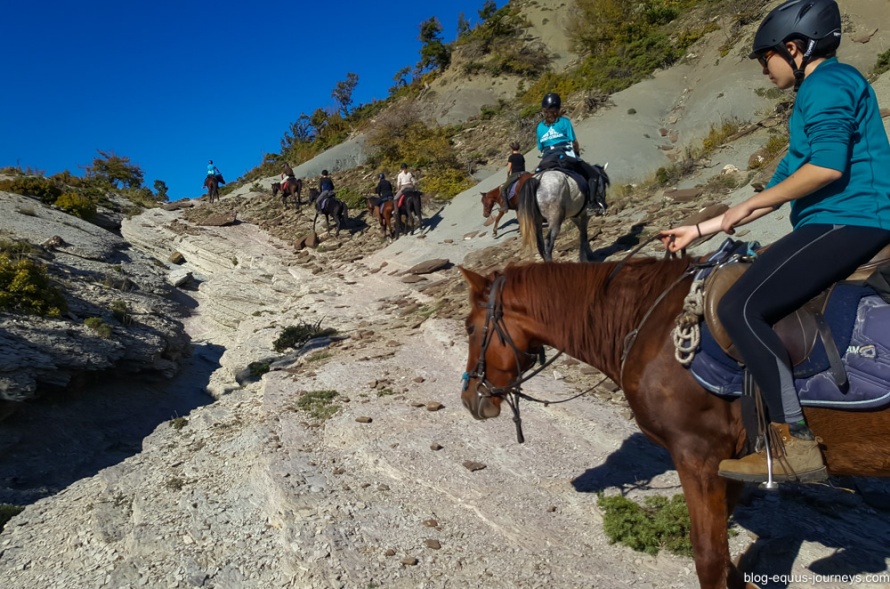 ALONG OLD CARAVAN PATHWAYS

All the horses are shod front and back in a way I've never seen before: a full plate with a curved spike over the heel, held in place by three nails on each side. It is unusual, but it does a great job at keeping the stones out. These special shoes prove quite useful. Most of the trail takes us over the ancient pathways built by Ali Pasha so that caravans of Ottoman merchants could drive their wares from village to village. Under the small hooves of our horses, we distinguish old roads and loose pavement stones. An impressive feat of construction, sadly left to fall into ruins for a lack of conservation budget. The same is happening to the Byzantine and Paleo Christian churches we get to see during the week. Although some effort is made by the locals to preserve this stunning heritage, there is more to be done - hopefully before it's too late, and before time and rivers wash it all away. One notable exception is an impressive bridge standing proud over the Zagora river, an impressive structure that we cross on horseback, trying to keep our horses dead straight in the middle of it (parapets are for the weak). Another example is the church in the village of Labovë, that we get to visit with our guide while the horses enjoy a break.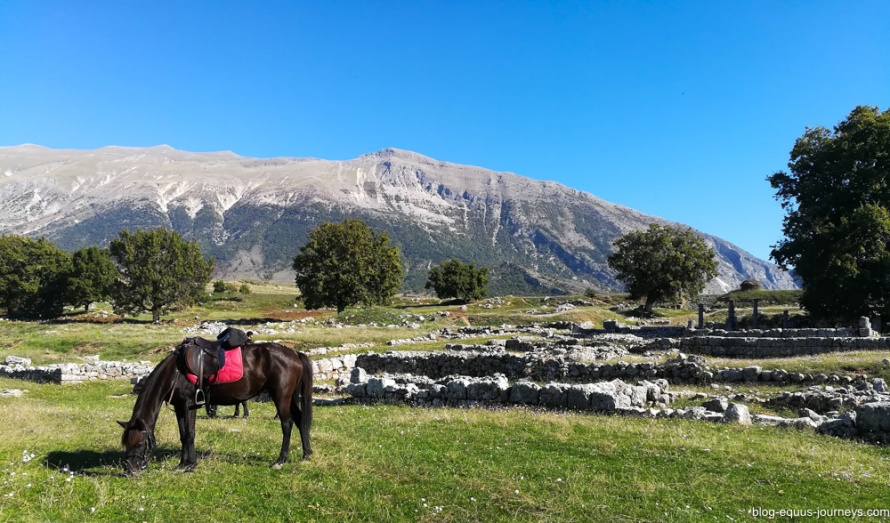 These old, decrepit caravan pathways make for a rocky climb over the mountains. The horses don't seem to mind, they know the trail and this is their home. Kristina tells us you can trust a horse in its environment, and these prove to us time and time again that we can trust them in theirs. Some of these ascents and descents are dizzying and you certainly need to have a good head for heights, especially towards the end of the week. The views, however, are worth it, and we take it all in as our horses catch a well-deserved break.

AN ATHLETIC TRAIL IN THE MOUNTAINS

There is more to this trail than going up and down, up and down. Sure, it makes for a good part of it, but we also ride in sheltered valleys that offer narrow grassy plains where we can give our horses their heads. If we thought they were fast over stony tracks, we really get an idea of their full potential in the valleys. Michael & Mavri, Maciej & Sacha, and Hektor and I zoom in behind Kristina or Aurel. The rest of our group... Well, let's just say they do their best to keep up!

The riding is surprisingly fast for a mountainous trail ride. The canters are never really long but frequent. The trots are sparse - I am not complaining, although Hektor's walk is nice and active and he's got a comfortable smooth canter, I'm afraid his trot is the exact opposite!

Every day, one of us gets up early to check on the horses and feed them grain. It is one of the features of this trail that we are responsible for the horses at night - it's an adventure, not a relaxing holiday. In the evenings, we give them oats, hay and water. Headtorch recommended. At 8:30 am we are usually on horseback, ready for around 4-6 hours in the saddle. Lunches are simple picnics, either brought to us by the back up vehicle or packed in your saddlebags. It's simple but effective after a full morning of riding: eggs, tomatoes, byrek (filo pastry pies, normally stuffed with spinach and cheese), olives, bread and feta cheese. We eat sitting on the ground by a river, on makeshift stone tables and chairs by an old mill, at a table near a shepherd's hut... One day, one of the shepherds treats us to fresh yoghurt, cheese and butter. Earlier during the week, as we were still close to civilization, we stopped at a cafe to try a dish of aubergines slowly cooked with tomatoes and onions. Simply delicious!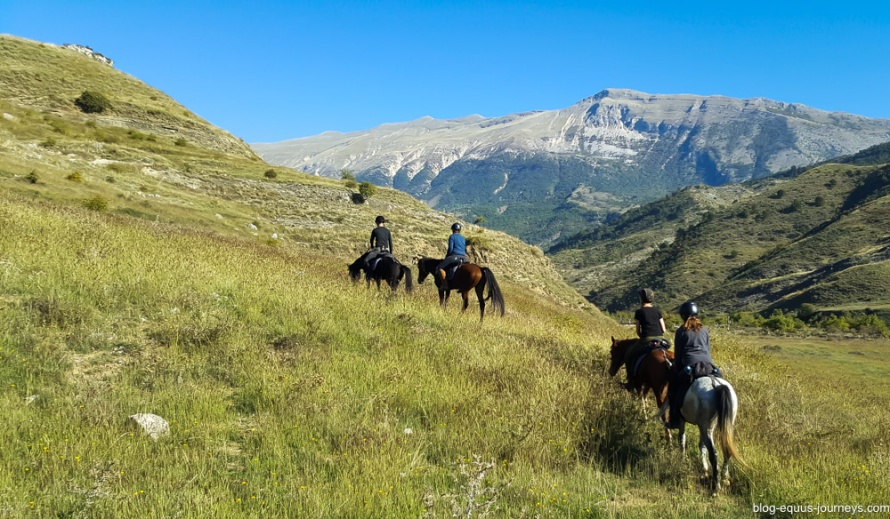 LIFE IN ALBANIA

The evenings are spent with local families. They welcome us into their homes with open arms and enough food to feed three times our group. Oh, and did I mention raki...? There's homemade wine too, of mixed quality but always abundant quantities. Our hosts don't speak much English. Some of them, none at all. We soon learn that it doesn't really matter, as long as you can master the basics. One to remember is "Gëzuar" (cheers). A simple word that we used very frequently... And with a little sign language, a little French, a little Russian and a little Italian, and a few old photo albums, we puzzled the pieces of their stories together. They are not always joyful. You have to remember that Albania was a dictatorship and a communist state until the implosion of the USSR in 1991. In many ways, the country still bears the scars of that time. You see it in old bunkers built to face the "imaginary enemy", that were ultimately never used. You see it in the lack of infrastructure and desperately low wages. You see it in the smiles and genuine warmth of the people, who want nothing more than to share a little bit of their life and positivity with you. We stayed with people whose stories really touched us. Whether learning traditional dances in front of an abandoned school in a village where there are no more children, sharing a cup of tea looking at old family pictures, or learning about the sacrifices a young man made to be with the woman he loved, we made memories that will stay with us for a long time, beyond the riding experience. It is a simple life they live, especially in the most remote areas where villages are nothing more than a few houses bundled together. And we couldn't help but think there's a lesson to be learnt somewhere.

I'm lucky enough to say I've been on a few of these riding trips by now, and each was special and unique in its own way. But this ride offers something that not many riding holidays can provide: a real human, cultural and historical experience.

In a few words...

Who is this for: Riders with a keen sense of adventure and a positive attitude. A good sense of humour and open mind are a must. Must be willing to sacrifice the comforts of modern amenities and some privacy for a week. This is not a luxury riding holiday!

Experience levels? Open to intermediate levels as some of the horses are easy to ride, but you must be comfortable in the saddle and fit. The riding can be a little technical at times and there are a couple of gallops. Some descents are very steep and you will need to dismount and lead your horse on foot.

Good to know: There are no single rooms and you are expected to look after the horses in the evenings and mornings.

Top tips: Do some research on the country and learn some basic Albanian words. It shows you care!

Last minute packing considerations: a headtorch to feed the horses in the evenings when the days are getting shorter. Some pictures or your family and hometown to show your hosts.

Also:
the same team runs a different trail ride heading west towards the sea:
Sea and Mountains of Albania
. It offers a little more variety in the scenery but is physically more challenging and reserved to experienced riders.
More information

You may also enjoy reading