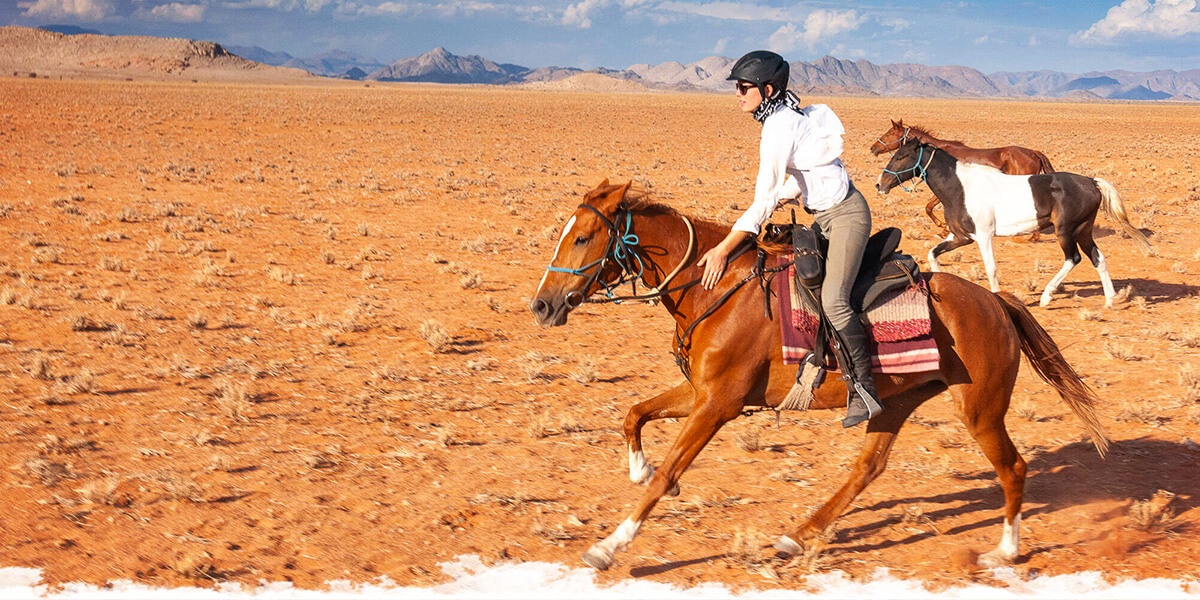 Five riding holidays with faster riding
Choosing a ride can be challenging, especially when there are so many fabulous options to choose from. If you have narrowed your choices down and are looking for an adrenaline-filled, fast-paced adventure, then this blog is for you. Here are our top five bucket list rides that are sure to give you that thrill that you are looking for.

One of the most challenging adventure rides in our books and a bucket list trail riding holiday for many equestrian adventurers! This trail covers over 300 km riding in one of the world's oldest deserts. In order to cover such a long distance, the pace is necessarily fast. It is demanding for horses and riders alike, so make sure to come fit – very fit! The horses are wonderful athletes and receive the highest levels of care in order to ensure they can carry riders safely, and soundly, across the Namib. They do a safari every six weeks only with a long break between November and March out in the bush. They are checked regularly on safari and several spare horses run loose with the group, so each horse can get a break if needed. This is a camping trail, with the opportunity to sleep under the starry desert skies - don't expect luxury lodges and a steady WiFi connection… Overall, this isn't for the faint-hearted. If you are looking for a fast trail ride and want to challenge yourself to a real horseback adventure, look no further!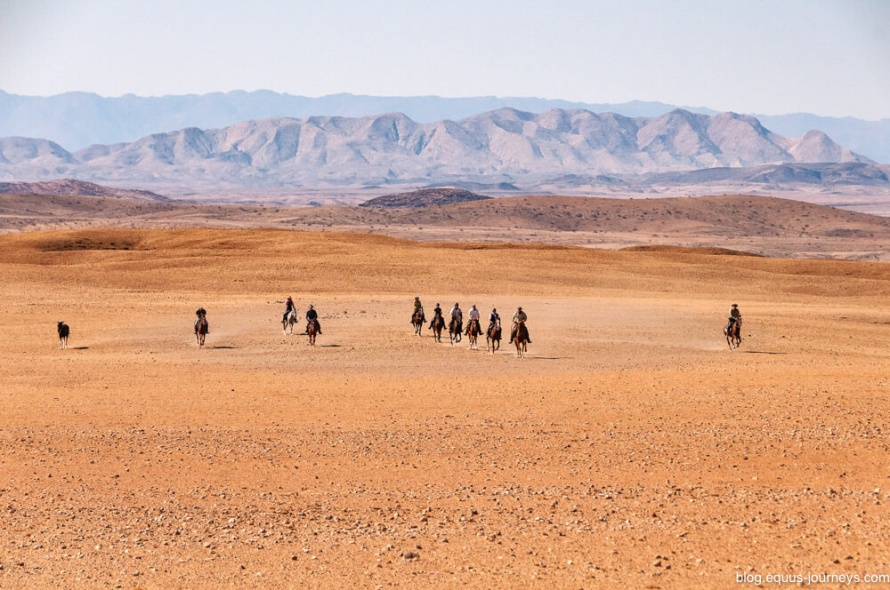 For those who might prefer to stay in Europe, France is the ideal destination for an active trail ride. Many of our trails in France are relatively fast-paced, especially in those flatter areas, but one that really stands out is our Burgundy black mountain trail. On this ride, you will ride in 50 km stages with an average pace of more than 10km/h, with long and frequent canters over varied terrain. Again, this is a trail ride for competent and more importantly, confident riders. Your hosts, Jean and Amélie, are brilliant endurance riders and breed their own endurance horses – some of them have gone on to successfully compete at the international level.

We're staying in Africa for our next sportive ride. And what a ride! This one is for the water babies amongst you. The Wild Coast Trail in South Africa has often been called "the most spectacular beach ride in the world", and it's easy to see why. The Wild Coast is known for its rugged and unspoiled natural beauty, with endless beaches, rolling hills and rocky headlands. These South African beaches call for exhilarating gallops – the sort that leaves you with shaky legs and a big grin on your face (and perhaps a little sand between your teeth). The groups are small and intimate (usually a maximum of 8 guests), giving you the chance to really enjoy your riding holiday to the fullest. The horses are a mixture of Arabs, Anglo Arabs, Thoroughbreds, crossbreeds or local African horses such as Boeperds – in the stable of around 40 horses, there is sure to be one that will steal your heart.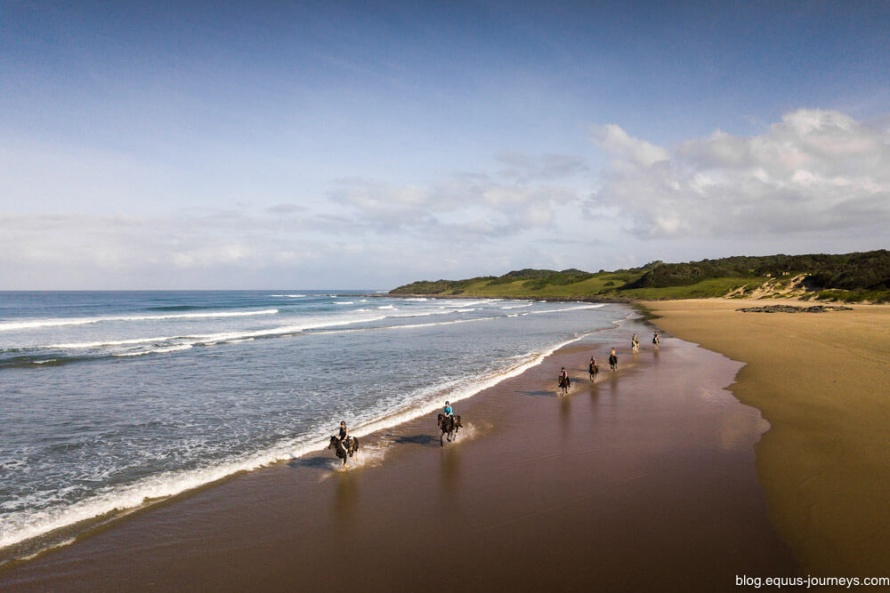 Galloping across the Mongolian steppe is a bucket list item for many of you… As it should! There is something magical about riding in Mongolia – it's a place where riders can reconnect with nature and enjoy a truly authentic riding experience. The Mongolian horse is very, very different from our Western horses. Sure, they are short-legged, but didn't these fast little legs once helped Genghis Khan & co conquer Asia? The Orkhon Valley in particular is very well suited to a faster pace. The endless steppe sprawling along the banks of the Orkhon river is the ideal playground for long (sometimes very long!) canters and gallops. So, are you ready to "chu" away?! (just a little bit of context here - "chu chu" is what you say to your horse in Mongolia if you want to go faster!).

Our trail ride in Cappadocia, Turkey, is known for two things: its stunning scenery, and its never ending canters! Although the tracks in and out of canyons and around the magical fairy chimneys of Cappadocia are rather twisty, there are plenty of open valleys where you can let the horses fly. But be warned – some of the canters can be quite long: up to 20 minutes at a time, which is no joke! This is an equestrian adventure for fit, active riders. The horses are lovely forward-going Anatolians, Arabs and cross-Arabs (mares, for the most part). They are a pleasure to ride and are quite sensitive and responsive.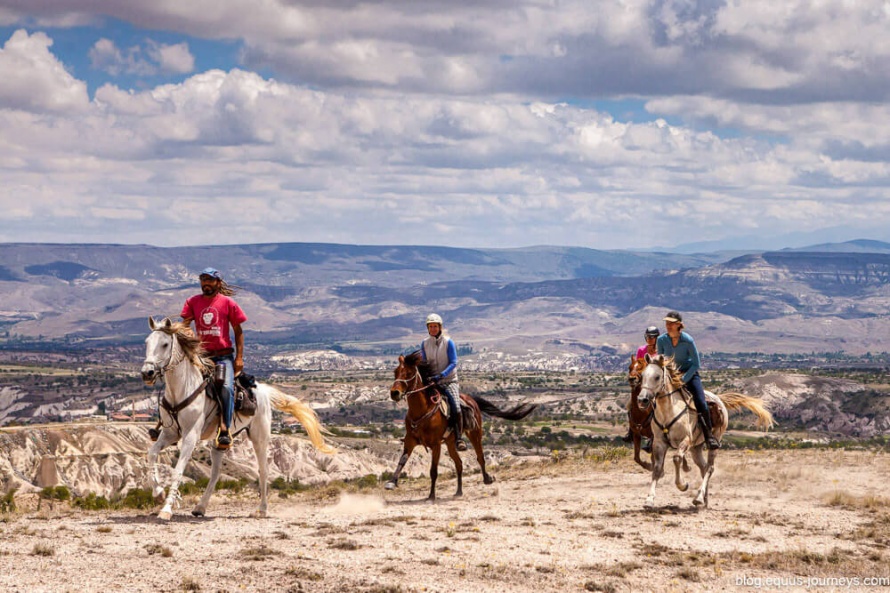 You need to be a competent rider to participate in these rides – capable and in control at all paces, able to canter in a forward seat. Most of these trail rides also have a weight limit. If you are unsure, please do contact us and we will be happy to help you find the best ride to match your requirements and expectations.

More information

To find out more about our rides, please visit
our website
.
You may also enjoy reading: