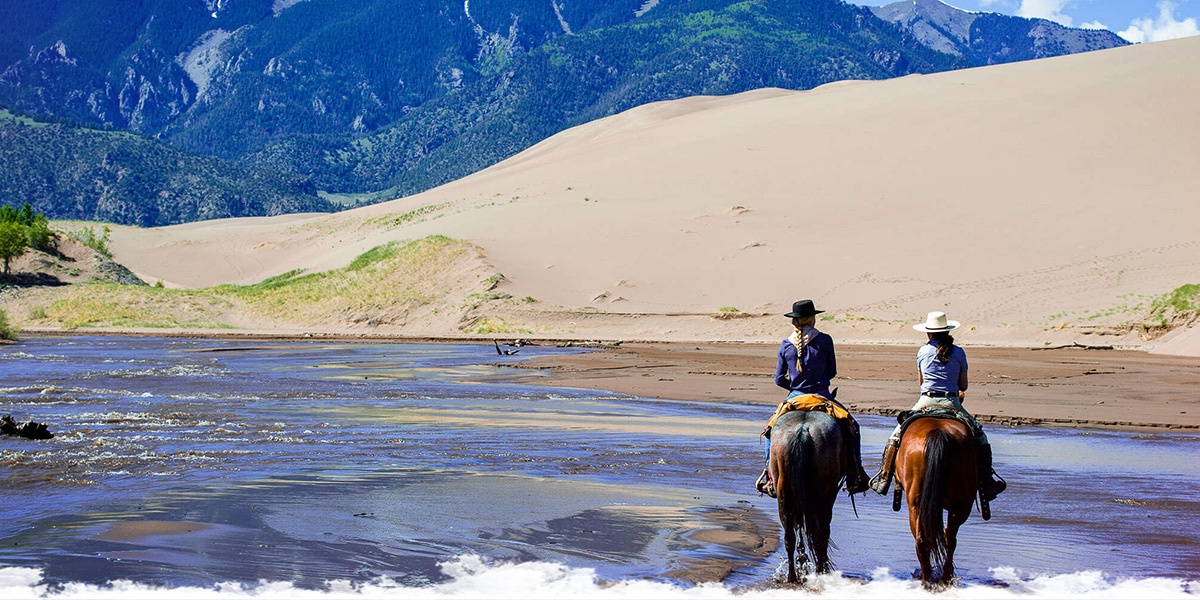 Ride report: Zapata Ranch
Western riding enthusiast Raphaelle visited Zapata Ranch in the fall of 2019. In this blog post, she shares her favourite memories from her stay at this beautiful guest ranch located on the foothills of the Sangre de Cristo Mountain range and the Great Sand Dunes National Park, in Colorado.
Before getting there, what did you expect from your ranch holiday at Zapata?

I had been to several guest ranches previous to Zapata, and also a few working ranches, but Zapata is rather unique since it really offers both experiences at the same time (guest/working ranch). I was expecting the flexibility and comfort of a guest ranch and also hoping for the authenticity and experience of real cattle work with long hours in the saddle. And that's what I got!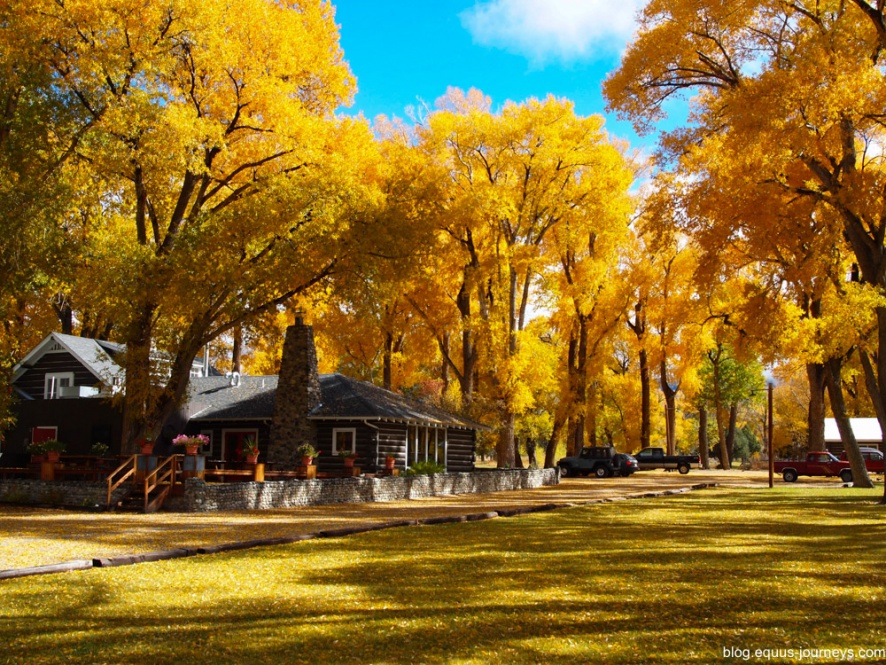 The ranch is known for its excellent, and most importantly personalised, levels of service. Each guest receives a tailored itinerary to match their riding ability and requirements for their stay – trail riding, working with cattle, riding with bison… this can even include non-riding activities. What did your own stay look like?

I was really surprised by how special the ranch team make you feel. Upon arrival, I was given a unique and personalized itinerary, and the staff insisted that anything I wasn't happy or comfortable with could be amended. They offered me different horseback rides and cattle driving, but also arranged a hike to a lovely waterfall, and a cooking class. It's so important to let your agent know about your preferences so that the ranch can really organise what suits you best. They always organise private rides for your party or family, which really makes a difference because you get to share and experience so much more! I was travelling on my own so I got a wrangler "for myself". She was great! Having my own wrangler meant we could canter more often (whenever I wanted to, really). It's very far from the nose-to-tail riding experience many people are worried about when they choose a riding holiday and a ranch vacation.

We hear riding with bison is a very special experience. What did you think?

It's truly an experience of a lifetime. I studied American history and literature in College, something I've always been interested in. When I first rode my horse close to the bison herd, with absolutely no sign of human life around us, I felt like one of those pioneers from back in the day! The bison were just out there, in this beautiful environment, grazing with their calves just like they would before the arrival of men in the Great Plains. No words can describe it; you just have to live it!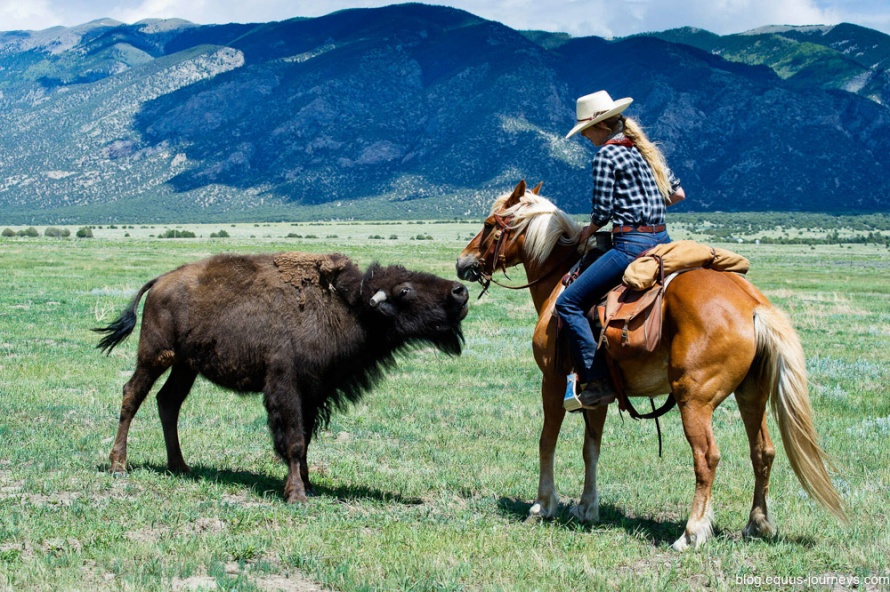 What is trail riding like at Zapata? You went as an experienced rider – did the rides meet your expectations?

Absolutely! As you only ride with the members of your own party, you never have to ride with people who are less experienced (or more experienced!). I was travelling on my own, and my wrangler always made sure I was happy with the pace. We did not have to ride in a line either; we cantered side by side which was amazing – a really exhilarating feeling.

Can you tell us a little about the horses? I'm guessing you would have loved to take at least one of them home with you – it seems to be a very standard occurrence on our ranch holidays!

Oh yes, they do know how to match horse and rider!! I was matched with Reba, a beautiful Paint mare. She was exactly what I love about a horse. Forward-going, but responsive and listening well to her rider. Sure-footed, we even cantered on the dune and she never put a foot wrong!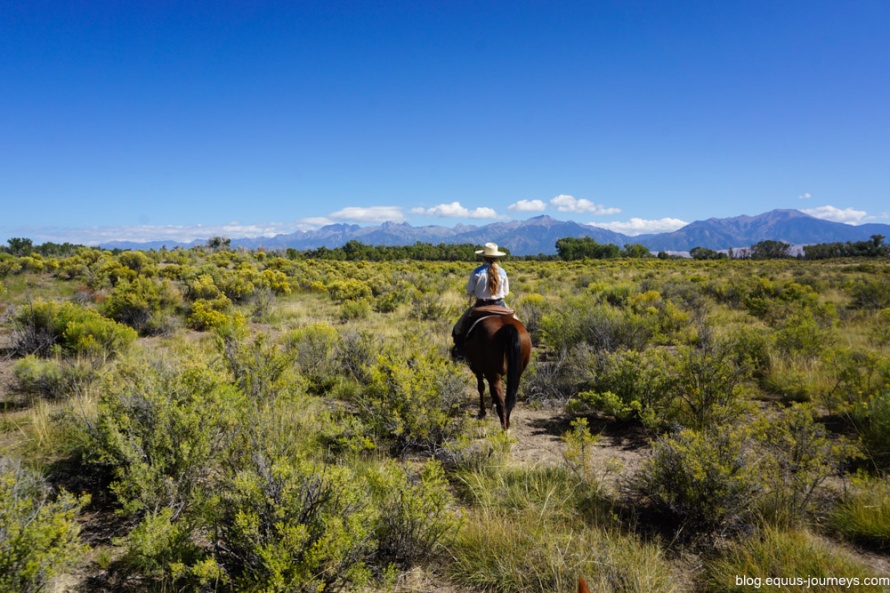 Let's talk about the ranch in itself. What did you think of the lodge and rooms? We've also heard really good things about the food…! Did you get to try some of their ranch-raised bison meat?

I would describe the accommodation at the ranch as really cosy and modern at the same time. The rooms are large and airy, decorated in the western tradition, with fantastic views. My bed was a very comfortable king-size bed. As opposed to some of the other ranches where I've stayed, you don't have to pay extra for a single room there, and you don't have to share with another rider. The lodge really has a homey feel to it, there's a warm living room area with a fireplace, beautiful scenery all around... And don't get me started on the food... the Chef is simply amazing. Never have I eaten so well on a ranch holiday before! Where other ranches serve very tasty but simpler, more traditional food, the meals at Zapata are a bit more refined. And that's always very welcome after a day in the saddle kicking dust! The meals were always tasty and came with delicious sides: home-grown veggies, roasted potatoes... And yes, make sure to try their bison meat, it delicious (except if you're vegetarian, of course!).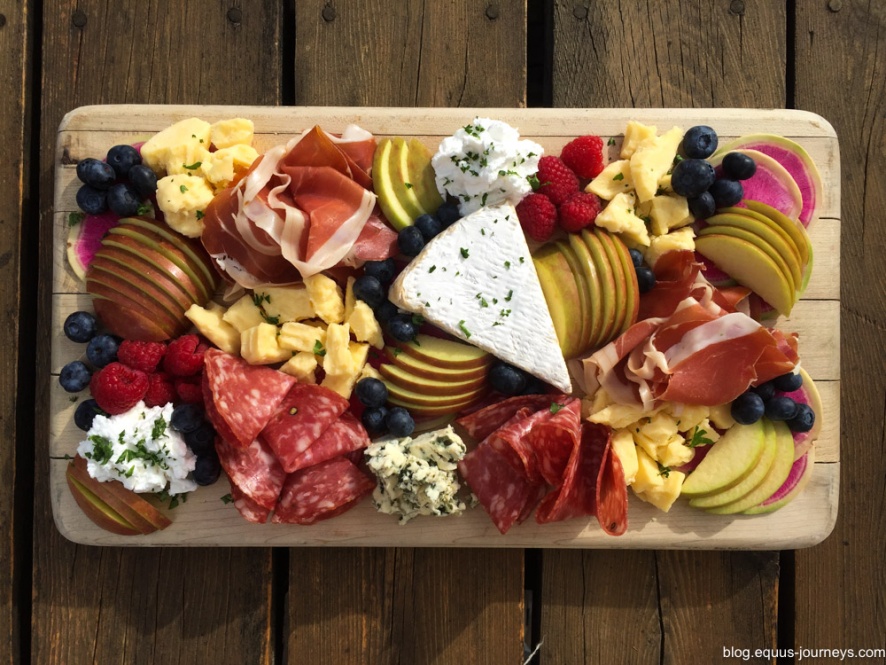 We recommend Zapata ranch for its beautiful surroundings. The ranch is ideally located near the Sangre de Cristo mountain range and the Great Sand Dunes national park. This is a very scenic area – can you confirm?

Yes, it's actually one of the most unique and breathtaking locations I have visited in the US. All of the ranches where I've stayed where located in amazing places, but Zapata's location in the foothills of the Great Sand Dunes National park is very special. It truly is one of the most spectacular spots in Colorado. You can ride 7 times a week and not see the same landscape twice. It's really special. It's also easy to reach, an easy 4h drive from Denver and a great scenic drive. I would really encourage other riders to hire a care and drive there to enjoy the surrounding area. Make a road trip out of it too!

This ranch holidays focuses strongly on conservation and offers opportunities for educational nature experiences. Did you get to try any of this?

I did not stay long enough to go on a hike with a naturalist guide, but I talked a lot about conservation with Kate, the manager, and Claire, my wrangler. I loved how Zapata ranch is committed to protecting and respecting the environment and biodiversity of the plains. They are not an extensive cattle company – nothing like what might comes to mind when American agriculture is mentioned. They really focus on managing soil, water, and pastures in a proper way. Their choice to maintain a bison herd, the original king of these Plains, is also fascinating. You know that the whole team shares the same values when it comes to not only horsemanship, but also environmental preservation and awareness.

What was the highlight of your stay?

It would have to be my trail ride in the Sand Dunes. It was just my wrangler Claire and I, alone in the silent, gigantic dunes, cantering away, then letting the horses rest while we enjoyed a delicious picnic on top of the dunes, facing the Sangre de Cristo Mountains. The landscape sometimes felt like the Sahara desert… But then a minute after it looked entirely different. The Great Sand Dunes nature reserve is unbelievable. Such a great place to ride. We spotted a coyote, and in the background, the bison herd grazing. Picture perfect!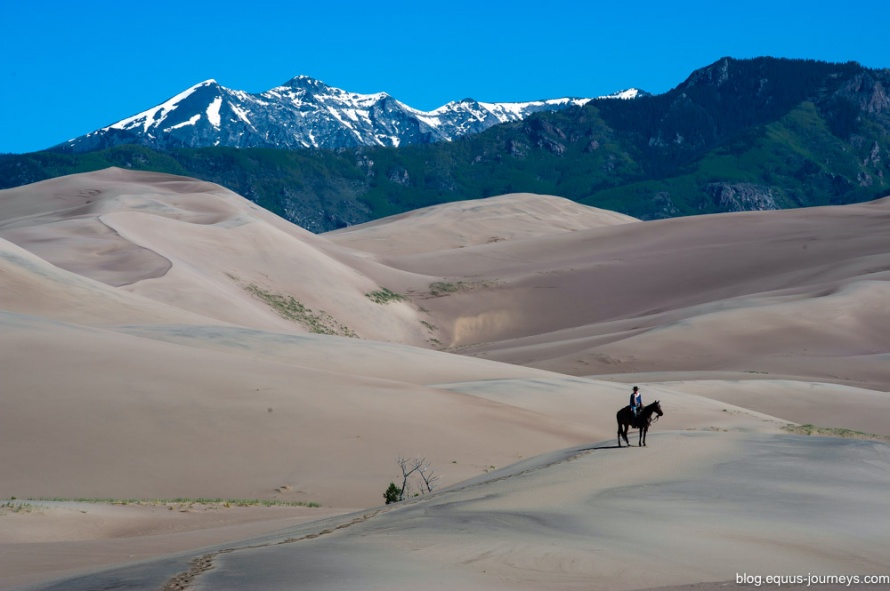 You had the chance to experience several other western riding holidays before visiting Zapata in 2019. How did this experience compare with some of your other riding vacations?

My stay at Zapata ranch definitely stands out. I honestly enjoyed all of my ranch stays, and they all have something special about them: the place, the people, the connection with the horse... But people at the Zapata really focus on the experience and make sure that every guest makes the most of their riding holiday. They have great horses, passionate staff, a fascinating family history, and of course the most amazing location. All together, it was a perfect trip!



Any advice or recommendations for fellow riders visiting the ranch?

Several times a year, I know that Zapata offers special weeks including a branding week, as well as painting or literature weeks. Perhaps a good way to combine horseback riding with an art retreat. I believe that the ranch is a very inspiring place for writers and painters, and a great place to meet new people. If you want to experience something really different and more immersive, you can combine this stay with a few days in the family's other property, the
Chico Basin ranch
. They are just a couple hours' drive, west of the Zapata. They only accommodate 2 to 4 people at a time (rarely more than 2). You will be made to feel like a cowboy or cowgirl with authentic and simple accommodations, long days in the saddle and almost a whole team of wranglers to yourself, participating in the everyday life of a western cattle station.
More information

You might also enjoy reading: