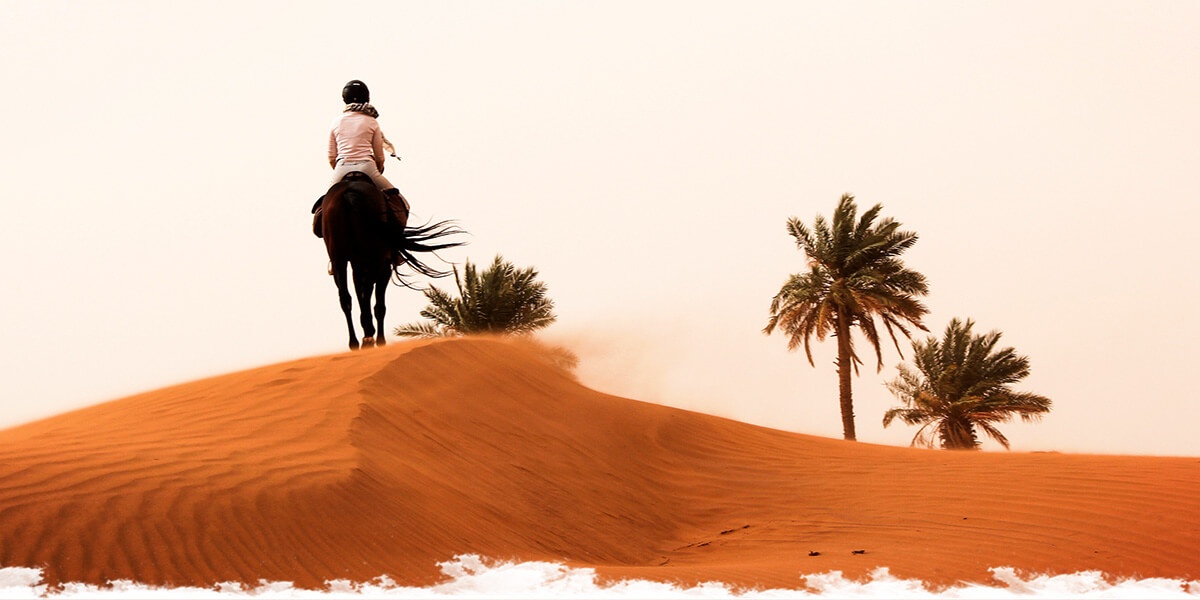 Morocco: Horses, Dunes and Nomads
Iris went on the "Horses, Dunes and Nomads" trail ride in southern Morocco in November 2017.

An escapade to the desert

It is difficult to convey the feeling of
escape and total freedom
one can experience on our
"Horses, Dunes and Nomads"
trail ride. Just a short flight from Europe,
Morocco
is the ideal destination for a
riding holiday.
Over the years I have travelled several times to this beautiful country and was always amazed by the
vibrant culture
and the
friendliness
of the Moroccan people.
This was, however, my first time in the desert. I arrived late on a Sunday evening to Ouarzazate, meeting three of my travel companions in the arrival hall. Our guide Abdel picked us up and we headed to the hotel for the first night of our holiday. It did not take long to see how efficient the team was, with food and drinks waiting for us in the rooms – and it was well after one o'clock in the morning at this point!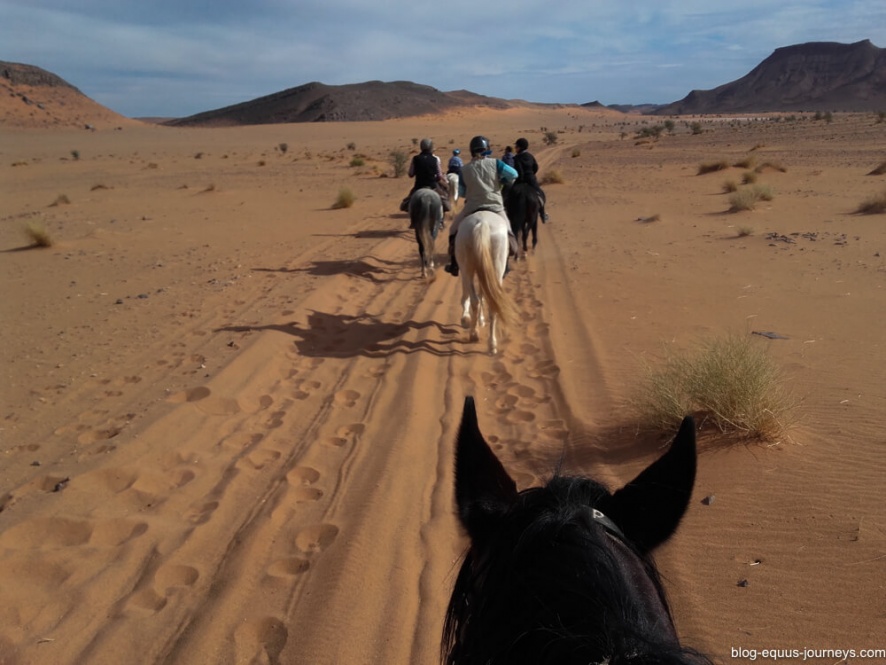 The road to the south and Zagora is long (about 5-6 hours) but it flew by with everyone happily chatting about their riding experience and previous trips. The feeling of comradery started to develop very early and only progressed throughout the week: although we were quite a big group of 9 riders and 2 guides (max is 10 riders + guides), we all got along spectacularly. Everyone had a good level of riding, with some having competed in endurance riding or show jumping, while others just rode for pleasure.

Needless to say, we were all very excited to meet the horses. Abdel took the time to sit with us to find out about our experience and expectations, and quickly matched everyone to their assigned horse for the week. All the horses were stallions but were perfect gentlemen with impeccable ground manners. They have a few geldings for less confident riders but not on that particular ride. Abdel and the riding team put a lot of work and love in each horse and it really shows. My horse was Tissir (which means "luck"), a handsome bay chap who loved his cuddles (and his food – we were a match made in heaven). Some horses are more forward and playful than others, with a great mix of personalities for the intermediate to the confident rider. They were in excellent physical and mental condition, ridden in GP saddles and snaffle bits. Everyone got along well with their horses after a day of adjusting to their personalities and "finding the right buttons". I absolutely loved Tissir and I personally feel like I have learned a lot from him. I definitely got back from this ride a better, more confident rider.

Sand dunes and rocky paths

On the first day, we got the opportunity to try our horses at the walk, trot and canter individually before we set off. The first ride only lasted two hours and we quickly realised that the horses were quite forward - and possibly a bit cheeky - without being naughty or unstoppable. Throughout the week, the main pace of the ride was at a walk due to the nature of the terrain (across sand dunes or rocky paths, especially on the first two days), but we had some beautiful opportunities for long trots and canters whenever the ground was suitable. On a few occasions, we pushed them into a flat-out gallop and raced against each other. Abdel was always very mindful of the terrain and took no risks, but he very quickly assessed the average level of the group and tailored the riding to our expectations. We had some unforgettable gallops and some more relaxed canters along sandy tracks and over vast plateaus, rode across beautiful sand dunes and into dry riverbeds. Every day was different and interesting in its own way. We did not see a road until the very last day and I felt like the outside world could not be any farther away.

Accommodation on this ride is in lovely desert inns and riads. The standards were extremely good, some were more simple than others but all were very comfortable and clean. The food was traditional (couscous, tajines, salads, fruit), always tasty and freshly prepared. My favourite place was definitely the riad on the second day of the ride, perched on a hill with the most gorgeous views I had seen in a long time. Sitting there with my fellow riders, enjoying traditional tea and pastries with the setting sun was a magical experience. We had dinner under the stars that night, sharing a beautiful meal and getting to know each other after an exhilarating start of the ride. The local team even put up an impromptu concert for us and we all sang along merrily enough to the latest hits of "Justin Berber" (pun intended), helped only a little by the wine Fiona and Candy brought with them!

The sun was hot but never scalding, and we were given ample provisions of water. The big saddlebags allowed us to carry sunscreen and water bottles – and even a light jacket for the early morning rides! The ride requires a reasonable level of fitness and you should be riding fit. The hours in the saddle are never too long (our longest day was 42 km), but you should not underestimate the physical effort required, especially if you decide to go in October or March when the temperatures are a bit higher.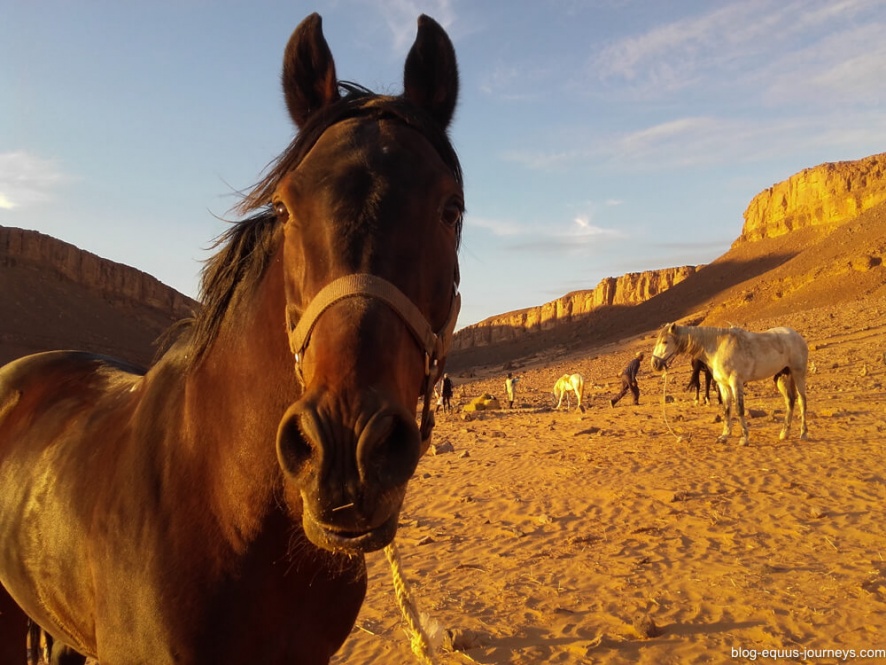 The local team played a huge part in the experience. Our main guide Abdel was an excellent horseman, and a great person to be around, with a quick sense of humour and a playful attitude. Mohamed was our back-up guide and quickly won our hearts with his big, warm smile and jokes (usually at our expense!). Momo and Lahcen took care of the logistics, helped look after the horses and although their English was limited, they had a very infectious laugh and were always on hand to help. I was very impressed with how well they all looked after the horses, making sure they ate and drank properly during the ride, and ensuring they were comfortable at any point. We riders never had to ask for anything twice, and it was a pleasure sharing this adventure with them.

I can honestly say I have loved every single minute of this trip. Looking back on it now, and although my heart will always belong to the gentle green hills of Ireland, I have left a little part of my heart in Southern Morocco. Big thanks again to Abdel and Mohamed for being such great guides, to my travel companions for being such amazing company, and to the local team for providing endless entertainment. And of course, let's not forget the excellent horses we rode, who gave us so much, every minute of every day. See you all again soon!

For more information

You might also enjoy reading: