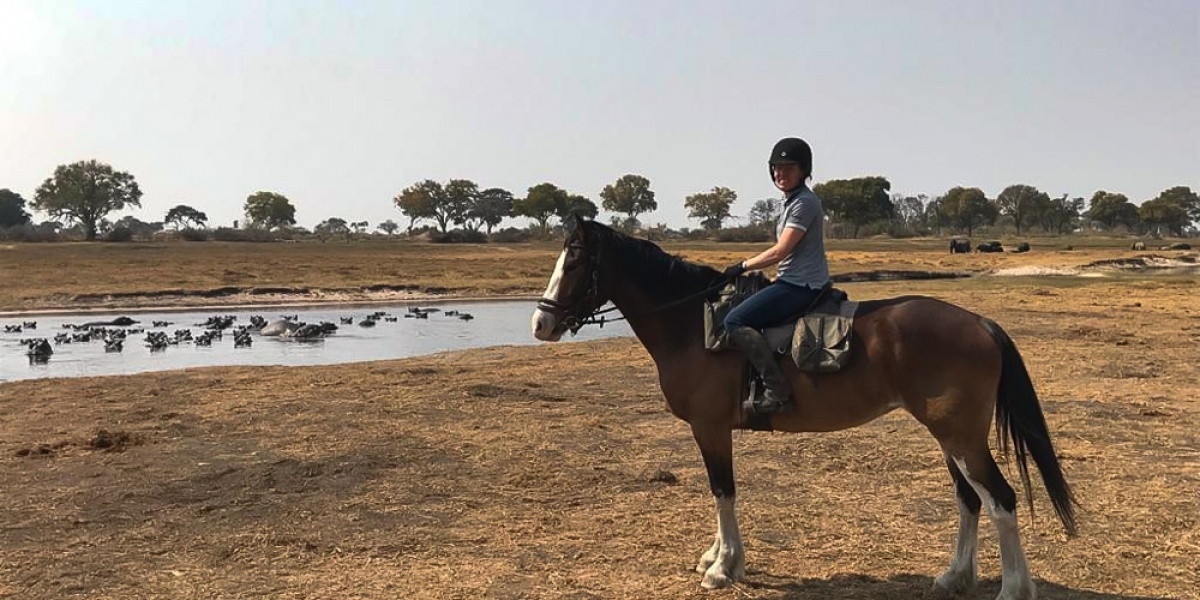 Meet our US-based agent, Louise
Meet our very own Equus US-based agent, Louise Carelsen! Some of you probably know Louise from back in the day, when she and husband Cor owned and operated Limpopo Horse Valley Safaris in Botswana. Louise also escorted a safari in Zimbabwe for us last summer – she is a familiar face and we're delighted to welcome her into our growing Equus family.

Can you introduce yourself to our readers and riders?

Hello! My name is Louise and I currently live in Charlottesville, Virginia USA with my husband Cor and my two sons James and Adam.

I was born in Boston, USA and subsequently lived in Switzerland, Germany, and the UK. I also spent a year at France's National Riding School at Saumur and received my BSE first degree in riding/teaching.

Cor and I travelled and worked in the UK and Ecuador for a couple of years before settling in Botswana at Limpopo Horse Safaris, which we owned and managed for almost 14 years. I am really excited to have this opportunity to reconnect with my love of travel and horses. I look forward to sharing this with you.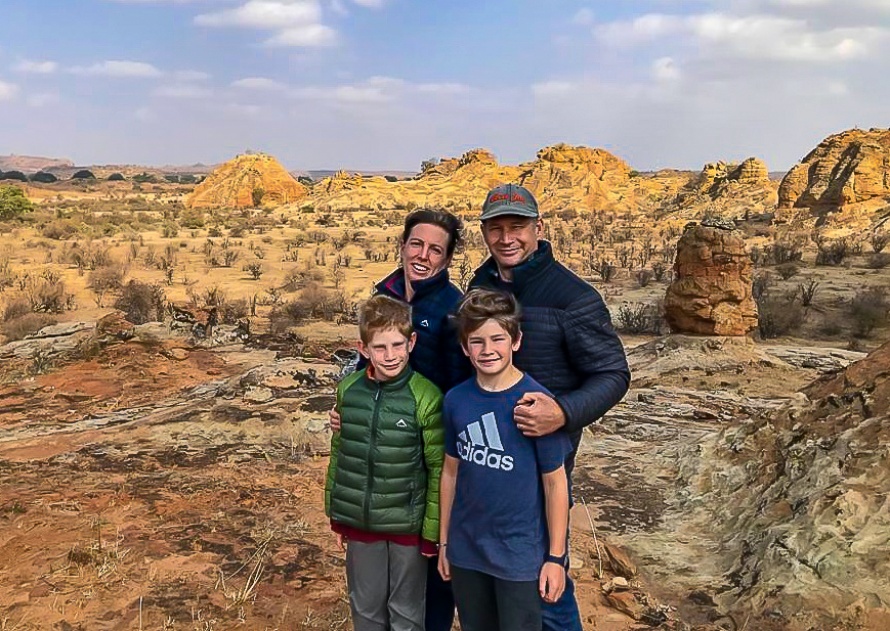 You went to study with the Cadre Noir of Saumur, the French National Riding School, when you were just 18. That is quite an achievement for a young English lady! What was it like to ride there?

Saumur was the experience of a lifetime! I had an amazing experience and got to ride a lot of different horses in different disciplines, including dressage, eventing, show jumping, carriage driving and even vaulting! My main interest at the time was eventing, and I am really proud that my teacher from Saumur came to visit and ride with us in Botswana too. I loved my year in France and it has been the basis for all my work with horses since then.

How did you end up owning and managing Limpopo Horse Safaris? What led you to settle down in Botswana?

Cor and I had just returned to South Africa having spent a couple of years in Ecuador when we spotted an ad in a newspaper for horse guides in Botswana. We had previously worked for a riding safari operator in South Africa, so we applied and got the job working for Mashatu, who then owned Limpopo Valley Horse safaris (note – this is where we currently operate our popular
Tuli trail safari
). After a couple of years, Mashatu decided they no longer wanted the hassle of owning horses and anything horse-related. Cor and I had the opportunity to buy the company and jumped at the chance. We were then able to do all the things we dreamed of with the safari company and especially the horses.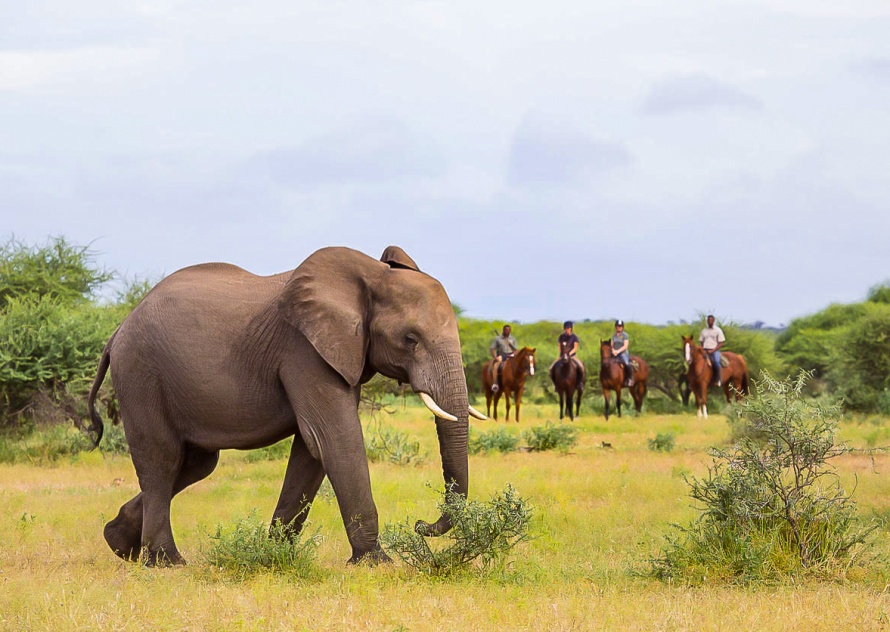 Can you share some of your best memories from safari with us?

When we first worked for Mashatu, I was Cor's back up guide for 6 months or so, and got to see him ride Zulu (his horse which had lived wild for 2 years) while confronting angry elephants which was an unforgettable experience. I also won't forget the time we took our dog out with us on an afternoon ride and had a lion encounter in the vlei (marsh) close to camp: Cor had to stand down 3 lionesses while I had to get our guests to a safe distance. Meanwhile, camp sent out a vehicle for our dog who was gun shy but they didn't have a rifle in camp… so they grabbed the next best thing, a mop!?! Later on we had African wild dogs den close to one of our camps and we would sometimes come across them as they were leaving to hunt. They would actually come to us and surround our group in a very inquisitive way before moving on. I also loved just seeing the elephants move peacefully through the bush, so quiet and gentle.

What was the best part of owning your very own safari operation? Do you miss it sometimes?

It was a pleasure seeing the wildlife all around us, just while doing our regular jobs around camp. I also enjoyed meeting so many lovely and often very interesting guests. I loved having some really good riders like Ingrid Klimke and Michel Robert come out to do safaris and also teach us and our guides. I took a lot of pride in training my guides to ride classically and they all got the chance to compete at shows including the FEI World Dressage challenge. More than anything however, working with the Motswana people was a wonderful experience, and we gained a lot of insight into their culture and way of life - that you wouldn't get as a tourist. Of course I miss it!!

Safari horses are very special… How did you pick or breed your safari horses back in South Africa/Limpopo?

Is there one horse in particular that has left a mark? There is nothing I love better than horse shopping! I would keep an eye out all the time and I had a wonderful farrier who also kept watch for suitable horses. I would try to pick horses that I would enjoy eventing. Good brains and sound was a priority. Also more than 15 hands but no thoroughbreds...! We had all geldings as they were easier to import from South Africa to Botswana.

One of our best buys was perhaps when Cor went to buy some motor oil while we were in Johannesburg for a week. We met someone we knew, who had two horses for sale that we loved and brought them home with the motor oil… Or one of our very best horses (Monate – still a safari superstar to this day!) whom our neighbour told us about. Cor got on him to try him and he reared straight up. Cor felt really sorry for him as he had this super strong bit on, but he brought him home anyway and he turned out to be a real winner. They were all special in their own way. I did have my own horse that didn't have the qualities of a safari horse, and we competed in eventing, represented Botswana in Dressage and competed internationally in the Prix St George eventually.

What other safaris have you been on? What was special about them?

I have been lucky to go on a few safaris. I loved
Macatoo
for the long canters in the delta waters. I won't forget the big herds of buffalo in the delta with David Foot on his
mobile safari
, as well as some spectacular canters with giraffe. Tracking lion in
Zimbabwe
with James Varden on horseback was exciting too! I also enjoyed taking my boys with us for a weekend at
Ants
and
Horizon
in South Africa, both super family friendly.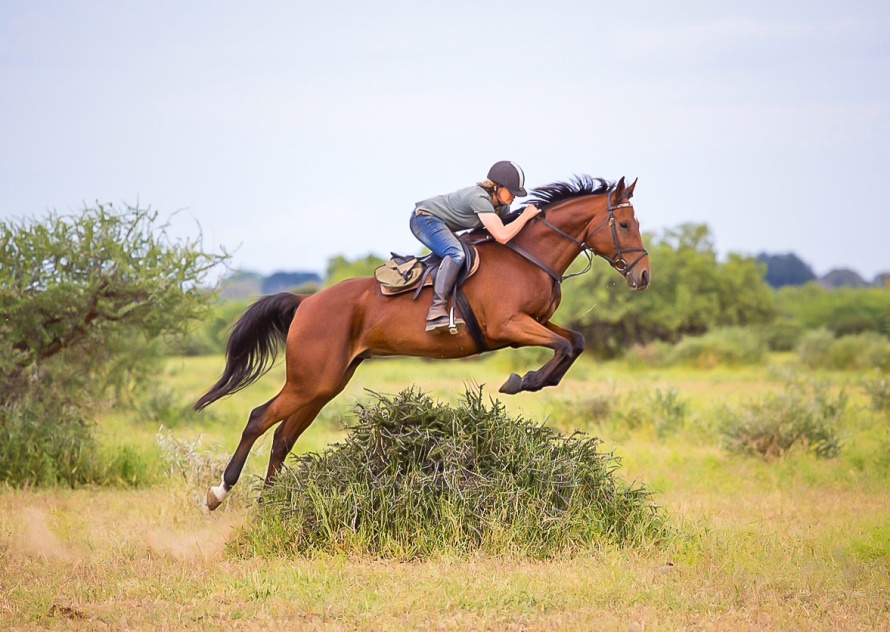 In your opinion, what makes a riding safari such a special experience?

You just can't beat the feeling of being part of the bush rather than an outsider, like you are in a game drive vehicle.

Everyone has their favourite animal when it comes to riding with wildlife… What's yours?

I love how elegant the cheetah are, they remind me of racehorses!

You've also ridden in Ireland and Portugal. Can you tell us a bit more?

Yes - and Sweden too! Portugal was fabulous,
Alcainca
is a very special place with some really experienced teachers. A great place to feel advanced movements on well-schooled masters. I also did the
Connemara trail
in Ireland as a kid and it was one of those unforgettable experiences, really wild and adventurous! More recently Cor and I went to Sweden for 4 nights to ride and see the northern lights; we especially loved the night in the ice hotel and the lingonberry tea!
Do you still ride at home in the US?

Yes daily, I exercise racehorses at our local training track called Braeburn, mostly young horses but some older ones too. I also ride some show hunters and have foxhunted in the USA a bit too.

What other rides are on your bucket list?

What are your top recommendations for someone going on a horse safari/a riding holiday?

Go with an open mind and a spirit of adventure! You never know how the safari is going to work out. Some weeks it's easier to find wildlife than others, and sometimes the smaller animals are in fact the more interesting ones. Things like termites, birds and the various endemic plant species are endlessly fascinating if you have a good guide. Take a journal and write things down, I think that's an even better way to remember than just photos.

How do you feel about joining the team at Equus Journeys? :)

I am so pleased to be working with Equus! Cheval D'Aventure (Equus' sister company in France, established in 1973) was one of our best agents that we worked with as safari operators. I am pleased to be on this side of the business with a company I know and trust.

More information

You might also enjoy reading: