Macatoo Camp, Botswana

Jo Verth from the team at Equus Journeys looks back on her riding safari in the Okavango Delta, Botswana. She visited Macatoo Camp in November and came home with wonderful memories from this very special place.
Macatoo Camp: First impressions of the Delta.

On my arrival into Maun, as I stepped off the aircraft I was immediately welcomed by a cheery smile as the warmth of the African sun hit my skin. We were soon welcomed by a representative from Macatoo Camp who ushered us to the awaiting light aircraft on the apron. The pilot was standing at the steps and we climbed aboard. With just twelve seats this was a fantastic experience in itself, it was only moments after leaving Maun behind that we saw the landscape change. It was obvious that the magnificent Delta was opening up before my eyes. The shriek of delight from a fellow traveller when the first elephant was spotted down below was magical. It was soon a common sight as you could see big groups of them in amongst the waterlogged channels.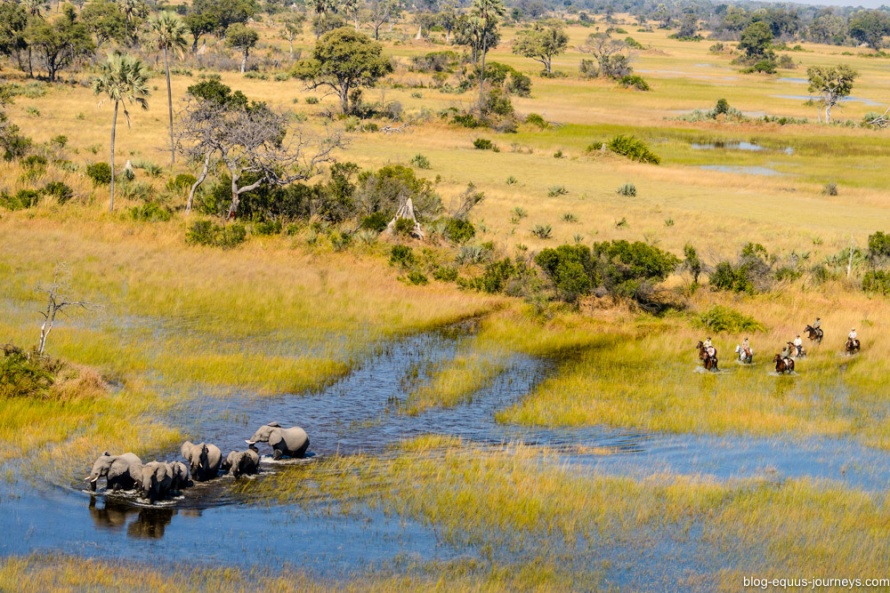 We started to descend and soon the runway at Cement airstrip came into focus. A safari vehicle was on hand to collect us and the supplies which were also brought in by the plane. The short game drive into the camp was just amazing! Within seconds of the aircraft taking off, a giraffe and two warthogs had already been spotted. My heart was beating so fast, I couldn't believe my eyes – the adventure had truly started.

On arrival into the camp beaming smiles and ladies singing greeted us. We were shown to the mess tent where cold drinks were served while our luggage was taken to our tents. It was just a beautiful, peaceful feeling. I was shown to my tent, where two baboons were sitting preening each other on the decking. The spacious tent was certainly full of everything that you would need. The comfortable beds with Egyptian cotton sheets and the en-suite bathroom sum up the standard of these large, luxurious tents.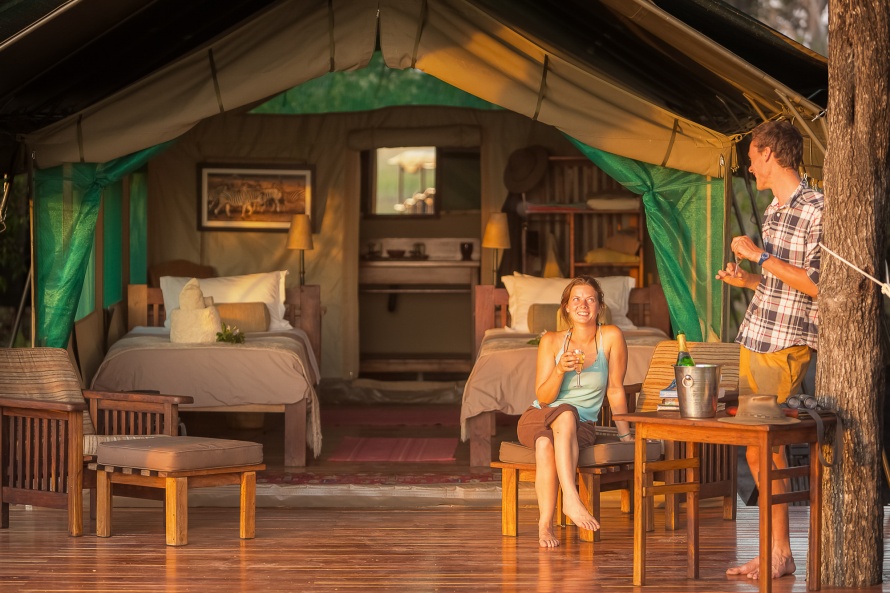 A late lunch was served with Vervet monkeys watching us from up in the trees and a single Impala standing by the embers of the previous evening's fire. We then got ready for an evening ride, with a stable of over fifty lovely horses, I was lucky enough to ride Guinness, Thakadu and Etosha. All were forward going, willing, and most of all sure-footed. A wonderful group of geldings to match everyone's needs. Within minutes of riding out from the camp, our guide Bongwe was sharing his incredible knowledge of the animals and the ecosystem. He escorted us to a pool where we witnessed a pod of hippos happily wallowing in the water in the beautiful soft light of the evening. I can honestly say that I immediately felt so privileged to be in this wonderful place and to see such a sight. Little did I know what was to come in the following days.

Dinner that evening felt relaxed and informal, the other guests were now my friends as we had shared such magical events already, the fantastic food was better than I could have ever imagined, served under the stars of the African sky. As I was accompanied back to my tent we saw a selection of chameleons along the sandy tracks and once inside, I felt yet again so lucky to be experiencing this amazing place.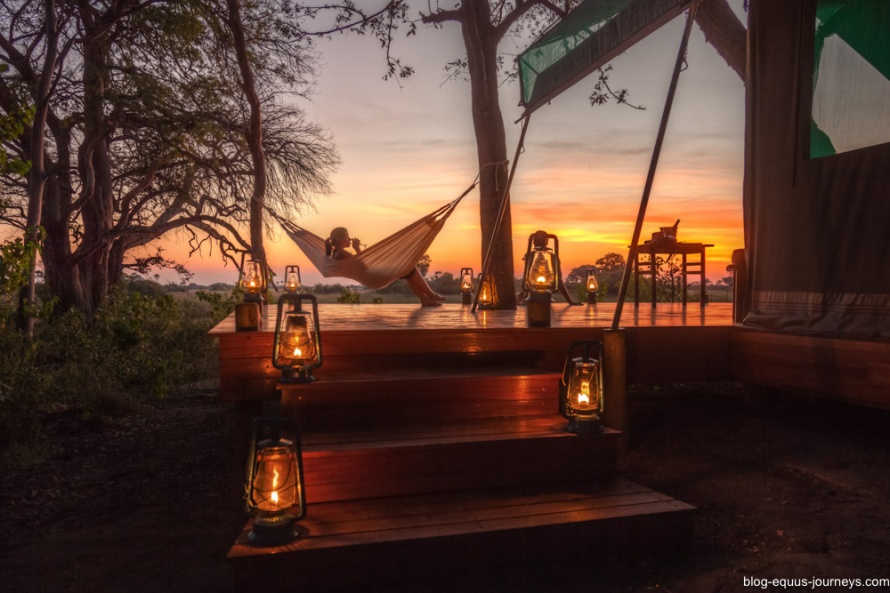 Life on a riding safari: The African experience

An early morning call with a tray of coffee was very gratefully received. Walking down to breakfast I could hear the monkeys rushing through the trees. Breakfast was taken around the campfire and then it was straight down to the stables. We mounted quickly and Bongwe led us out into the bush. There was fast and furious fun riding coupled with calmer moments where we appreciated game viewings. Bongwe shared his incredible knowledge of the landscape and all that lives in this magnificent place. I soon lost count of the amount of eland, roan antelope and hartebeest that we had seen! Just as we were heading home for a well-deserved lunch, a herd of elephants were spotted in the distance. We cantered along a sandy path until we could see them in their full glory. I was not the only one with tears in my eyes at this majestic sight. These were the first of many elephants that I went on to see...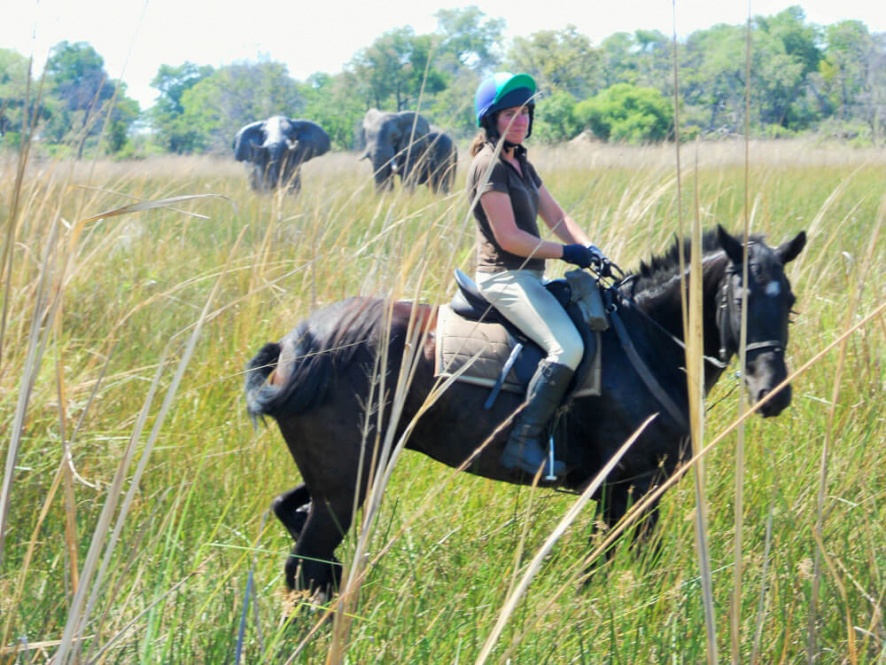 On our way back to camp we saw a fishing owl, an eagle, a zebra, a herd of Wildebeest and buffalo. The lunch table was filled with over-excited people reliving the four-hour ride that we all had just shared. That afternoon, while others retired to their tents for a snooze, I laid out on the decking and sipped gin and tonic, taking a dip in the plunge pool to cool off. While I lay looking out, I watched young warthogs zooming around at play, their tails held high. A monitor lizard and vervet monkey came to drink from the pool.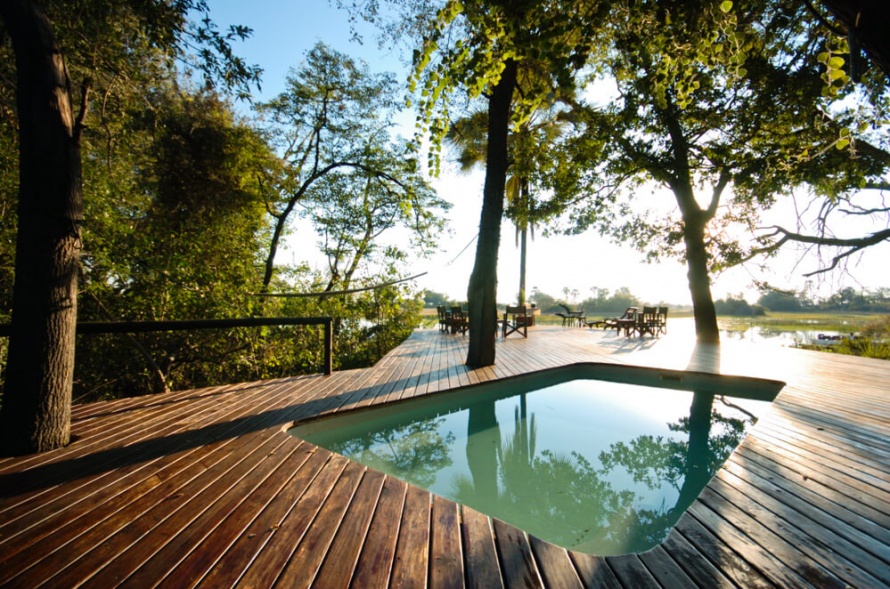 I was the first one down to afternoon tea and the cake was just as delicious as it looked. A refreshing cup of tea was just as good as at home. We were all excited about the evening ride and we weren't disappointed. An hour in we spotted a male lion and while we were all very adrenaline fuelled, Bongwe's and the backup guides' strict instructions had paid off. Our horses were collected by a group of grooms who had come in from camp in the safari vehicle so we could track it further. What a magical moment, getting so close to a lion – we really couldn't believe our eyes.

Horseback safari highlights

I could go on forever about special moments during my stay, but the most magical and uplifting moment for me was to gallop alongside a group of giraffe, It's difficult to not say too much as there are so many wonderful surprises that await you, but my permanent smile said it all. Wading through floodwaters, cantering through the water and galloping with the game running alongside, these are memories that I will treasure forever.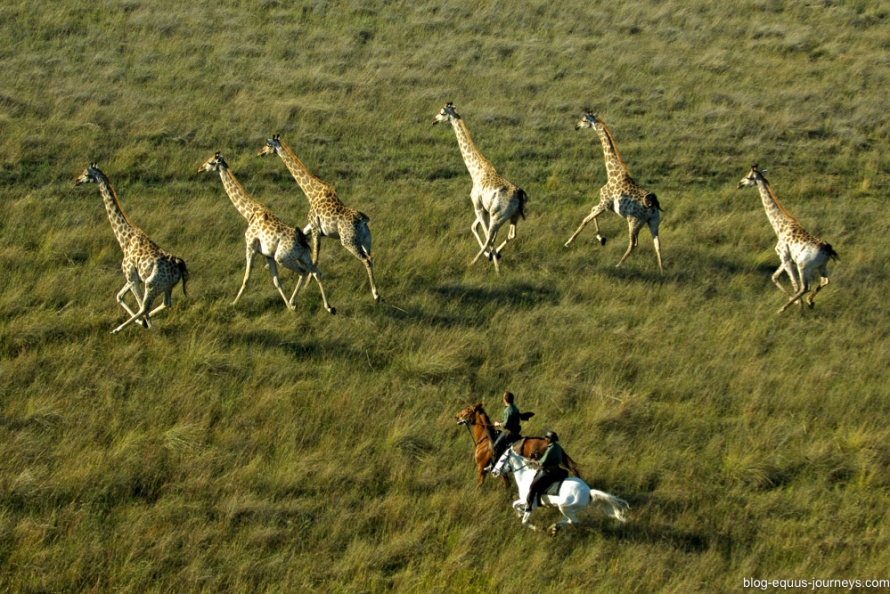 We were treated to surprise lunches in the most unexpected places and even a champagne lunch in a magnificent tree house where we were so well catered for. An evening under the stars on the tree house platform was the most amazing experience, coupled with the dinner alfresco before we climbed the ladder up to bed.

Those same lovely voices and big smiles sent us on our way back, we had had a magical time and all vowed to return again. The light aircraft was waiting and we climbed aboard, all sad to say goodbye to this amazing place.
More information:

For more information about Macatoo Camp, please visit us at
Equus Journeys
You might also enjoy reading: