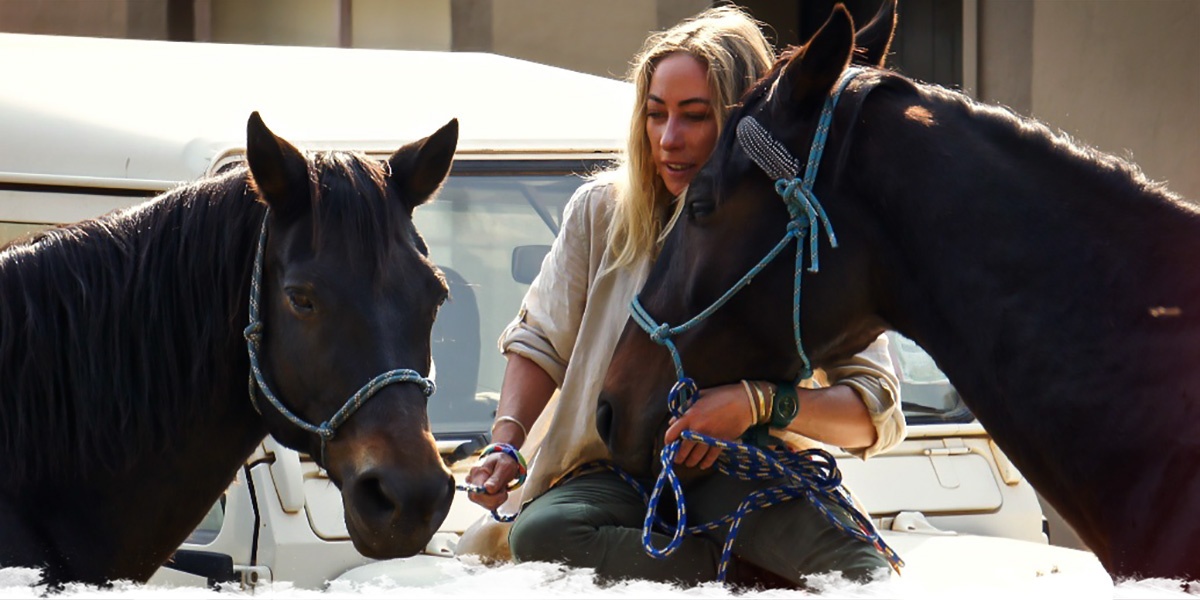 Safari guide in Africa: Cecile Von Auersperg
Cecile Von Auersperg is the bright personality behind our Big Five Safari in South Africa and luxury riding retreat in Mozambique. From the Spanish city of Marbella to the African bush, Cécile's story is a fascinating one. Discover her story and how she came to set up her safaris in the African bushveld.

A passion is born

Cecile Von Auersperg grew up in Marbella, Spain. Most of her childhood was spent in the great outdoors and like many young girls, she developed a passion for horses very early on. She started competing at the young age of 9, showing at the national level as a junior rider and soon establishing herself as a promising young rider. After outgrowing her horse, and deciding that the competitive world was not as outdoorsy and horse friendly as she would have liked it to be, she left the circuit behind. Needless to say, she never strayed too far from the saddle, focusing on leisure riding and even dabbling in polo for a while.

An unintentional distance and an interest in Africa

Unlike many horsemen and women in the industry, Cecile did not actually think she would spend her life working with horses. Moving to Switzerland, then London, for her studies somewhat drew her apart from the equine world. Nowadays, you will mostly find Cecile in riding boots and breeches, bullwhip in hand... And you would probably never guess that she once worked in the fashion industry - first as Head of press and public relations at Christian Dior and then for Key-2 Luxury in London. But a leopard can't change its spots (!), and despite a bright professional future in the industry, her heart was set on the great outdoors. The city life was just not meant for Cecile, who soon decided to follow in her father's footsteps.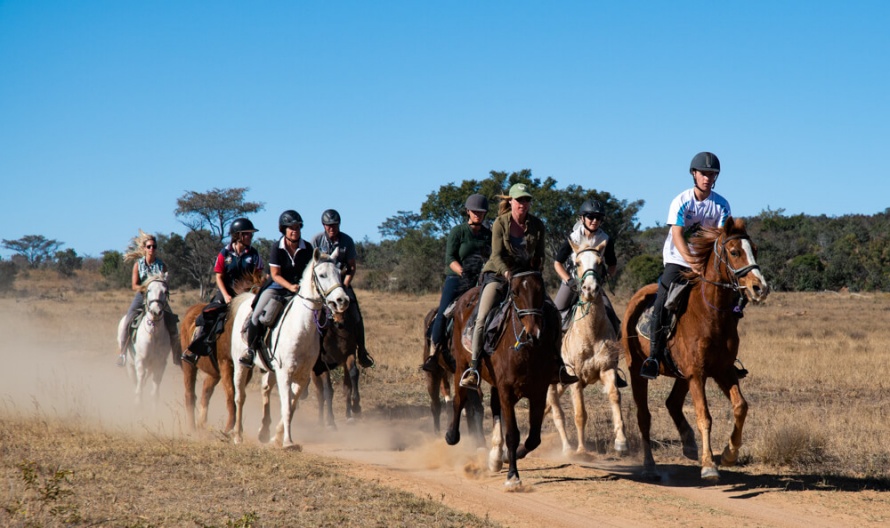 Prince Alfi Von Auersperg always felt at home in Africa, where he had worked as a white hunter back in the day. A subsequent change of heart led him to develop a more conservationist mindset. His wonderful stories and knowledge of the African continent inspired Cecile to adopt his lifestyle, factoring in horses for good measure! Taking her guiding course in Kenya and South Africa, she soon became an expert in navigating the bush and spotting wildlife. Her search for the perfect location to set up her very own business took her across countless reserves; from Botswana to Kenya, Zimbabwe, South Africa and Swaziland. In the end, South Africa is where she decided to make her life-long vision a reality.

Starting a horse safari business in South Africa

Cecile's idea was - and still is - to offer unparalleled guided safari tours in remote Africa, just like her father did. Very early on, she decided to adopt a conservation approach aimed at producing as little impact on the environment as possible, leaving only footprints behind (or in her case, hoofprints!). To this day, her safari operations mostly rely on mobile elements that will leave no trace of human interaction.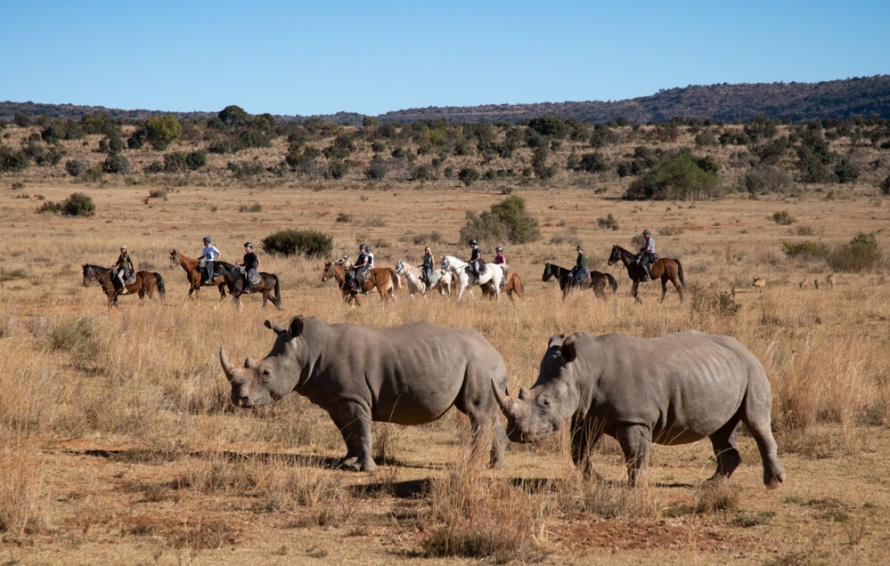 Setting up a safari business is no easy task, and especially when you are young a European lady. Cecile herself will admit to having encountered many setbacks, faced with difficult concession agreements and poaching issues. She was, however, not willing to give up and never let these setbacks dampen her spirits.

The Entabeni Private Game reserve where she is now based gave her the opportunity to start her business in a place that offered strong foundations and excellent wildlife-watching opportunities. With a reliable team and great working infrastructure, it was the perfect location to settle and welcome her first guests in a fun and safe environment.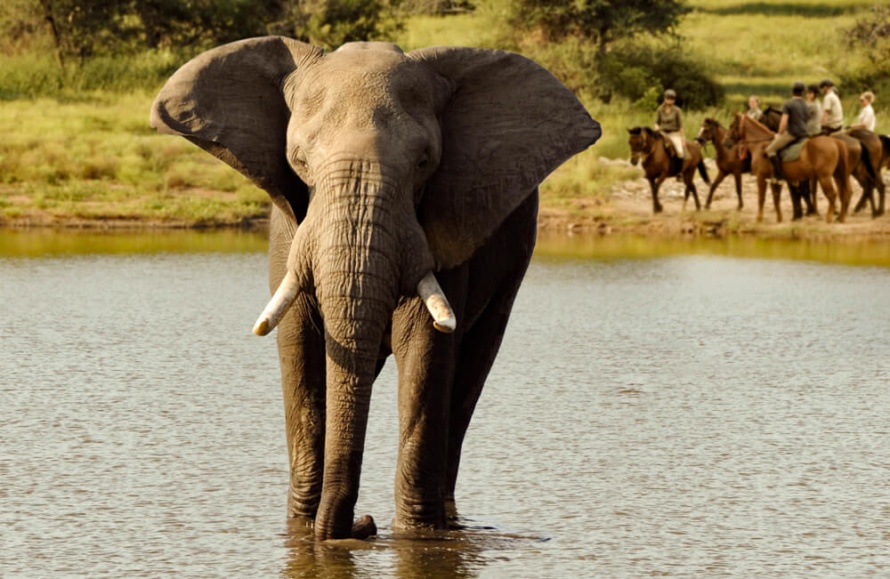 Cecile now runs successful big game riding safaris in the idyllic setup of the reserve. Her best-selling Big Five safari now attracts riders from all over the world, including many returning riders who have been seduced by her gentle horsemanship and her attention to detail. Riding with Cecile and her team means becoming part of her family!
Adventures in Mozambique

After 7 years of learning and experimenting, it was time for a new adventure and Cecile partnered with Therese Cillieres from Legend Resorts to offer a new luxury retreat in Mozambique. Vilanculos coastal wildlife sanctuary, a haven for wildlife and marine life, was to be her new playground. Cécile, unstoppable as always, selected a small herd of suitable horses and began the journey from South Africa to Vilanculos.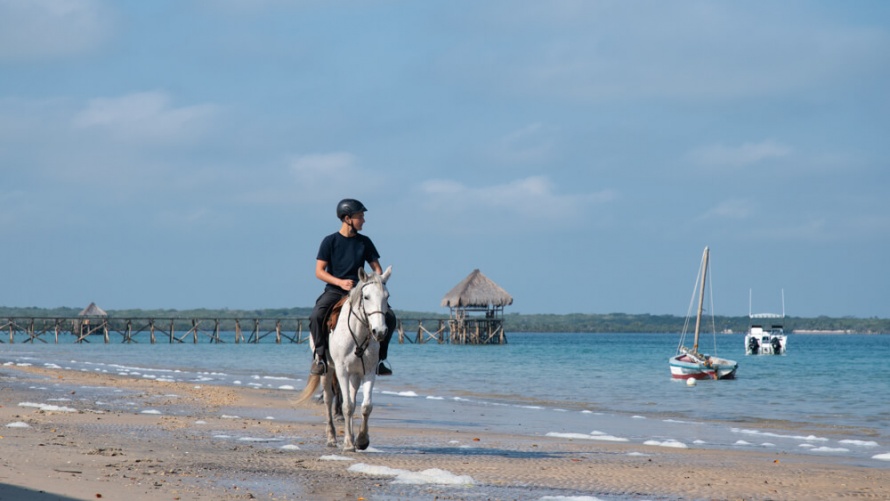 The horses were ready and loaded into the lorry in South Africa at about 11am, hoping to cross the border into Maputo in Mozambique the following morning at 6am. It was not an easy journey, to say the least:

" We travelled at night to avoid the heat, our paperwork was filled ready and at hand… Crossing the border took quite some time, the place was overcrowded, customs officers would not approve the perfectly organised paperwork and kept finding reasons not to let us cross…The horses had to stay in the lorry, with no possibility to offload at any point. At 3 pm we finally made it through the border and at the beginning of nightfall we stopped at the closest accommodation. More than 24 hours into the trip, we finally managed to set off again and continue our drive towards Vilanculos. We offloaded the horses when the sunset and let them graze for around 2 hours while we had dinner over a small campfire. That is when the lorry driver told us he did not want to proceed, that the terrain and the sand were too deep for the lorry to make it through."

If there is one thing that can be said about Cecile, is that she never gives up! Watching the lorry drive off into the distance, she took the matter into her own hands (quite literally). How far can 130 kilometres really be?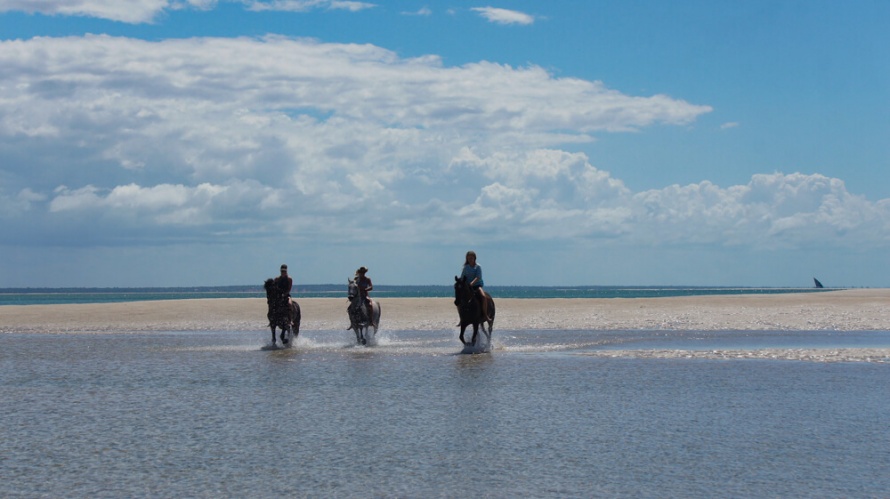 "At sunrise, we decided to ride on the horses bareback for a few kilometres. After a while, we had to walk them on foot and at times hold them from the side of the vehicle. Three days later, we stopped at a marsh to cool down the horses for a bit, set up the paddock and left them to have a short break. And then they spooked and broke through the fence. We had no other option but to follow them with the vehicle. Of course, we got stuck in the mud and had to continue on foot, until we finally found them happily grazing at Arural village where we caught up with them."

With a daunting 70 kilometres still to go, it would have been easy to give up. But all good stories have a happy ending, and this one makes no exception.

Welcome home

Cecile says: "By dawn, 7am to be precise, we reached the sanctuary after travelling for four days. My first guests were scheduled to arrive on the very same day. Preparations were made to receive them, and we hosted our first six-day safari with great success!"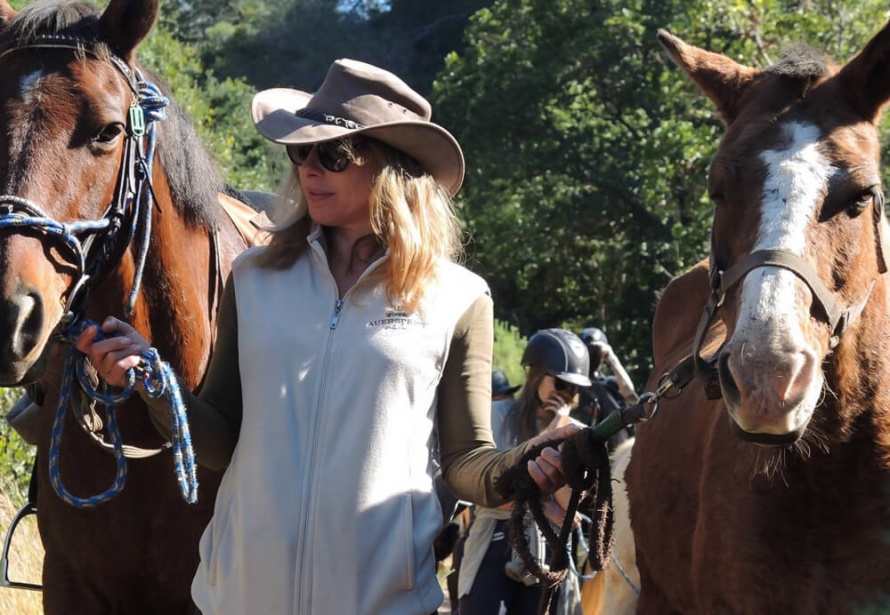 Cecile's meandering journey from South Africa to Mozambique is now ancient history. Her small herd of horses is now settled into their very own African paradise and Cecile gets to spend her time between the Entabeni reserve and Vilanculos. Back to normality, you say? Don't be so sure... Cecile certainly is not one to sit around very long and already has plans to expand further still.

More information

You might also enjoy reading: