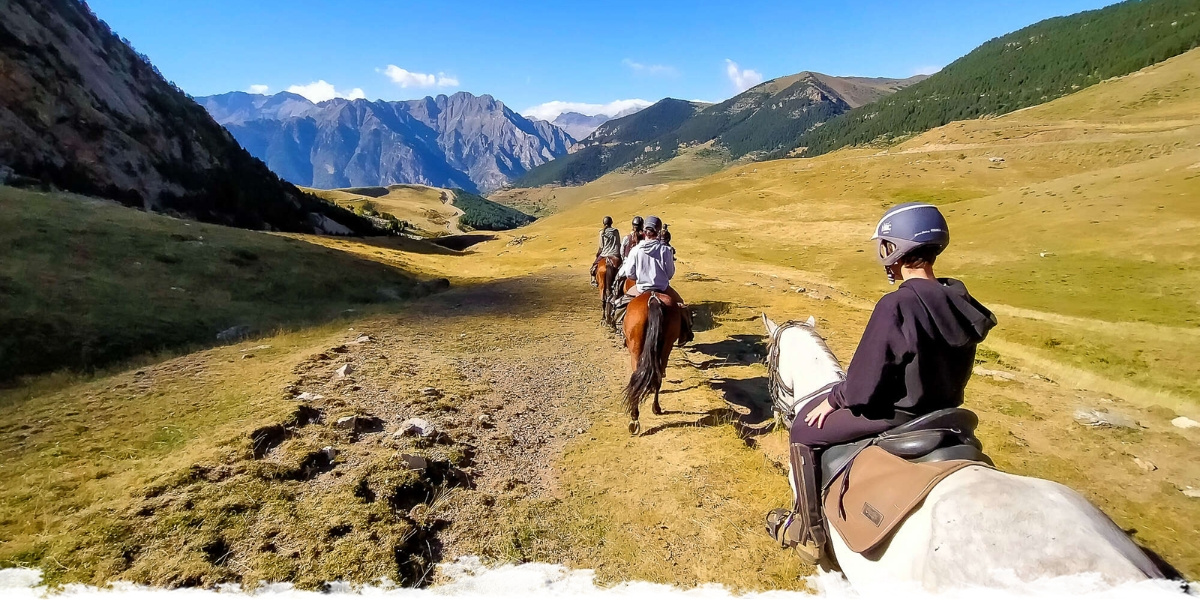 Riding in the Spanish Pyrenees!
Earlier in September, Francisca from Equus Journeys had a last-minute opportunity to join some of our Equus guests on the
Benasque Valley ride in Spain
. Spoiler alert: this trip was
fabulous
...
Upon arrival at Barcelona airport, Sérgio (the driver), was waiting for me. I was slightly concerned about the duration of the drive (a total of 3 hours ), but it was a piece of cake! All the guests got to meet and chat about various topics, including everyone's favourite: horses! The group for the week was rather diverse, with 5 different nationalities, which brought some really interesting topics to the table.

On arrival at Hotel Turpi, a family-owned establishment, one of the lovely employees called Enar helped everyone check-in, and off we went to our rooms. Not long after, everyone met at the bar for the first briefing with the guides - Àlvar and Raul. After being given a few insights on the week to come, the excitement was palpable.

Guiding & Horses

This local operation is carried out by both Àlvar and Raul, and they certainly do an impressive job. They are tireless and always make sure that both horses and riders will enjoy themselves while on the trail. There are around 20 horses in the herd, and you are matched to one of them prior to the start of the holiday.

Every rider had a slightly different background - some were advanced show jumpers, others preferred happy hacking - yet there was a suitable horse for everyone.

Initially, I was matched with Nemate, a curious young gelding that preferred a faster pace. I didn't feel like we were the best match, mostly because I wanted to have a more relaxed experience, and so Àlvar kindly re-matched me with Edel. This time around, it was love at first sight. Edel was so sweet and I felt like we had each other's back - a dream team! All the horses were very sure-footed, and reliable, which makes them absolutely ideal for the trails. Everyone was very impressed with their strength and ability to manage all the ups and downs and mountainous tracks.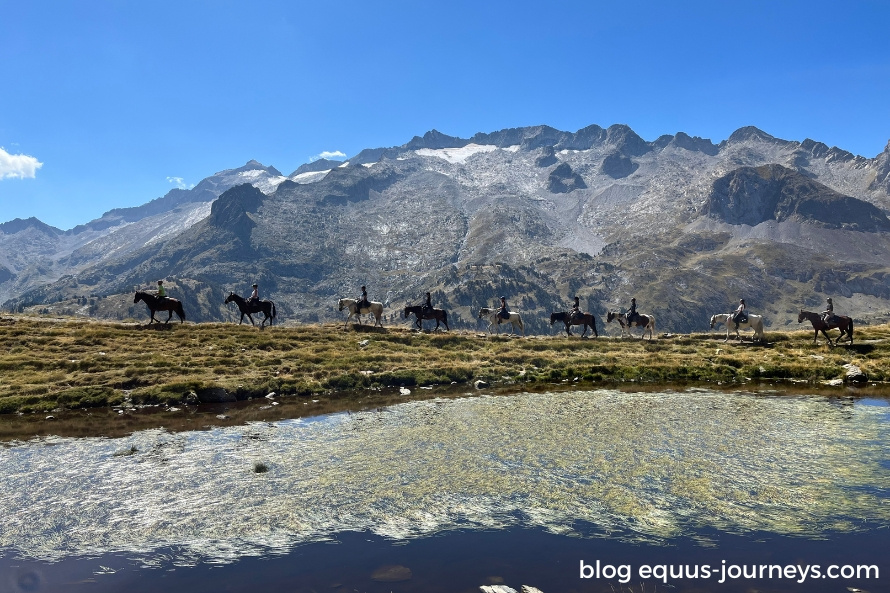 Riding & Landscapes

This was my first riding holiday in Spain, and in a very iconic location - the Pyrenees! I had seen pictures and videos of the ride, but none of them really did it justice. We explored many locations, which included mountains, villages, meadows, fields, riversides, and lakes. The wide variety and beauty of each place are a big highlight of this holiday. Every day had its strong points, and I would be hard pressed to choose my favourite.

At around 9am the car would pick us up to meet the horses where we left them the previous day. By the time we got to them, the local team had already everything ready for us to start. We only had to organise our belongings in the saddlebags and off we went!

Each day we stopped twice, once for a mid-morning snack, and another time for lunch. The locations were carefully selected, and I always struggled between choosing to take a siesta, or take in the views. I was rather surprised by the number of birds so high in the mountains. Raul was always prepared with a pair of binoculars in one hand, and an interesting fact about each species in the other. I'm not what I would call a bird enthusiast, but it's hard not to be stunned by these creatures in their element.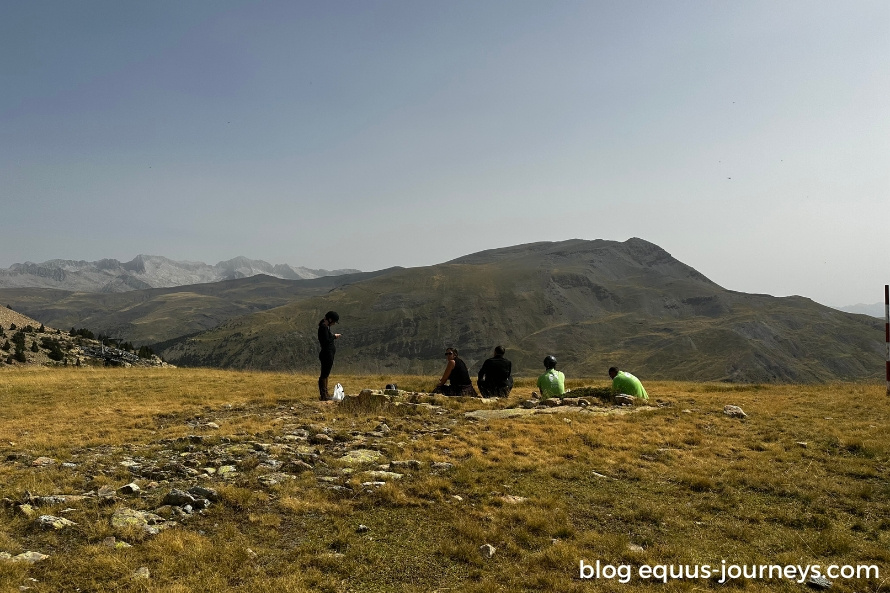 The Estos valley now holds a very special place in my heart. It seemed like the ride there was going to be a great one, but I didn't anticipate what was to come. We were following a creek across the green vegetation when suddenly we started hearing cowbells. We were all expecting cows, however instead, a beautiful herd of semi-wild horses started to approach! This is not an often occurence on this ride so everyone was thrilled. It is a moment I will cherish forever.

After the long days in the saddle, Hotel Turpi is a great place to return to. The atmosphere is rather peaceful, and the 3-course dinners will provide you with enough energy for the adventures to come the following day.

Closer to the end of the week, Àlvar offered to take us on a walking tour of Anciles. He shared multiple interesting facts about the region, and how its development has suffered from the lack of people in the area. By the end of the tour, we were shown inside a typical home which was rather insightful.

The last day was also one to remember. We climbed up close to Aneto's summit and with a lake to our right, and the summit to our left, I didn't even know where to look. The views were absolutely other-worldly. I truly believe everyone should experience this kind of beauty once in their lifetime.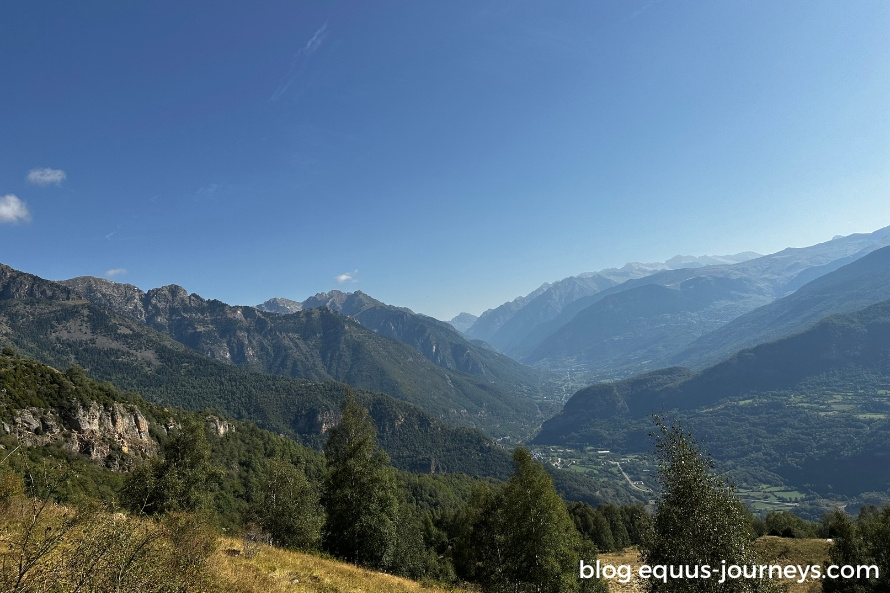 Thank you Àlvar and Raul for this amazing experience...

Worth noting...

This riding holiday is for adventure seekers. You will ride in remote locations, often times going up and down steep mountainous trails.


Even if the weather forecast isn't showing any rain, please come prepared for it. The weather in the mountains can be rather unpredictable, and you should be able to make the most of it.


You will be riding for several hours, and shade isn't always available. Please bring a good sunscreen, and, if possible a lip balm with SPF. Don't forget to re-apply every so often.


At the hotel, there is no mobile service, and the Wi-Fi connection is very poor. It's wonderful to disconnect from the "real" world.

More information...

You may also enjoy reading...