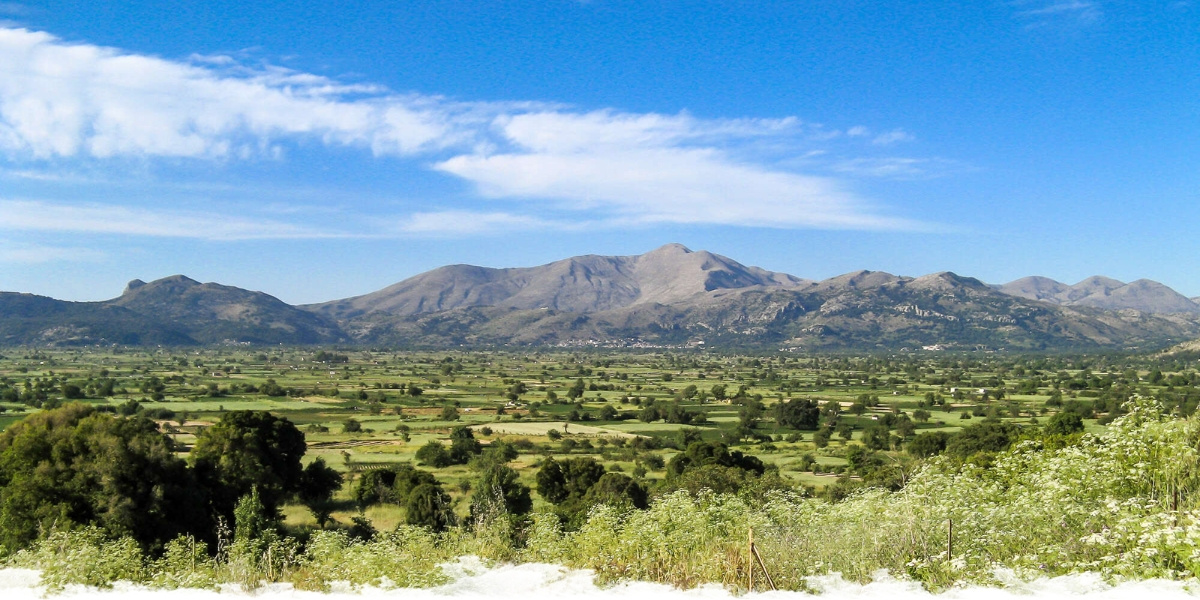 Francisca's adventures in Greece!
This past March I decided to travel to Greece and spend a couple of weeks in this wonderful country. While in Crete, I was welcomed by our partners at Velani and I can now share the full experience with you! And who knows… maybe you will be adding Greece to your riding destinations for 2024!

The Velani Experience

I arrived on a Sunday and I could feel a genuine "family atmosphere" at the hotel. Sabine shared with me that on Sundays, it has become a bit of a tradition for Cretan families to gather in the restaurant to enjoy the local cuisine and I later found out what the fuss was all about!

Being the wonderful host that she is, Sabine took me on a tour of the property until we found our way to my room. I stayed in one of the furthest rooms, which I appreciated. Despite being just a minute away from the restaurant, it felt like my own private nook, allowing me to truly connect with nature. The landscape was absolutely stunning, and I experienced a deep sense of peace.

The accommodation itself was very comfortable. The room featured a double bed, a cosy sitting area with a fireplace, and a spacious bathroom. On the nightstand, I discovered a menu that introduced me to the various SPA treatments available during my stay. Unfortunately, I didn't have the pleasure of taking advantage in these services myself, but I received positive feedback from a couple of guests who highly recommended the olive oil massage.

Later that day, I walked to the restaurant and met the other guests who would be joining me during those few days. The group was friendly, and we got to chatting right away. As we talked, we discovered that (coincidentally!) everyone shared a love for horses. Eventually, we were introduced to our guide, Vladimir, who joined us for dinner. Vladimir is a knowledgeable horseman with numerous stories to share about his own adventures.

Although the conversation was pleasant, as soon as the food started to arrive, everyone's focus shifted. As a Portuguese person, I can relate to the claims of being a "foodie," and I must say that I have high standards when it comes to food. Let me tell you: I was not disappointed! Each meal consisted of different dishes, including starters and main courses, and everyone was delighted and amazed by the quality of the ingredients used, from the olive oil to the herbs, sauces, and greens.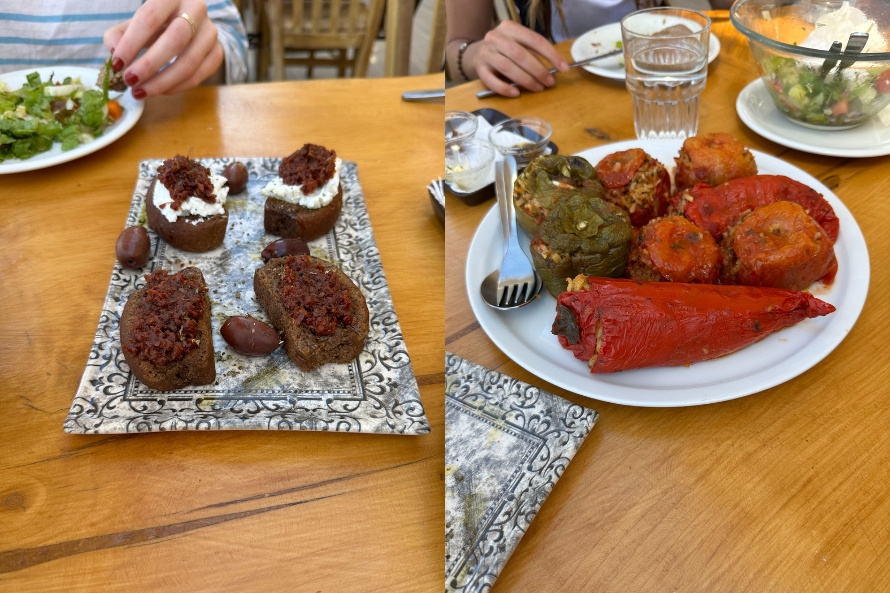 Exploring Crete!

This time around, I joined the standard centre-based programme in which you explore the surroundings of Velani. The days were quite relaxing, and we rode around 3-4 hours daily. The schedule of the day usually followed the same pattern. Everyone met in the restaurant for breakfast and then gathered around the stables to start preparing the horses. While we got ready, Vladimir would share the highlights of the itinerary, so we knew what we were going to see that day.

Once everyone was ready, we would take the horses to the arena, prepare the line-up, and then we were off exploring! At the beginning, I was slightly apprehensive, but as time went by the feeling started to fade away, replaced by growing excitement. Each day we rode to different places, including a Roman Aqueduct and the archaeological site of Lyttos. As we went from one spot to the next, Vladimir would share a few stories and myths about the locations, which really made the experience feel more enriching.

Personally, my favorite ride was the one that took us to Aposelemis' Lake. After getting the horses ready, we made our way to the Psiloritis mountains. As we climbed through winding dirt roads and olive groves, the view gradually got better and better until we got a fantastic panoramic view of the island. On our way down, we had to dismount and lead the horses on foot for a few minutes before finally arriving at the lake. We had a fun canter on the road that follows the lakeside and stopped by the deserted village of Sfendily before starting the journey back to the stables.

Although my visit was quite brief, my stay was delightful, and I am very thankful for Sabine and her team's warm welcome.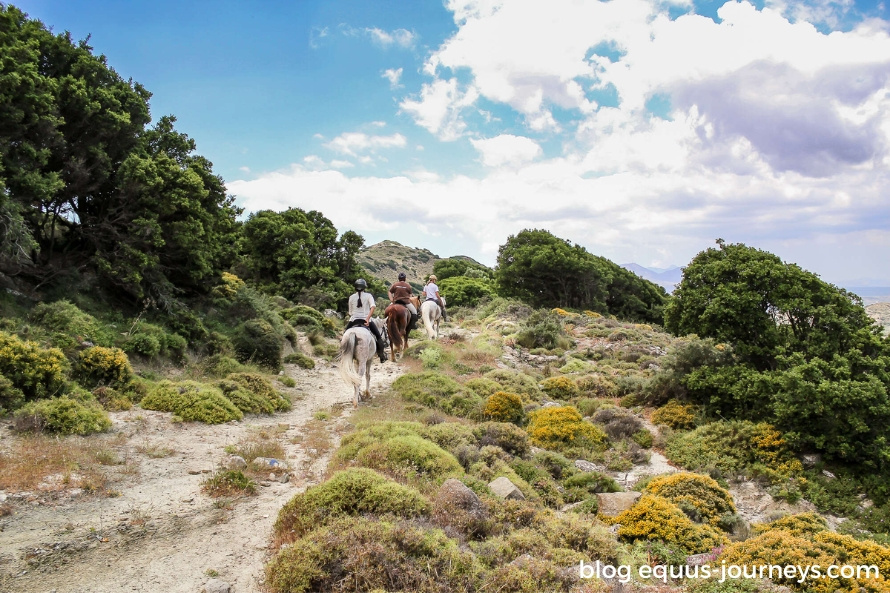 A Few Suggestions...

Here are a few remarks/tips to keep in mind if you are considering joining this riding holiday:

Please don't forget to bring a good sunscreen! I really thought I could get away with a 30 UVA protection but it was not enough. If you really want to be extra careful, bring a long-sleeve shirt.


·The Wi-Fi connection is good enough for some browsing but if you are planning to use the spare time to work I wouldn't say this is the ideal match for you.


·Consider renting a car. This holiday is centre-based and you only ride in the morning which means you have the entire afternoon off. Although the pool and SPA are available, there is still quite some time left for you to explore the island.


If you are looking for a

peaceful retreat

with some riding in the mix, this ride would be a

good match

. However if you prefer something more

active

and

engaging

, the

Lassithi Trail ride

, also operated by the same equestrian hotel, is probably a

better option

.
More information

To find out more about other rides in Greece, please visit
our website
. You can also contact us directly at
info@equus-journeys.com
or give us a call on
+44 (0)1905 388 977
You may also enjoy reading...