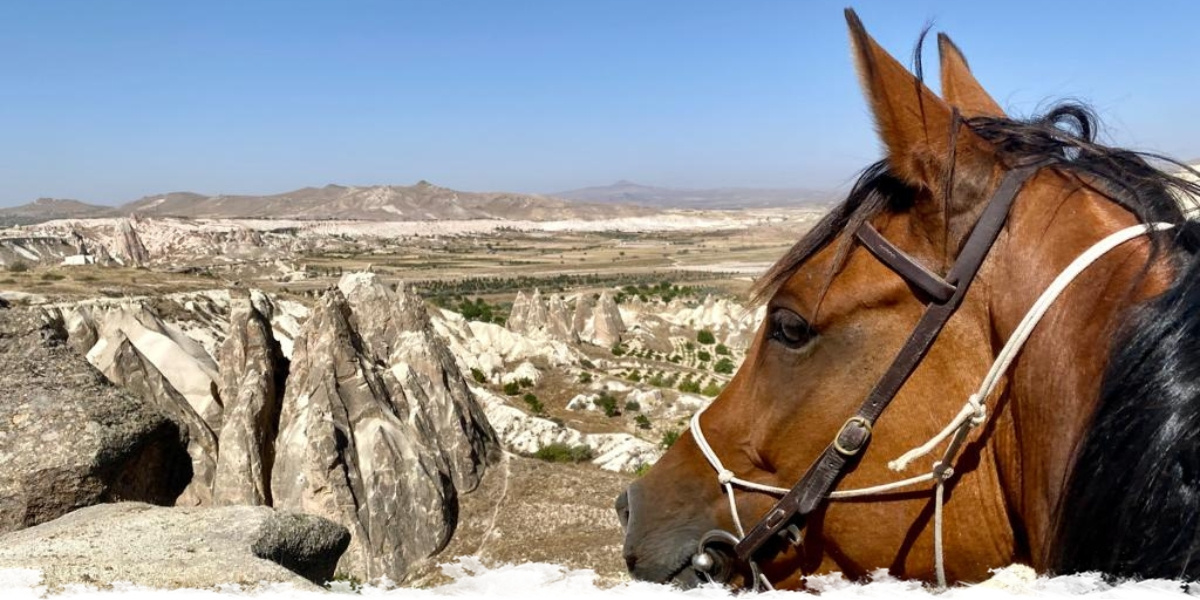 Cantering in Cappadocia - "Land of the Beautiful Horses"
I had no idea what to expect of my riding vacation in Turkey, although I had had heard this was one of the best, and fastest, riding holidays you can do worldwide… So it was with some trepidation that we boarded our overnight flight to Istanbul and then Kayseri.

After a 50-minute transfer by shuttle bus, we arrived in Urgup to the first of many towns carved out of rock. The hotel consisted of cave-like rooms, decorated with typical Anatolian carpets and decor. Immediately, I imagined myself like a modern-day Aladdin character. Antique shops offering lamps and various knick knacks compete with vendors selling dried fruit, warm roasted and salted apricot kernels, as well as Turkish delight which tastes unlike anything we have had before.

A day to get over the jet lag and do some sightseeing left us keen to meet our hosts from Kapadokya Ranch and their 20 plus horses.

The local guide and horses

Our trail guide Nicolas Guillo, originally from France, has lived in Turkey for 20 years with his wife Helene and is fluent in English, Turkish and French, of course. He taught himself to ride when he had to leave Afghanistan suddenly whilst making a film - the quickest way was by horse over the mountains to Pakistan, a mere journey of two weeks! He left no doubt in our minds that he expected us to ride our horses correctly and as instructed. The horses were expected to walk out with no trotting up and down ditches! The horses were absolutely fit and sure footed. They were keen to get going even after an average of 20 miles a day and were still fresh and ready to go every morning. They were fed mostly chaff and barley, plus flakes of lovely alfalfa. It reminded me of reading about Arab horses in literature where they are described as eating the wind and being somehow more than a mere horse.

The great adventure...

Our group for the week's riding consisted of 8 riders; ages ranging from 18-61, mostly from the US, all regular travellers, and all with a sense of adventure.

Our first day we were shown how to tack up, using McClellan type saddles which have been hand made by Nicolas himself, and are designed to distribute the weight over the horses backs so they can do long distances. Then, we were asked to take the horses on a test ride of around the farm. This included ditches, banks, halting with immobility for 10 seconds and crossing a bridge as well as a short canter. What a great idea! We were all well matched and set off for our first long ride to a hotel some 20 miles away.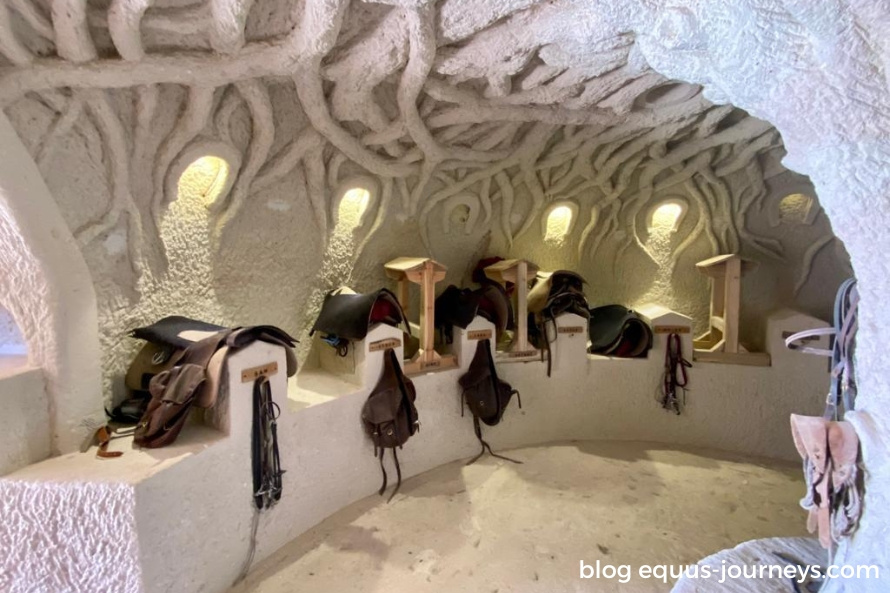 Our first canter had us all whopping with delight as we let our horses spread out across an open field on our way up to a plateau and stunning view over the valley. In fact, the riding is very much like the field hunting I grew up doing in the UK. We had to negotiate little drops, banks, tight winding paths, sometimes over slippery rocks and with steep drop offs, also multiple fast winding canters on tracks interspersed with open gallops over stubble fields and grassy plateaus. Rides here also include several steep rocky sections where you had to get off and lead your horse, a challenge for some! One of the highlights of our week was a daily film made by Nicolas on his GoPro, summing up our days ride and shown before dinner each night.

Each day we had the privilege of seeing little tucked away valleys with the famous fairy chimneys and other mystical rock formations that Cappadocia is famous for. These have all been formed 60 million years ago by wind, water and ice erosion of soft layers of lava and ash from three volcanoes nearby, the largest "Mount Erciyes" at 3900m. Because the rock is soft, it was perfect for human settlements starting in the Paleolithic era. The houses and churches carved into the rocks and valleys were one of the most important centres for Christianity in later periods. Today, many of the frescoes painted in the various churches are damaged, but you can still see enough to get a good idea of what they looked like.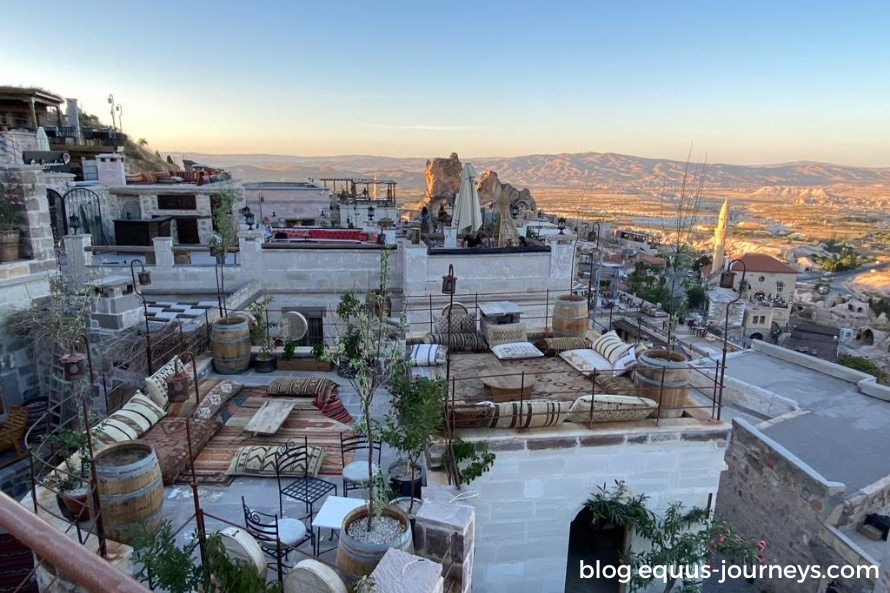 The history of this area is more complex than I realised and would require a good many pages to try and explain! Troglodyte dwellings have always fascinated me, and some of my favourite rides included visits to the underground villages of Golgoli and Kirkule. Some of the cave dwellings are 8-story deep and most have emergency tunnels, to what must be a safe room often equipped with a round stone that would roll shut and close everyone inside. It is fascinating to see how these caves have survived and to imagine actually living here, complete with tables/benches and places to tie up and feed animals. Local people in the area were still using the caves to farm pigeons up until the 60's, when chemical fertiliser and gun powder made pigeon guano no longer needed.

Cappadocia is one of the natural wonders of the world and while there are many tourists who flock to the area, we felt privileged to ride on the less travelled road. On horseback, you can get places where your average tourist doesn't go and there are many, deep valleys to explore here. We set off each morning after a hearty breakfast that included olives, honey, fresh fruit from the area and sometimes Turkish pancakes cooked the traditional way. Lunches were varied, sometimes a picnic, complete with a tarp for shade and tea in a traditional samovar. Once, we had a traditional lunch prepared by the gate keepers of Keslik Monastery which was built in the 9thCentury and has two fairly intact churches with frescoes.

The third day we rode into the village of Mustafapasa and tied our horses up outside a cafe while enjoying another traditional meal of lentil soup, salad and stew, followed by delicious baklava. This was an interesting village with many Greek influences. We also enjoyed a couple of lunches in what appeared to be a remote valley but had a fully functioning restaurant nestled in the red rocks.

As we made our way through all the little valleys and plateaus, we also got to see how the local people were farming. Grapes are grown on the ground here instead of up on trellises. If you tied them up on vines like the French do, the grapes would become too sweet for wine as the sun is much stronger here in summer. Plums, grapes, apricots and their pits are all dried in the sun, on rooftops or just out in the fields. Anatolian dogs roam freely and are proud to guard their farms. Our cavalcade of horses always seemed to elicit smiles and waves from the locals who believe in the nomadic lifestyle and tolerate trespassers willingly. Nobody minded that we picked apples and plums from the trees for both us and our horses along the way.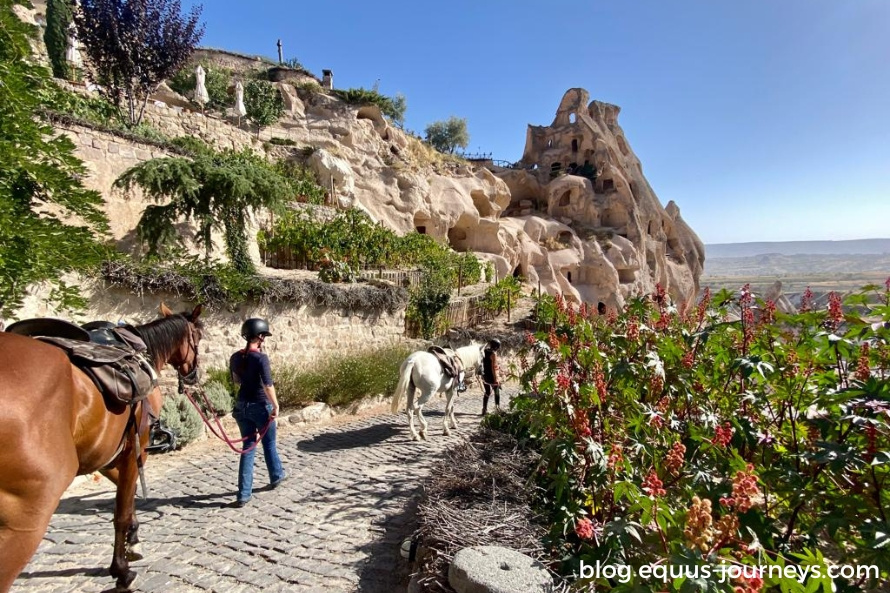 Each evening we would arrive to our hotel, ready for the warm hospitality they offered. We stayed in 4 different hotels over the week as we made our way around the area. My favourite was Kilim Pension in Uchisar, which had a view over Pigeon valley, and in the mornings you could see all the hot air balloons over the town of Goreme. Hot air ballooning is a highlight of the area around Goreme. We also got to experience this one morning at the crack of dawn, as we all floated over Cappadocia amongst 154 other balloons.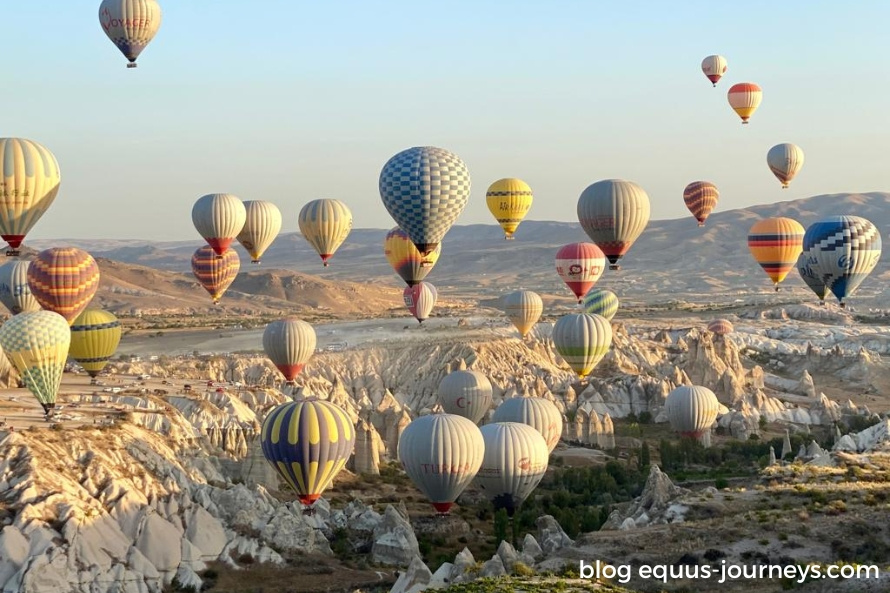 At the end of the week, we all felt much more confident riding as a group, independent but together, and were able to relax and enjoy the beauty of our horses and the area. It certainly was one of the most challenging rides I have done and the history of the area is fascinating and deserves the time it takes to figure it out. We all agreed that Cappadocia was aptly named the "Land of the beautiful horses".

More information

You can learn more the details on this
adventurous
riding holiday by accessing
its page
on our website.
To find out more about other rides in Turkey, please visit
our website
. You can also contact us directly at
info@equus-journeys.com
or give us a call on
+44 (0)1905 388 977
You may also enjoy reading...