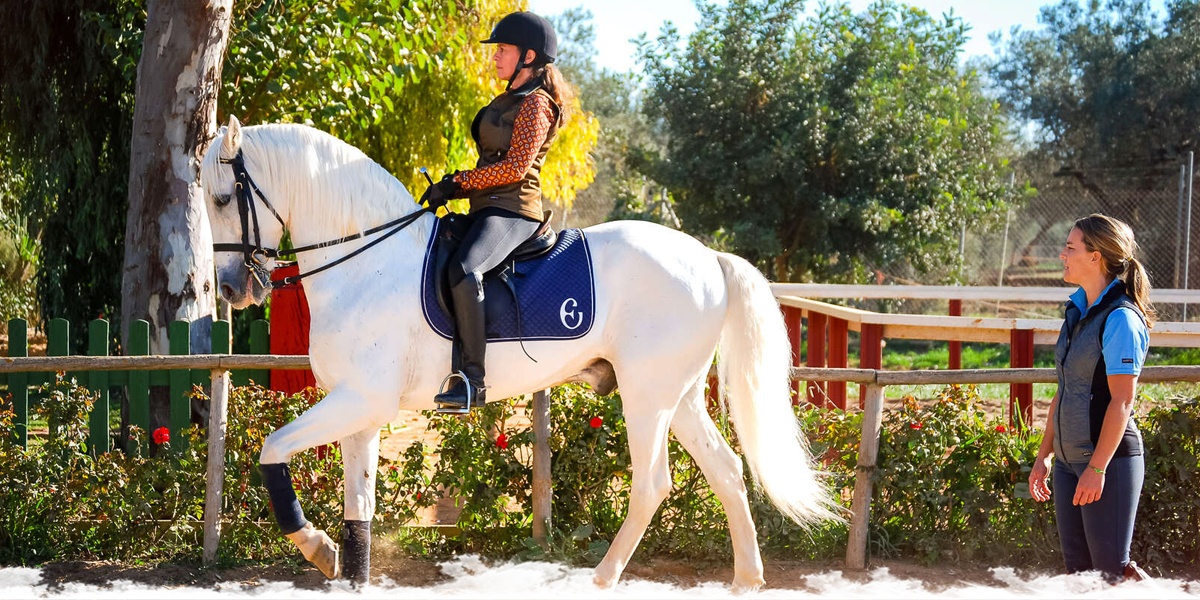 Choosing the right dressage holiday
Are you looking into a dressage holiday for your next riding adventure? If our different programmes seem a little confusing at first sight, we are here to help you! A dressage holiday with Equus Journeys is your chance to ride beautiful Lusitano or PRE schoolmasters – and even "amateur" dressage riders can feel like Charlotte Dujardin or Carl Hester or a week (well, almost…). Whether your goal is to improve your foundation skills or to experience high school movements such as piaffe, passage or pirouette, we have the right holiday for you. All riders are welcome, with horses and lesson plans to suit those new to dressage and more advanced riders alike.

We have a varied selection of dressage holidays in different countries. Would you rather be surrounded by the picturesque rolling hills of Tuscany, the warm atmosphere of Seville and Andalusia, or discover Portugal and its warm hospitality? We know it is a hard choice - so here are some insights that might make your decision easier!

Dressage holidays in Italy

On a dressage holiday at Il Paretaio, our dressage partner in Italy, you will be staying in a 17th century farmhouse surrounded by beautiful Tuscan vineyards and olive groves. A truly idyllic setting! The stables can offer two flexible riding programmes (one for
competent riders
, and one for
novice riders
), and there is the possibility for less experienced riders to take their first steps in the dressage world, or even learn to ride altogether.
The riding programmes can be tailored to match your requirements and dressage experience. The instructors at Il Paretaio tend to favour classical dressage and this is a great place if you want to work on your foundation skills – working in harmony with the horse. The training methods used during your lessons will be based on loosening up your horse and encouraging supple movements in order to achieve elasticity and lightness when using aids. Throughout your lessons, qualified (and patient!) instructors will teach you to feel physically and emotionally connected to your horse. During your lesson, you will address exercises such as the shoulder-in, lateral movements, leg yield, counter canter and flying changes... The sessions will show you the importance of rhythm, impulsion and how to appropriately employ aids. Opportunities for more advanced High School movements may however be limited. Lessons in their outdoor arena are usually in small groups of 2-3 riders. Il Paretaio has been recommended by the English T.T.T. (Training the Teachers of Tomorrow) association.

Aside from riding, there are other activities to choose from like hiking around the property, swimming in their lovely pool, and exploring nearby villages. The ice cream shops at San Gimignano are particularly good!

Our opinion: If you are looking for a place where you can enjoy a relaxing holiday and quality instruction, Il Paretaio should be on your list. You will become a better, softer rider with a better understanding of riding biomechanics. If you want to experience more advance High School movements however, perhaps another dressage holiday would be a better option.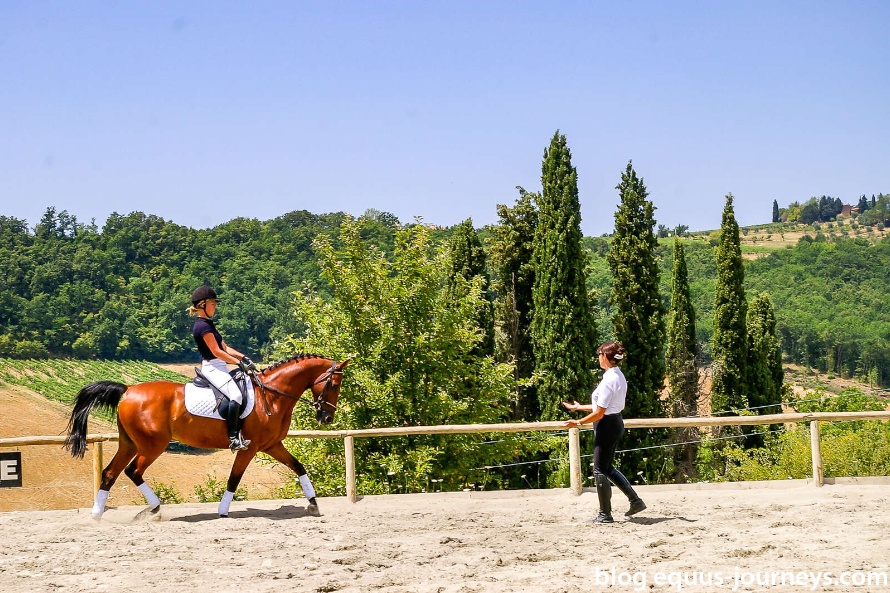 Improve your dressage skills in Portugal

In Portugal, you can choose between
Alcainca
and
Quinta do Rol
. Both are located about an hour outside of Lisbon, but offer very different experiences.
Alcainca is a small, authentic equestrian farm where you will be treated like part of the family. The meals are taken alongside the other guests and instructors. The accommodation, although not particularly luxurious, is adequate and all rooms are en-suite. The pool is a lovely addition and a place where riders will meet for a drink at the end of a hot summer day!

On a riding holiday at Alcainca you will be able to work on flying changes, passage, piaffe, lateral work, Spanish walk, and more depending on previous experience. Riders who have some prior experience of dressage will get the most from this holiday, and an ability to perform basic dressage movements such as shoulder-in is required. There are approximately 20 horses available for guests and they are all pure-bred or part-bred Lusitanos. The horses are at varying levels of training, so there are schoolmasters for intermediate riders or those just starting out in dressage as well as horses capable of producing high school movements for experienced riders.

Each instructor has their own teaching style but they will all ask for your best during classes. This is a good choice if you want to work hard and be pushed out of your comfort zone. Riders are expected to help look after the horses before and after their lessons too.

Our opinion: This isn't a luxury holiday, but you can expect a real immersion into an authentic Portuguese school of dressage, where "old school" equestrian traditions are very much kept alive.

Further north you can find Quinta do Rol, a luxury estate and winery. The accommodation is of excellent standards, perfect if you are after a little bit of luxury and some pampering. You can even expect impeccably swept stables and beautifully turned out horses! On this programme the lessons are exclusively on a one-on-one basis which is ideal for riders looking for a very personalized training. There may be two riders and two instructors in the arena, in which case headsets are used to avoid interference. It takes some getting used to, but this is a very useful tool.

On the plus side? Do not worry if you aren't a strong dressage rider yet. This holiday is open to all riders. Less experienced riders will be able to focus on the basics, whereas competent riders will be able to work on more advanced movements.

You can swap one of your dressage lessons for an Estate ride and in the low season, beach rides can be arranged (at an extra cost). If you are interested in learning about "Working Equitation" – a traditional Portuguese riding discipline – that is also possible and a really nice addition to your dressage holiday. And at the end of the day, you can enjoy the pool with a glass of wine, produced by your hosts themselves!

Our opinion: Quinta do Rol is a top choice for riders looking for a bit of luxury, with good dressage lessons for all levels, and the opportunity for hacks, too.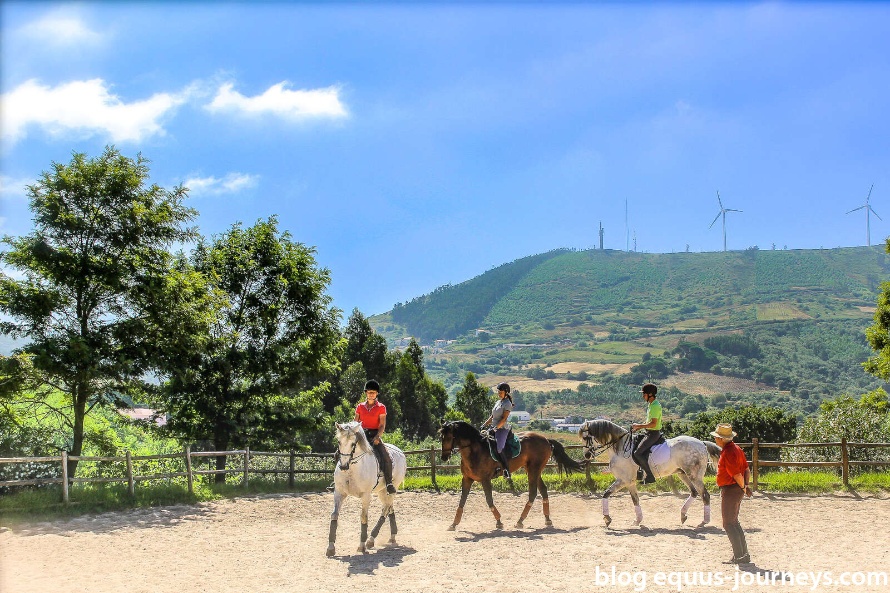 How about Spain for your next dressage holiday?

The Intensive programme is designed for those who prefer to concentrate on improving their dressage riding skills. The High School programme is more advanced and reserved to experienced riders with an understanding of collection and lateral work. This programme is designed for those who have a great passion for Dressage and who are ready to work hard for a week to really get a feel for the more advanced dressage movements. Both holidays include private and group lessons, and a great plus of the high school programme is that it includes a lesson taught by Olympic medallist Rafael Soto! A few times a year it is also possible to join a special
dressage clinic with Rafael
but spots are quite limited.
At Epona, most horses are Pure Bred Spanish, but you will also find some Andalusians and Andalusian crosses. Instructors Vivi, Caty and Michelle will match you to the horse that suits you the best depending on your level, so you can make the most out of any programme. All Epona Instructors are qualified by the British Horse Society, Association of British Riding Schools, International Equestrian Tourism Federation and the Spanish Equestrian Federation.

And who said a rider can't have it all? If you would rather mix instruction holiday with trail riding, the "
Train and Trail
" programme might suit you best. You will ride through olive groves and explore the countryside, and go for a relaxed canter at the nearby beach, while also being able to participate in dressage classes to work on your skills.
On all of these holidays you will be able to visit the Royal Andalusian School of Equestrian Art, an institution dedicated to the preservation of the Spanish tradition of equestrian arts. A flamenco show is also organised towards the end of your trip, which is always a highlight! Jane, Fernando and their daughters Vivi and Catalina are gracious hosts – this is a family-run business and a place that riders can call a 'home away from home'.

Accommodation is not on-site and you will stay in a charming 4 star hotel in the heart of Carmona. During the day, at the riding centre's hacienda, there is a swimming pool (towels will be provided), a relaxing lounge and outdoor seating areas. You will have lunch in their dining room each day, "family-style"!

The riding holidays at Epona are also open to non-riders, especially golf lovers as one of the best courses in Europe is only 20 minutes away from the riding centre.

Our opinion: It's no wonder that Epona has such a high repeat rider rate. It is a wonderfully friendly place with excellent tuition for all levels – especially recommended to riders who want a friendly, home away from home type of experience.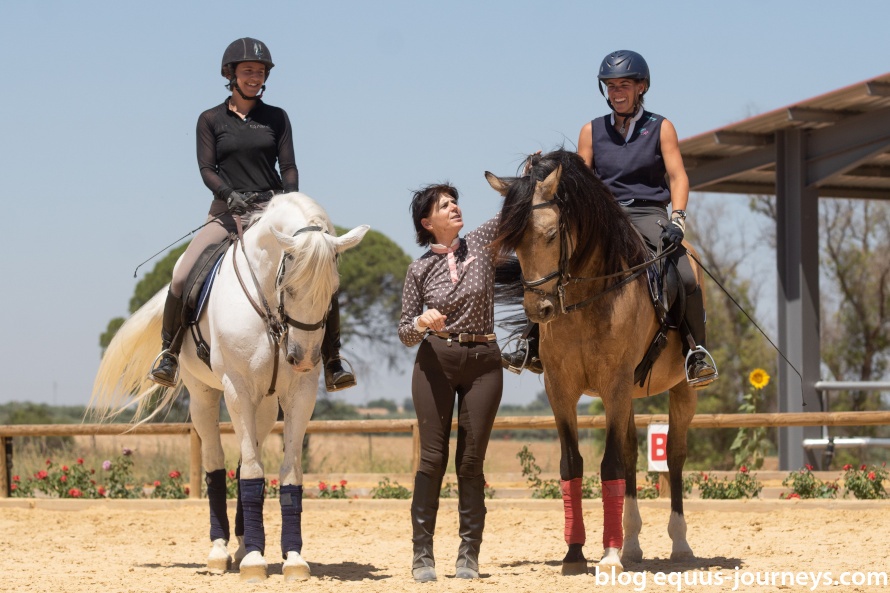 More information

To find out more about our rides, please visit
our website
.
You may also enjoy reading: