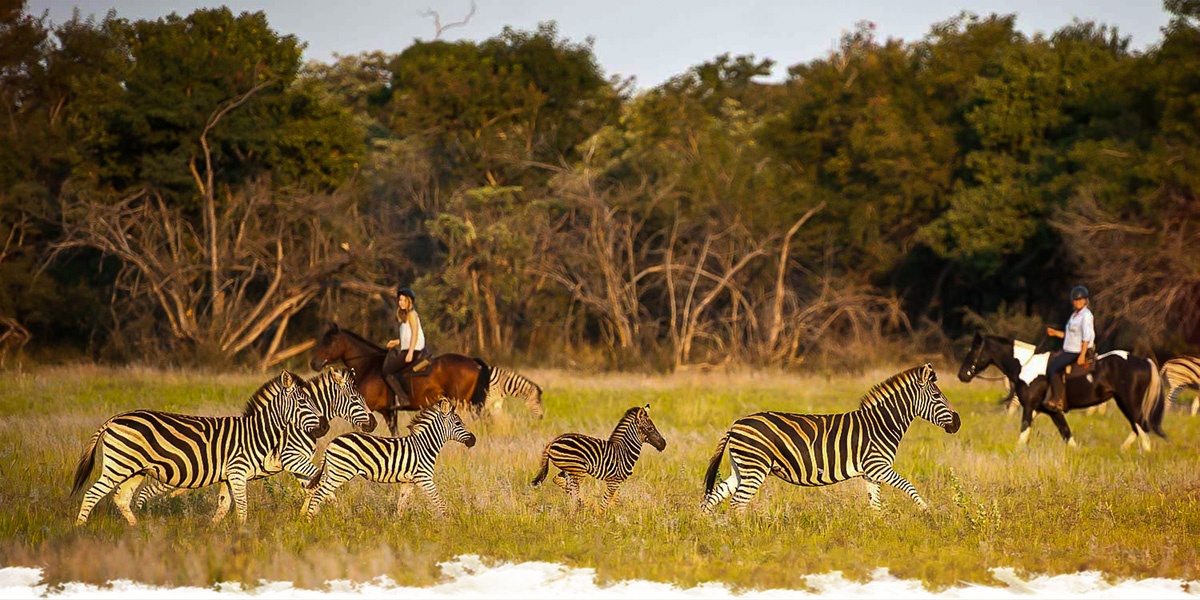 Ride report: African Explorer safari

In March 2018, Iris embarked on a combo riding safari in Africa - the African Explorer, with 4 nights spent at Horizon in the Waterberg mountains (South Africa), and 3 nights in the Tuli Block (Botswana). Here is an account of her horseback adventures!
(Note: there have been some changes to the African Explorer programme in the last few years. Make sure to check the up-to-date itinerary online
on the website!
)
As I landed in Johannesburg in the early hours of a glorious Friday morning (and while everyone else in Europe had to suffer snow or rain!), I was beyond excited for the adventure ahead of me. There is something truly special about Africa, and I could feel that this was going to be a great journey.

I waltzed through immigration, picked up my luggage and easily located our driver, Titus, at the information desk in the arrivals hall. After my fellow travel companion arrived, we hopped on the minibus for a 3.5 hours journey onto the first step of our trip: Horizon Ranch, in the malaria-free Waterberg mountains. The transfer went by fairly quickly as I got to know the other members of our group: Caro and Jack, a German/Australian couple, Olivia from France, and Lisa from Sweden. Jara, a young German lady living in London, would meet us later during the day. A very multicultural group indeed, with very different backgrounds and life experiences, but a common love for horses, travel, chocolate brownies, and Bonnie Tyler songs!

SOUTH AFRICA - HORIZON RANCH & CAMP DAVIDSON

We arrived at Camp Davidson in the early afternoon, where we had a delicious lunch of chicken and fresh salads. We met with our guides, Shingai (lead) and Daria (back-up guide). Around the lunch table, Shingai told us about the programme for the next few days. Goose, a lovely bay mare, was going to be my equine companion in South Africa (Top Gun fans, her mum was named Maverick!). She was easy to ride and quite forward going: all the horses were very responsive and well behaved, each with their own personality. As we headed out on the trails, Shingai explained the various signals he would use - "watch out: holes", "watch out: branches", "slow down", "canter", and one he would very frequently use over the next few days, much to our delight: "FASTER!!". There was no time to think as he promptly led us into a canter along bendy tracks, giving us our first taste of what to expect during the week. We encountered our first giraffe and stepped carefully around aardvark holes before reaching a vast plain where sundowners were laid out for us. Sipping my G&T, watching zebras and elands play in the distance, I felt very lucky to be there.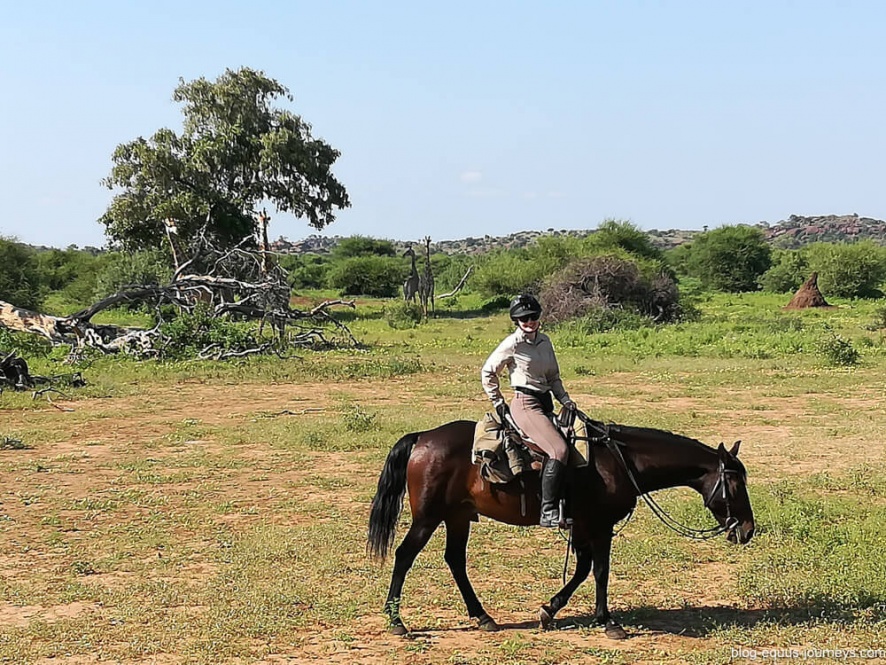 Over the next few days, we had many more opportunities to observe the local wildlife. Horizon is an
area of non-dangerous game
, which is great to kick start a riding safari. We saw lots of plains game such as
giraffe
(including a very inquisitive male that followed us for a while),
zebra, kudu and impala
. Shingai also shared his wealth of knowledge about the local trees and plants with us. The highlight of our time in South Africa was definitely on Sunday when we rode into a neighbouring reserve (Bellevue Plains) for our full-day ride. We had seen a decent amount of wildlife so far, but this was our first encounter with bigger herds. Shingai expertly navigated our way through wildebeest and kudu, anticipating their movement and leading us for an exhilarating canter alongside the herds – a
truly thrilling moment
. Later that day, he asked if we wanted to go for a bit of a gallop. One of the riders was not entirely comfortable with a faster pace and stayed behind with Daria while the rest of us hit the gas pedal. Woohee! Let me tell you, these horses have an extra gear if you ask them for it! Check out the YouTube video
here
.
Horizon is divided into two main accommodations, each with their own pools: the lodge, with charming rooms and all the comforts of home, and Camp Davidson, where we were staying. Camp Davidson was named after Ted Davidson, one of the first members of the Baber family (owners of the ranch) to settle in the Waterberg. Horizon has managed to beautifully capture the atmosphere of the early settlers, with comfortable canvas tents, each with their own decks and of course, a private bathroom. There is no electricity in the tents, but we could charge phones and cameras in the common tent.

NB: after 2019, the programme varies slightly with 3 nights at Camp Davidson, 1 night at the Bellevue Lodge and 3 nights in Botswana.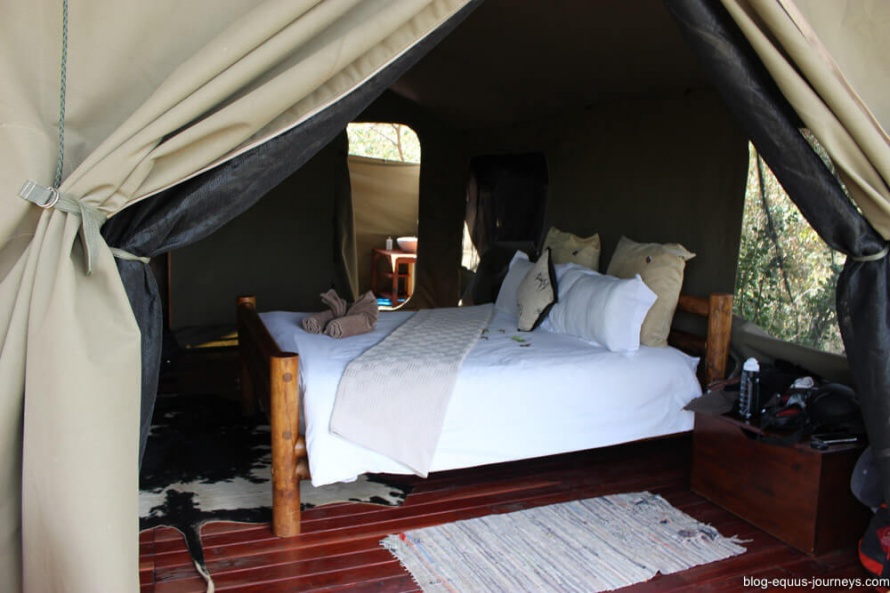 During the week, the owner and manager Laura came to us to with an offer we could not refuse: she offered us to leave to Botswana one day earlier to join part of the Tuli Trail, which is their best-selling mobile safari across Mashatu Game Reserve, in the Tuli Block. Instead of staying at a base camp for 3 nights, we had the opportunity to spend 4 nights in different camps. Of course, we happily accepted!

BOTSWANA - WELCOME TO THE BUSH!

We left on Monday morning after a short ride back to the stables from Camp Davidson. We were all very excited about the Botswanan part of our trip, but also felt somewhat sad to leave Horizon, our horses, and the team. Shingai and Daria were the perfect hosts and guides, tailoring the riding to our expectations, and always making sure we had a great time. Fun-tastic riding, delicious food, and evenings spent gazing at the stars around the campfire: could it get any better? Well... Keep reading to find out ;)

Two more riders, Angelika and Lesley, joined our little group this morning. We drove for approximately 6 hours before we reached the border post at Pont Drift. After completing visa formalities, we crossed over to meet our new guide, Mpho. Another five minutes in the jeep and we finally arrived at the stables where we met the rest of the team. Around a beautiful local meal (never tasted goat prepared so beautifully!), the stables manager Lindy talked us through the programme for the days to come. She also told us about our horses, asking our preferences to make sure she had picked the right horse for us. I asked for a horse with a soft mouth, that was forward going but with brakes, and preferably not too big. She smiled and told me she had the perfect horse for me, a bay gelding named Million, who turned out to be an absolute superstar!

As we were now riding in an area of dangerous game (Mashatu has large herds of eles, but also big cats, although no buffalo or rhino), Mpho gave us a detailed and somewhat sobering safety briefing. There were a few nervous laughs (and more than a few inner prayers, I'll wager) as we were told what to do if an elephant charged at us, or if we encountered lions.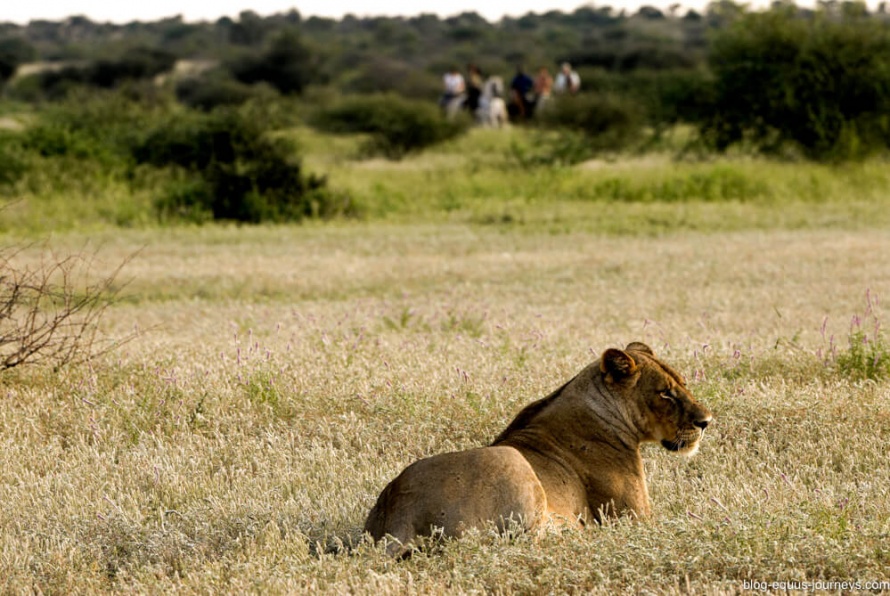 We then rode to a vast open field where we had to take a short riding assessment to ensure we were able to control our horses. This is very important, as only confident riders are allowed to ride in Mashatu, for obvious safety reasons. Although this is a simple test, even the best riders amongst us felt a bit nervous about putting their riding abilities on display. We had to canter away from the group, push our horse to a faster pace along a straight line, and canter back in a controlled manner. After Lindy said she was happy with everyone going (phew…), we went on our way to our first camp, accompanied by Mpho, our back up guide Tsaone and volunteer Martha. Our first ride in Botswana was incredible, riding out into the sunset with wonderful wildlife all around: we cantered with zebra, kudu and impala, and were even followed by a warthog mum and her three babies. We had our first elephant encounter, a lonely male busy enjoying his dinner. We thought this was all very exciting, even though the next few days would prove to be even better!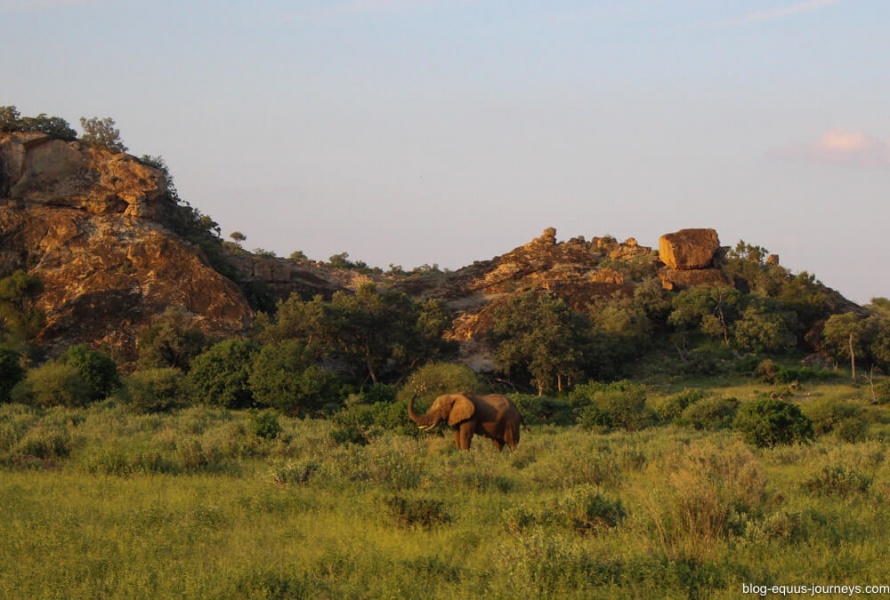 It would take pages and pages to describe the next few days in details, so instead, I will give you a quick overview of our adventures.

Every day, we rode out early in the morning, to beat the hottest hours of the day. Depending on our next camp's location, we would usually ride between 4 and 6 hours, with one longer day culminating in an 8 hours ride. The riding was a lot more relaxed than at Horizon, and the canters were slower but longer. We could also spread out instead of staying in a single line. With no fences around, Mashatu Game Reserve is a wonderful place where wildlife thrives and roams free: it is never possible to predict how much game you will see, but we were very lucky, ticking most species from our list, except for leopard and cheetah. I especially loved the big herds of elephants, with several "families" of elephants coming together. We got to watch them splash around in the water, roll around in the dirt to protect themselves from the sun and cool down, and slowly make their way across dry riverbeds. They are truly majestic animals and we felt so privileged to share their space and watch them in their natural environment: Mashatu is very aptly named the "Land of Giants" after its many elephant herds, but also because of the baobab trees that grow there. The reserve is home to many other species, and we saw antelope, wildebeest, warthog, giraffe, baboons and monkeys, many kinds of birds, and more!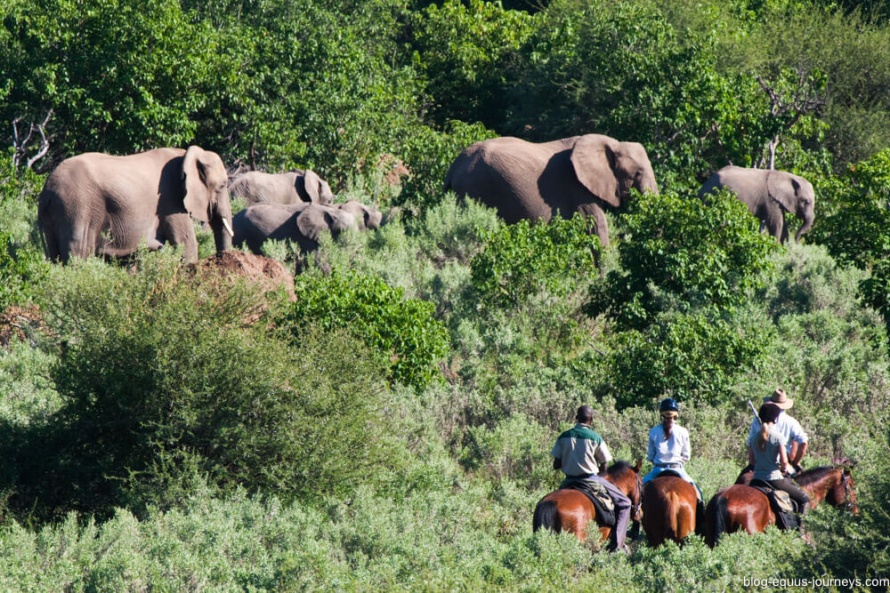 In the afternoons, we all felt like the horses deserved a break and decided to enjoy some of the other activities on offer. One day, Mpho and Tsaone took us on a guided walk. It felt great to stretch our legs and it was a very informative afternoon: we learnt about the local flora and their virtues, how to track elephants and the properties of their excrement (elephant poo apparently makes for a very healthy tea, but I'll stick to lemon and ginger, thank-you-very-much). One evening, we went on a game drive (jeep safari) and were lucky enough to spot lions. We also came across hyenas, including a mum with her very young babies; they were quite adorable and not nearly as ugly as Disney would have you think… My most memorable moment was sundowners at Mmamagwa hills, where we enjoyed a 360-degree view of the reserve at sunset. In the golden light, we listened to Tsaone tell us about the history of this ancient land, feeling very small and humble indeed.

Despite the proximity of the animals, we never once felt unsafe. Our guides were well-trained and the trail went without any major scares, except for one blood-pumping moment on our last day. As we were quietly making our way around an especially big herd, we suddenly heard a commotion on our left and saw a female crash through the trees with her baby calf. She was being chased by a big male, and we just so happened to be right on her way! Mpho swiftly took out his bullwhip, and us riders were ready to flee when she swerved and avoided us. Although we didn't see any big cats from horseback, we knew they weren't too far: one morning, we came across a fresh cheetah kill, and saw an impala carcass up in a tree, a sure sign that a leopard had been there.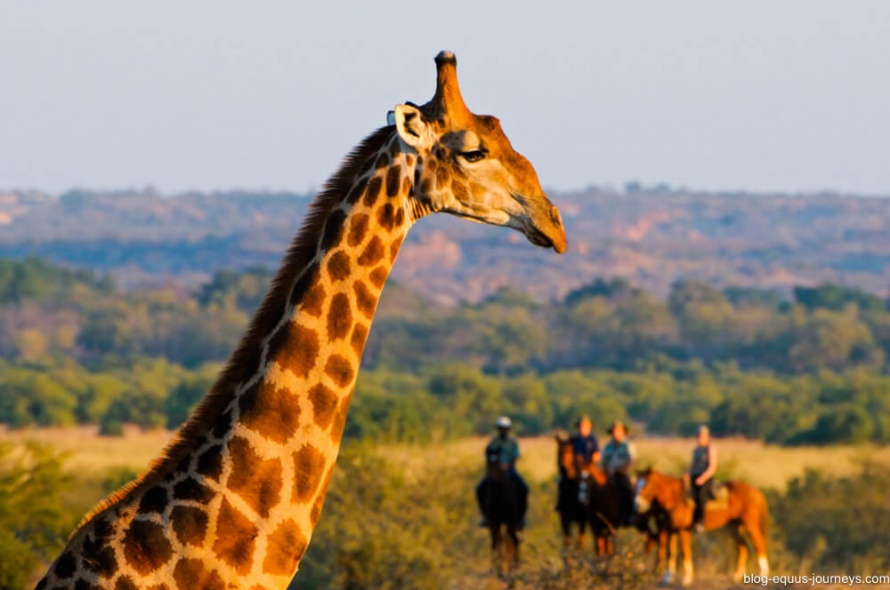 Our camps were comfortable with proper showers/toilet, and very eco-friendly. My favourite camp was Kgotla, an old tribal court. We slept in the safety of the boma, an open-air traditional African enclosure made up of leadwood logs, with our beds laid out under a giant tree. I loved dozing off to the sounds of the bush, watching the stars twinkle between the leaves. Of course, it is not ideal if you don't have some sense of adventure, as some guests can get uncomfortable knowing monkeys are watching you in your sleep mere meters above your heads, plotting their next move…

Our time in Botswana was memorable and made even more special by the great team that accompanied us. Mpho, Tsaone and Martha were wonderful guides, very attentive and knowledgeable. The grooms were very friendly and always smiling, taking brilliant care of our horses, always up hours before us. I must also praise our team of cooks, who produced the most delicious meals with very basic facilities – I could not cook as well with a fully equipped kitchen! Our horses were very safe and responsive: Million was one of the best horses I've ever ridden and I cannot express how much I adored him, Lindy really did find the perfect match for me. Other riders decided to switch horses after the first day, and the team organised for new horses for them. You really are encouraged to speak up if you do not feel like your horse is the best match, as it is so important you feel comfortable and safe during your riding safari.

I thoroughly enjoyed my time in both South Africa and Botswana: they were very different experiences but complimented each other perfectly. Horizon is the perfect place to get used to the horseback safari lifestyle in a safe environment. The
Tuli Block
is wilder, unfenced, and untamed. As such, the
African Explorer
is an ideal starter safari, whilst more experienced riders and those with a sense of adventure will love the
mobile Tuli safari
.
Thankfully, I did not have to get into a plane straight after such fabulous adventures, as I had also planned to visit Ant's Lodges in South Africa for a few days: stay tuned for a separate ride report!

You might also enjoy reading: