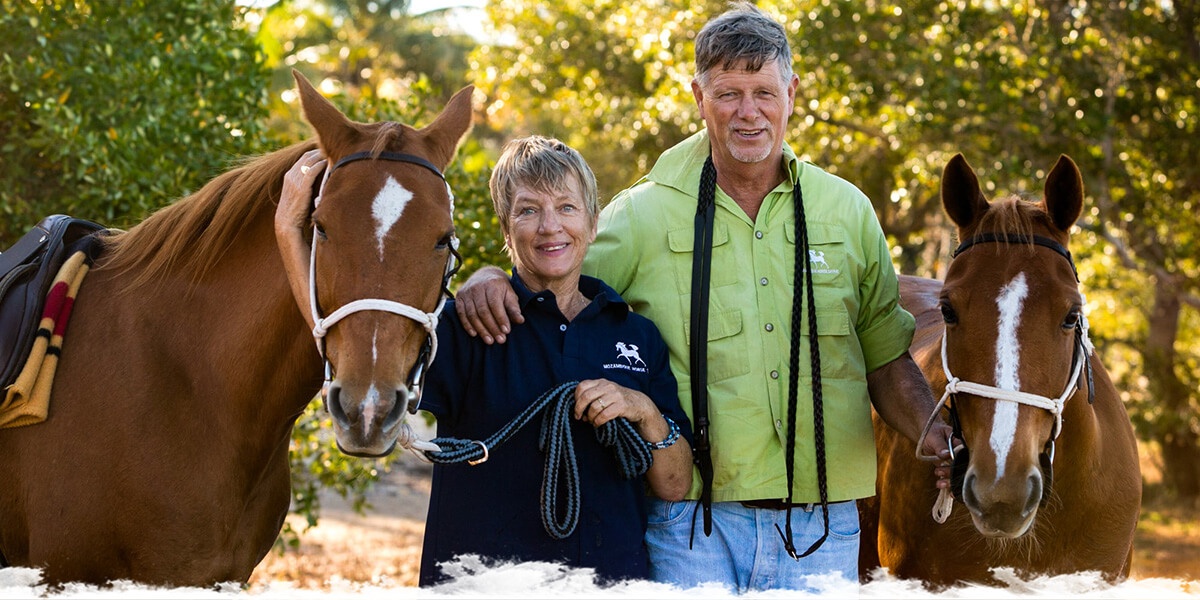 Meet the guides… Pat and Mandy Retzlaff in Mozambique
There are certain people who seem to have lived many lives, all wrapped up in one. People with endless stories that will leave you feeling an array of emotions. Patrick and Amanda Retzlaff are such people. Now proud owners of Mozambique Horse Safari on the pristine Mozambican coastline, theirs is a fascinating and emotional narrative indeed.
THE EARLY DAYS

Pat's story began in Tanzania – more specifically Arusha, in the foothills of the Kilimanjaro, where he was born. He grew up in Rhodesia (today's Zimbabwe) before briefly moving to South Africa to study Animal Science. His future wife Mandy was born in Ghana, and with her English parents, moved to Rhodesia in her early years.

The pair met in South Africa, and together made a home in the country then known as Zimbabwe, in the early 80s. For many years, they led a successful life commercially farming tomatoes and paprika and started building a family of their own - three children, with the addition of a lovely string of horses that they rode around the farm.

If you are familiar with the history of Rhodesia/Zimbabwe in the early 2000's, you will have a relatively good notion of what was to happen next. At that time, Robert Mugabe's government pushed a land reform programme, aimed at seizing the lands from white farmers so they could go to the majority black population. What followed was a state of violent turmoil and Pat and Mandy's seemingly idyllic life was turned upside down in the most dramatic ways. Mandy puts it in better words than I ever could in their memoirs, "104 horses" - more on this below.

'A letter is handed to you. In broken English, it tells you that you must now vacate your farm; that this is no longer your home, for it now belongs to the crowd on your doorstep. Then the drums begin to beat.' (taken from "104 horses")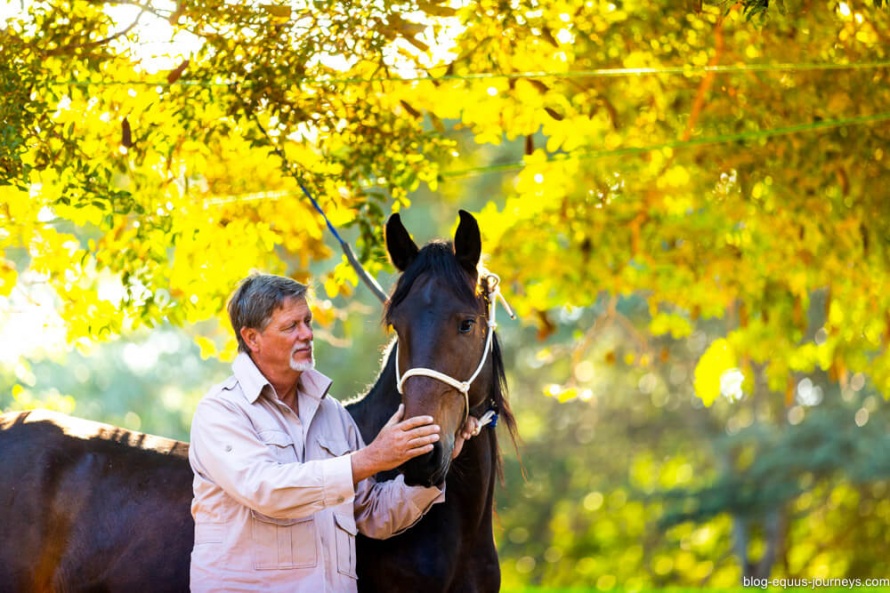 104 HORSES

Pat and Mandy saw their home seized with little to no notice. Mandy's memoirs are a heartbreaking glimpse into what it would feel like to have to leave your home, your belongings, your treasured memories - everything - behind. As they were forced to flee, they managed to gather a string of over 100 horses (!) rescued from farms and trusted upon them by neighbours who had decided to go overseas. Not ready to leave their country, Pat and Mandy fled from farm to farm, finding land for their horses wherever they could and relying on the solidarity of their friends and fellow farmers.

As the situation worsened and facing eviction after eviction, the Retzlaffs eventually found refuge in Mozambique – and there was absolutely no doubt they would bring their horses along. With no income and plenty of horses to feed, they had to think on their feet and come up with a plan.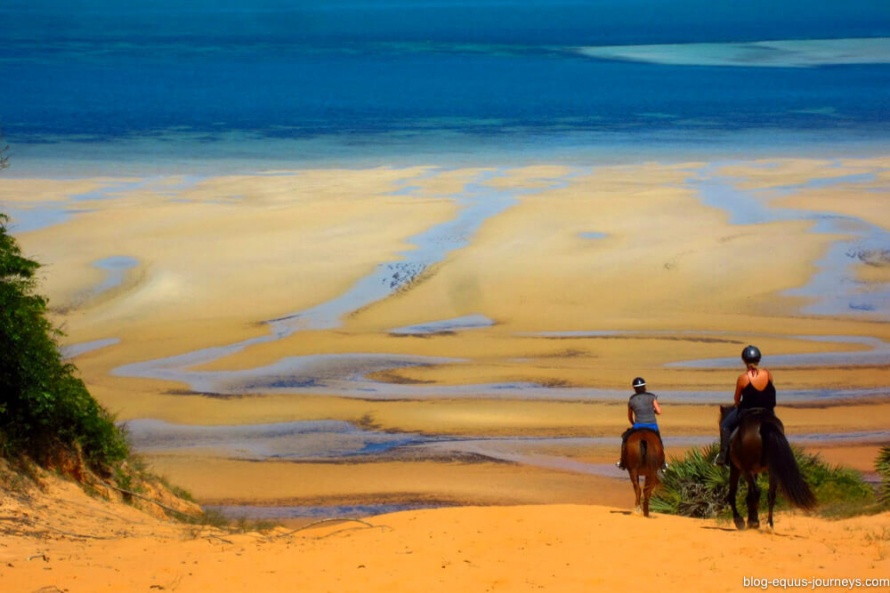 MOZAMBIQUE HORSE SAFARI

It took a few years, some heartbreaking moments and a devastating cyclone, but with courage and determination they eventually established
Mozambique Horse Safari
in 2006 - please do read Mandy's book "104 horses", a fantastic, albeit emotionally harrowing, page turner. Today, Pat and Mandy operate fabulous
trail rides along the Mozambican coastline
and on Benguerra Island. We look forward to helping you experience life on safari with Pat and Mandy – you are in for a treat!
"We had an absolute marvelous time in Mozambique with the Retzlaffs. The rides were varied, challenging and took us through different parts of their world. You know you are up for an adventure when you land on a cracked up air strip. The food was divine and Mandy kept us super busy with arts and crafts, stories that one can only tell around a camp fire and lovely introductions to their life in Vilanculos. I have never seen horsemanship and safety being done as well outside a pro-stable. Pat runs the crew with tight reins and we got checked, double checked and triple checked before heading out. The tack is cared for as it would be in an Olympic show stable. It was a wonderful ending to our trip and we were sad to leave."

Feedback from Equus guest Patrik, who visited in 2019.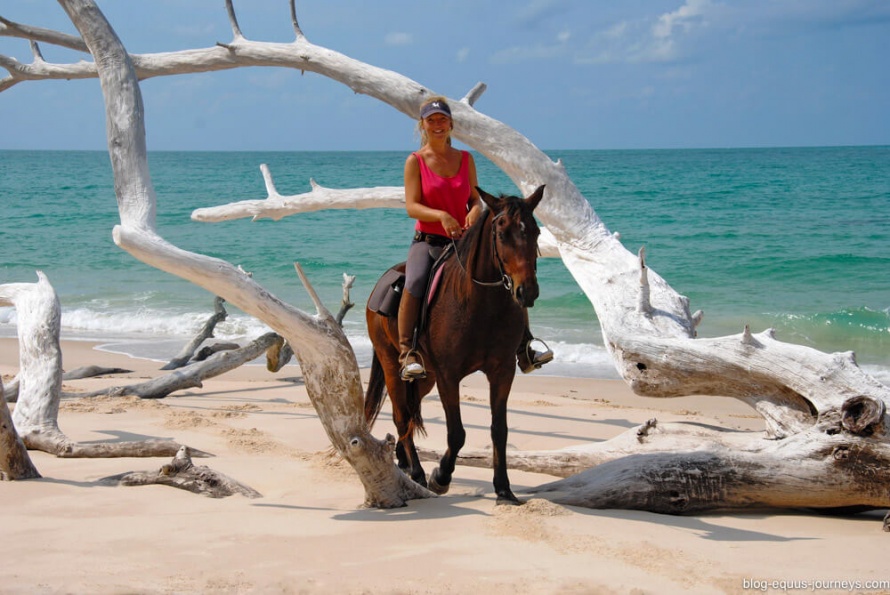 A FEW QUESTIONS WITH PAT AND MANDY

Forced to leave Zimbabwe, you decided to try your luck in Mozambique. If you could have settled anywhere else, where would it be?
We have a deep love for Africa, both Zimbabwe and Mozambique are very special to us. Saying that, I do love St. Ives in Cornwall!

What is the most important lesson you have learned from a lifetime of working with horses?
Patience!

Can you give us three reasons why guests should come and visit you in Mozambique?
Our horses are very special to us & we take great care of them. Vilankulo & the Bazaruto Archipelago have some of the most beautiful beaches in the world that make the riding incredible. Lastly, we really look after our guests. You are open to riders of all abilities, and welcome families as well as solo riders.

Do you have a "typical" guest profile?
No, not really. We are very lucky to have a lot of guests come back and ride with us which is always special.

How many of the "original" horses are still with you today?
We still have 12 of our original horses. Spice Girl, Brutus, Vumba, Texas, Evita, Holly, Viper, Lady, Black Magic, Slash, Tequila, and Mushe.

You are also now breeding your own horses – how are they coming along?
As you can see a lot of our original horses are now closing in or are 20+ yrs old. We needed to look at getting some new horses, so we decided on the South African Boerperd. This last year we had our very first crop of foals which was very exciting, our aim is to create a riding horse with a lovely temperament that does well in our hardy conditions.

What is your favourite memory from operating riding safaris in Mozambique?
We have had an incredible journey from Zimbabwe to Mozambique and there have been plenty of highs and lows along the way. We have been very fortunate to share the journey of life with our horses and know their personalities intimately. It gives us a great sense of pride to hear guests who have ridden all over the world say such complimentary things about them.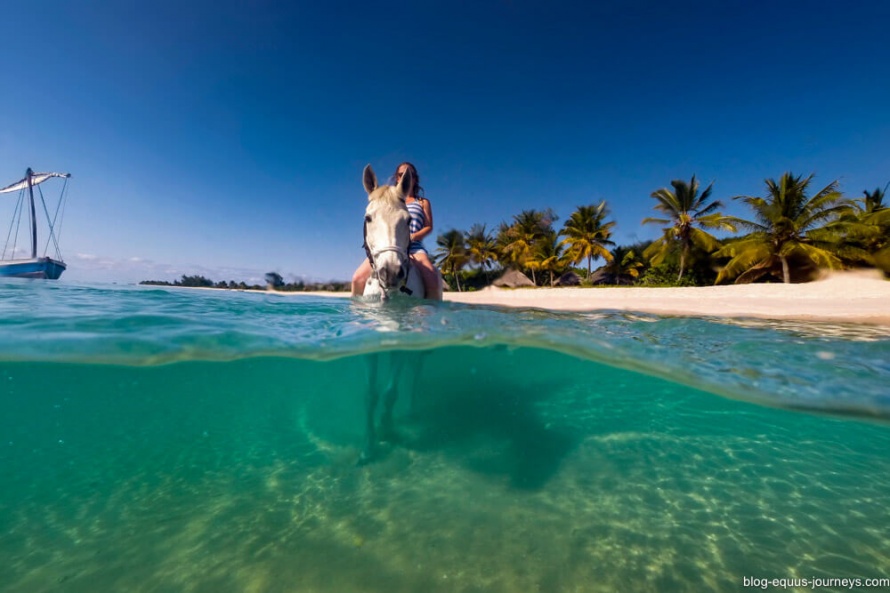 Our riding holidays in Mozambique

Mozambique is a hidden treasure with its large beaches of white sand and blue coral lagoons. With Equus Journeys, you can enjoy this tropical paradise from horseback where the water temperature never drops below 23°c and the horses go swimming voluntarily! Every day is a new riding adventure that will see you canter along pristine beaches, explore the local fishing villages and sand dunes, and the chance to discover beautiful Benguerra island in the Bazaruto archipelago.

Other durations can be arranged on request.

More information

Read their stories and buy "104 horses" on

Amazon

Watch the documentary "2001: a horse odyssey"

on CNN
You may also enjoy reading