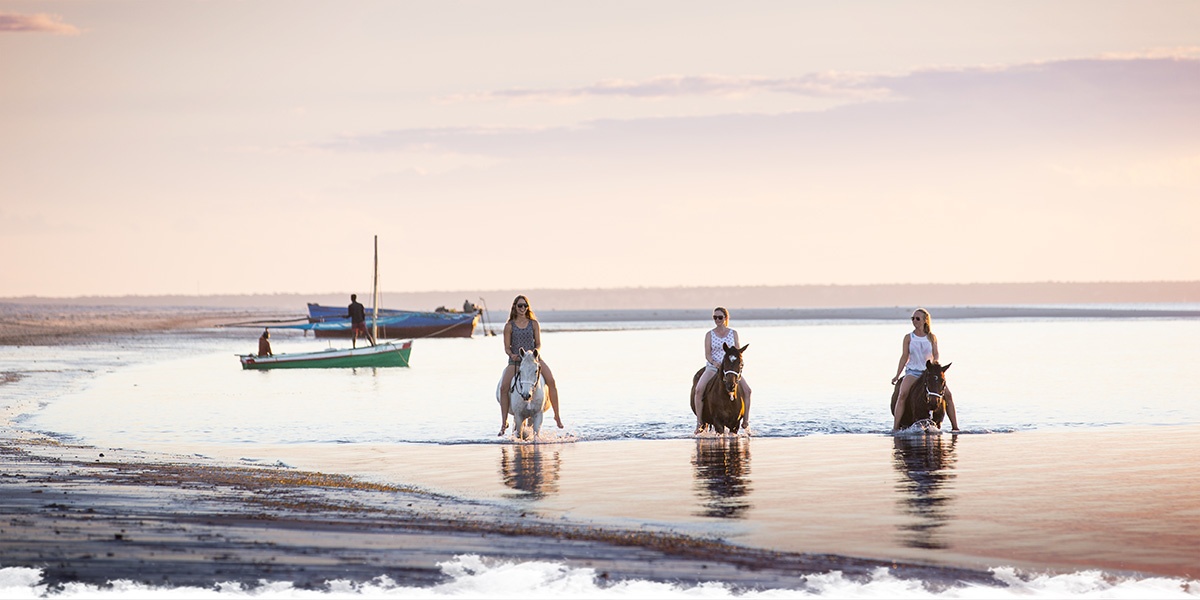 An interview with travel photographer, Teagan Cunniffe
Born in Durban, South Africa, and now based in Cape Town,
Teagan Cunniffe
is a freelance travel photographer and journalist capturing the real African wilderness through the lens of her camera. A rider herself, she has worked with several of our trail rides and African safaris and produced wonderful photo and video content for them.
1. How did you get into professional photography? Is that something you have always pictured yourself doing? (pun intended!)

I guess so! When I was young, my dream was to work for Nat Geo, somewhere humid and wild and exciting, for months on end. After completing a marketing degree I (very idealistically and naively) decided that I could 'never do a job that I hated'. I started working for a commercial photography company and - ironically - hated it. If I was going to be a photographer, it needed to be as a means to travel. On a whim, I applied for an opening at Getaway, South Africa's oldest national travel magazine, as their lead photojournalist. I never expected to get in, and it changed the direction of my life when I did. Working there laid the foundation for where I am now. It was a challenging but brilliant time of my life.

2. You have produced amazing content for many of our African horseback safaris: Ant's Lodges, the Wild Coast Trail, Cape Winelands riding, Mozambique Horse safaris… to name a few. What was your first commission and how did you manage to "infiltrate" the horseback safari world so quickly?

Thank you! I am so grateful for the safaris I've worked with, and the relationships I have formed from them. Following a burnout in my early twenties, I realised how important riding was to me, and that I needed to get it back into my life. My friend Lynda just raved (and raved and raved) about
riding in Namibia
. She showed me photos and told me stories. I needed to go, and seeing that I could never afford these trails, I began strategising as to how… That's when I thought about combining my professional skills with horse riding. Lynda was doing a 7-day ride through the Baviaanskloof with a mutual friend, Herclé van Huyssteen, and I asked if I could join. That was my first attempt as filming and photographing a horse trail, from horseback. And flying a drone!!! It was all so stressful, but so fulfilling…I then used that content to pitch Helen from Namibia (NHSC). She was excited and on board and booked me in - and that was my next career break. I did their Wild Horses trail first and it blew me away. I was so ridiculously happy, and felt creatively inspired again. It came at the perfect time. I resigned from my magazine job whilst sitting in the Windhoek airport on the way home.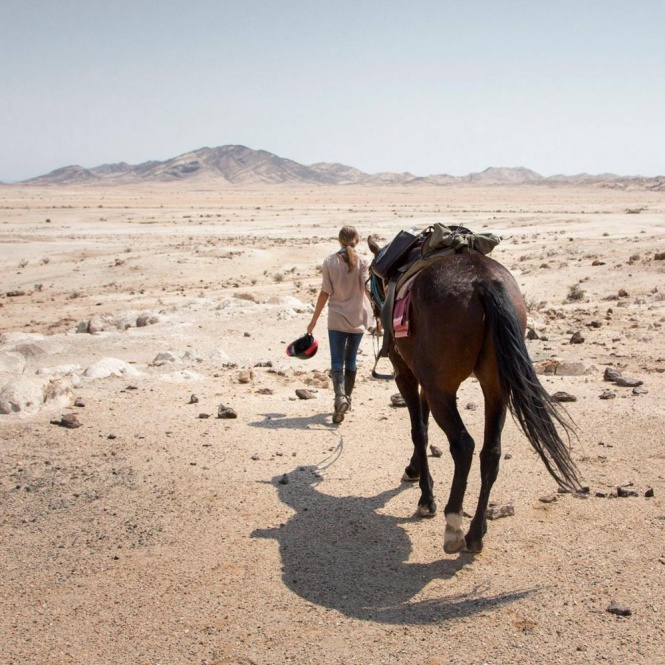 When I went freelance, I pushed everything. I worked back-to-back, and on multiple jobs at once. I wanted to get portfolio content of a wider range of horse safaris, and tied this into travel writing and travel photography. I did five new horse safaris that year, through word-of-mouth or via directly contacting them. It was an important, establishing year for me to do, but one that I don't think I have the energy to repeat! Horse safaris take a lot of time - at least 2 weeks, including edits - and that's time away from work and home. It's not something I can repeat too often anymore.

3. Do you have a photography style, and if so what is it?

My goal for each safari is to try to capture the 'magical' side of it; the idea of what the trail is about and the feeling riders get from being out there. I want my photos to be more that just documented reality.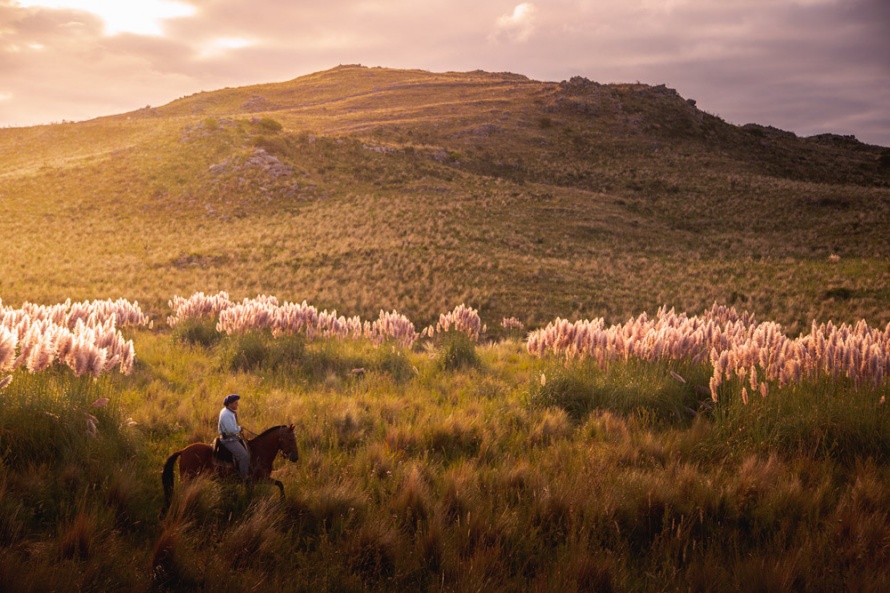 4. Actually, you've been beyond African borders recently: didn't you recently travel to Estancia los Potreros in Argentina? Have you got other exciting projects coming up?

Sore point!! :) I was meant to work on The Gobi Desert Cup in August this year, in Mongolia. I'm crossing fingers to still be involved in next year's event. Otherwise, I'm waiting for the world to level out a bit, then will see if I can make something happen… hopefully a new trail in Namibia towards the end of the year. Internationally, I'm eyeing out Jordan. (note from EJ - this article was written in June 2020, during the covid-19 pandemic)

5. Tell us a bit more about what a photoshoot for a riding operator is like. Do you ride with the group, or do you tend to follow with a car/jeep and meet the group on foot? If riding with the group, how do you carry your equipment? This can be a big issue for us and our riders – the best cameras always seem to be the bulkiest ones!

While I do location-based trails (also know as centre-based rides or petal rides), my primary focus is on multi-day trails. I love the adventure and authenticity of them - you can't really set up scenes, you just have to absorb what's happening and be present and create as you go. Bearing that in mind, I chat to the safari operator about when is best to be where. Some places you can only access by horseback, while some scenes are better to get by car or on foot. I try and ride at least 60% of the trail, for my own enjoyment's sake. It's hard to watch other people riding, when you're in a car!!

When riding, I carry my drone on one side of a saddlebag and my DSLR in the other. I sometimes carry a goPro on a gimbal too, in my water-bottle pouch in the front of the saddle. Then it's working together with the team to decide if I should be way ahead in the front, or stop and set up from behind. I need someone to stay with me to hold my horse, and I need an independent, brave and sensible horse that's ideally sensitive to leg pressure and neck reining, as I often only have one hand available. I have a list of top 'photo horses' I've encountered. My appreciation and love for those horses still makes my heart swell.

Then it's backing up content each night on my laptop, to two hard drives. I charge my batteries on an inverter powered by a car battery if there is no electricity available. It's hard on your gear and I've had a lot of expensive damage over the years.

Unfortunately the 'best' cameras are still the bulky DSLR's, unless you're going mirrorless (the Canon Eos R with a small zoom could be a good option). But that's all expensive and risky to take on horseback. If you're there as a guest, I'd cut out the stress and just take a point and shoot. If it is modern (aka good image quality) and has a good zoom range you can get practically the same photos as I do, with my heavier gear.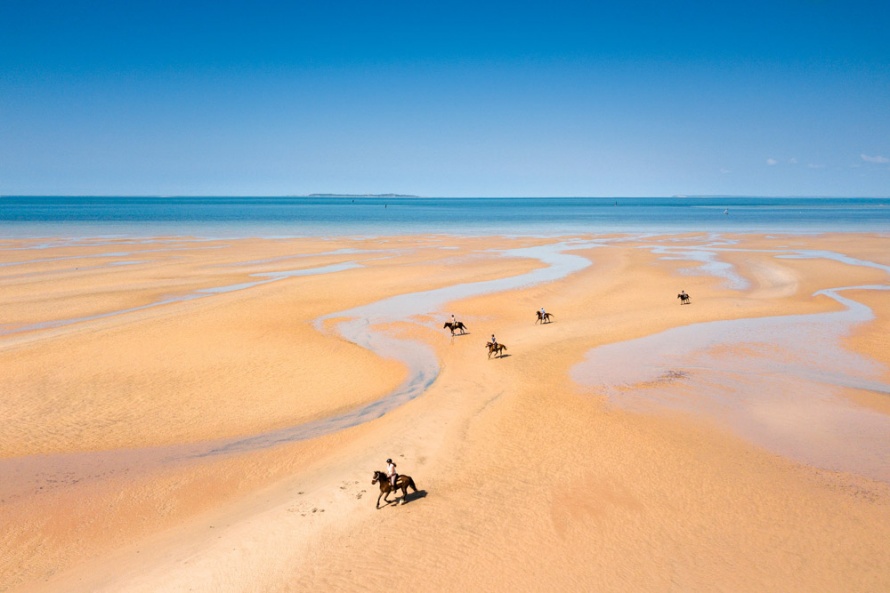 6. You have also done some lovely work for "standard" safari operators – regular safari camps without the equestrian element. Is a shoot for a riding safari operator more challenging in a way?

Thanks again!! This is my bread-and-butter work. Shooting for a lodge is challenging in a different way - there's more professional pressure, and I have to visualise and set up scenes. Shooting for a horse safari is more challenging when you look at the logistics and the skills needed to do it on the go, but it's also something I don't have to think about as much; the scenes often create themselves. I just have to be looking for them. I need to be selective though - often there are so many beautiful options, and I have to be careful not to annoy the rest of the riders with stops and starts and drones. They're on holiday, and I'm very aware that they didn't ask to be in a photoshoot. They want to enjoy the trail. I generally share photos with them afterwards to say thank you for their patience in putting up with me!

7. What kit do you use yourself?

For safaris, I use a Canon 5d Mark III and a general 24-105mm f/4 lens. Back at camp I play around with a 50mm. Then it's my Mavic Pro drone and the GoPro Hero 6 and gimbal.

8. Do you have a special memory from one of those assignments that you would like to share with us?

So many special moments… One of them would be an evening we spent at the
Ant Collection
. We'd been shooting lodge and horse safari content for a few days, and Ant Baber suggested we go out for a night's camping. It was just such a fun idea - we galloped up into the hills and set up a fire with Fred and my friend Emma, watched the sun set and let our horses go free. We slept in the open in canvas sleeping bags, out in the emerald-green Waterberg bush. It is such a special place. Ant blames it on the Waterberg sand - once it gets into your shoes you're destined to come back, he says - but I know people keep returning for the welcoming feeling they find there. You feel like you're at home; that suddenly your backyard sprouted a couple thousand hectares and horses and wildlife and friends.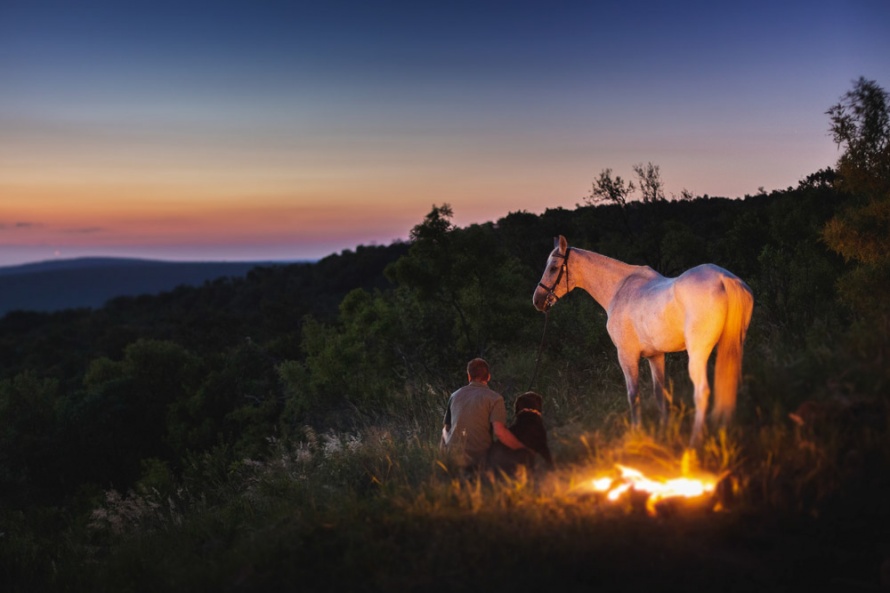 9. Any tips for an amateur photographer about to join a horseback holiday?

Ahh I'm so envious! Any
horseback holiday
is bound to be wonderful… it's literally combining horses with travel!! And a great way to make interesting friends from around the world. My tips would be, firstly, to enjoy it and be present. Switch off your phone and put the camera down sometimes. Soak it all up - you'll appreciate the detox from daily life even more at later date. Then when it comes to photography, remember the context of where you are, and try to bring that into your photographs. Show horses and riders in the landscape. I like to show tiny little horses in great big landscapes.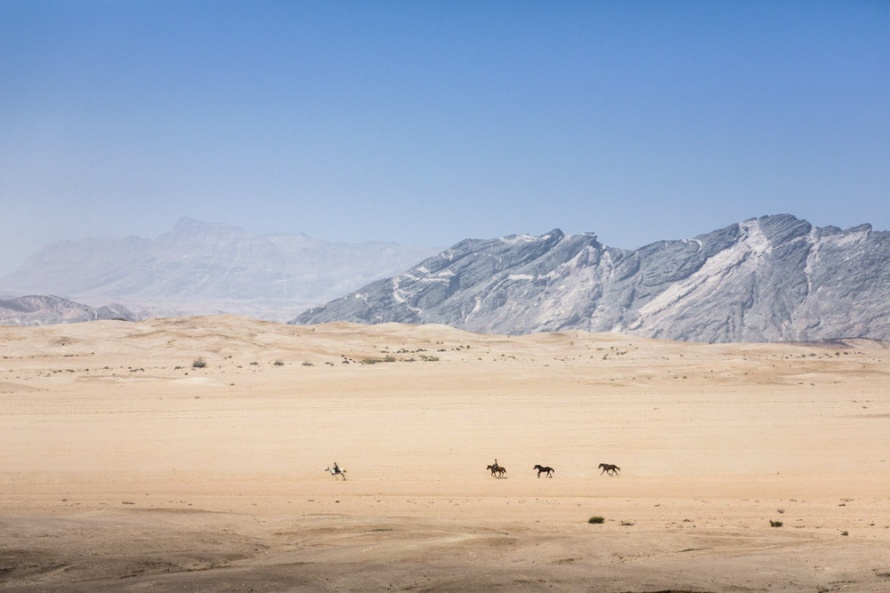 Get up early and go for a solo walk around camp. The light will be beautiful, and the time alone leads to new insights and angles. Sometimes dials get bumped while you're riding, so shoot on a semi-automated mode, like aperture priority or shutter speed priority. That way if you have to shoot quickly, at least your exposure won't be completely out of whack. Keep a high shutter speed (1/500 or faster) to prevent camera shake from you and your horse's movements. That being said, sometimes happy mistakes can happen, and camera shake adds to the end image.


Put everything back in its place. Lens caps and batteries and memory cards go missing in the heat of the moment, if you don't take the time to secure things properly.


Insure. Your. Gear. And use an ND or polarising filter on your lens.

More information

For more information, please visit our website.

You may also enjoy reading: