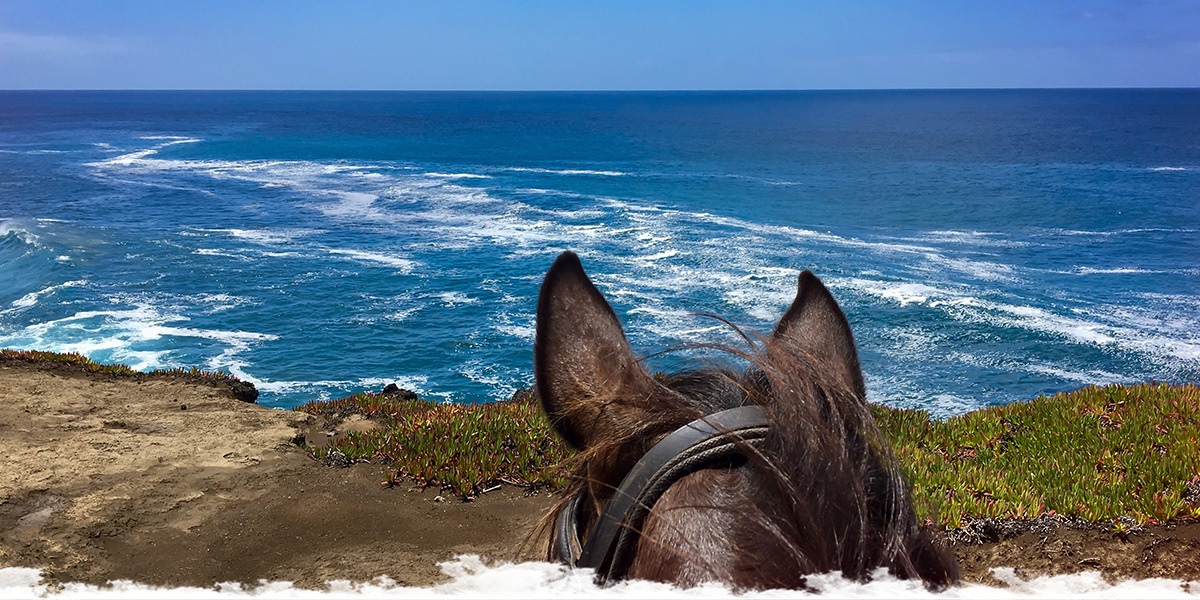 Horse Riding Trail on the Blue Island
Equus Journeys' guest Eli Curran, from the USA, had a memorable horseback holiday in the Azores. She did not just love her time in the Faial Island, but she also fell in love with her horse Princess!

The Azores is an archipelago in the mid-Atlantic ocean characterized by dramatic landscapes, black volcanic beaches, and spectacular green pastures. Although conveniently located half-way between America and Europe, this small Portuguese archipelago is one of the undiscovered jewels of the Atlantic, and many seasoned travellers have not yet heard of it. We are delighted to share with you Eli's tales from the saddle.

First impressions

" I have just left Anja and Victor's Patio Horse Lodge. As I sit in the airport in Terceira waiting for my flight back home to Boston, I cannot stop thinking about my amazing week! Since the beginning I knew I was going to be a single rider, and thank god for Iris at Equus Journeys, she definitely steered me in the right direction towards this amazing holiday."

"It was my first trip to the Azores and my first time on a horseback riding vacation - You could just imagine the excitement! Now that I can reflect on the trails rides spent exploring the green meadows, the cliffs, beaches and tropical forests, I must say that this riding holiday was just superb all the way around."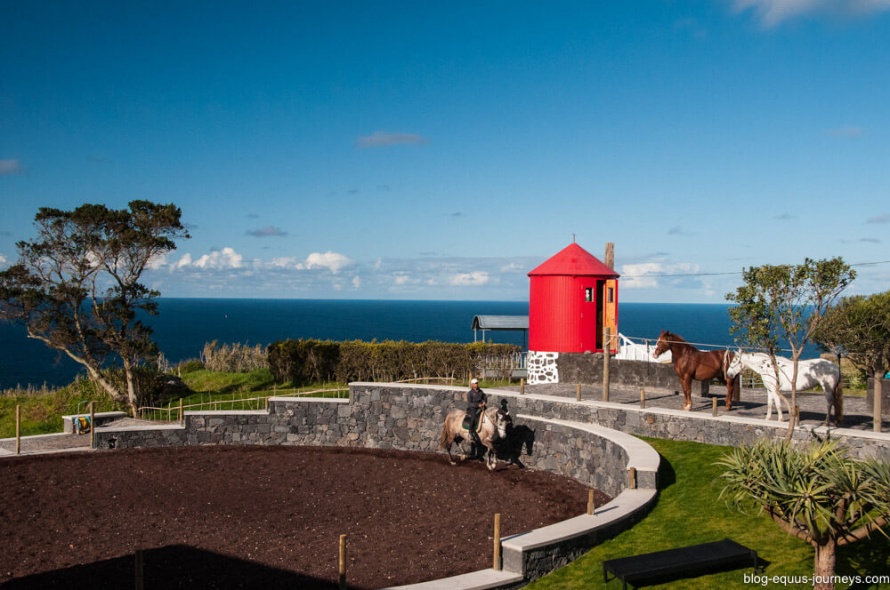 " My first impression when I arrived, was definitely the Patio's Lodge accommodation. It is a beautifully maintained property overlooking the pristine Atlantic Ocean. Sounds dreamy, doesn't it? The lodge has 22 horses that are very well trained for any riding level."

Trail riding on Faial Island

" I did a week-long trail ride, covering around 150km in 6 days, so on average, we rode about 25km every day. Each day started with a wonderful breakfast (I loved the homemade yoghurt), before heading out for a day in the saddle".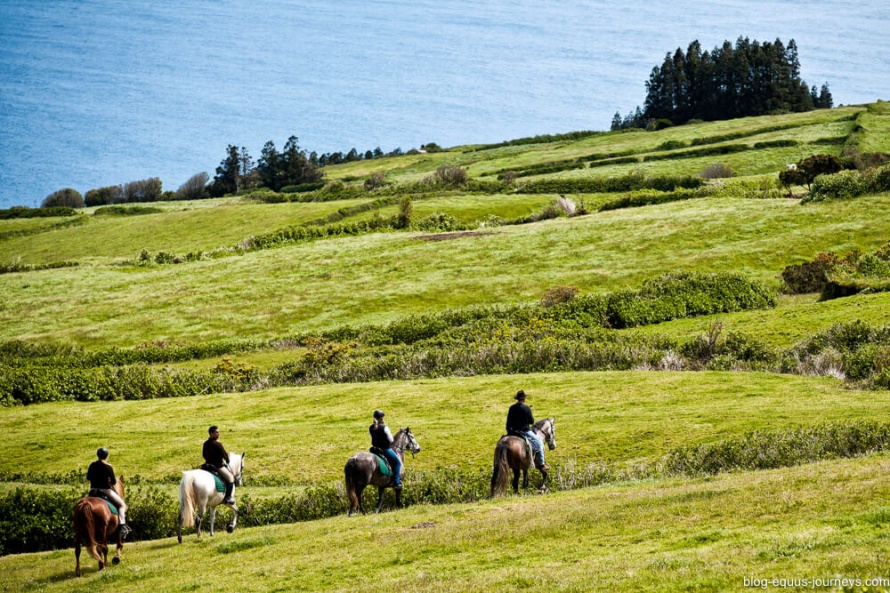 "After a long riding day, it always felt good to go back to the property. Everything at the lodge is exceptionally clean, well maintained (including the horses), very colourful and bright, and overall the whole atmosphere is inviting and relaxing. The rooms are perfect! Lots of space, modern bathrooms, beautiful views, a super comfortable bed to lay down after a long day and good stable internet. I personally enjoyed walking the grounds and playing with the dogs every evening.

A special horseback experience

"The friendly, caring and accommodating staff was also a great part of why my trip was so special. I will always remember Sandra's smiling face when she welcomed me at the airport, Carla's wonderful cooking (accommodating my vegetarian requests), Diogo our wonderful and competent riding guide and of course Victor who always offered me a cold beer at the end of a long day's ride. Faial Island is beautiful and perfect to be cantering along the spectacular coastline. I was able to visit lighthouses, whale watching towers, Horta's colourful harbour, climbed high hills and even volcanic craters, it won't disappoint! The Patio is almost done integrating a glassed sitting bar area which is a terrific enhancement. It is wonderfully cosy and Victor's office is in the old red windmill where he can look over the Atlantic Ocean. I would definitely return to Patio's Lodge in a heartbeat. Especially to visit Princess, my horse that week".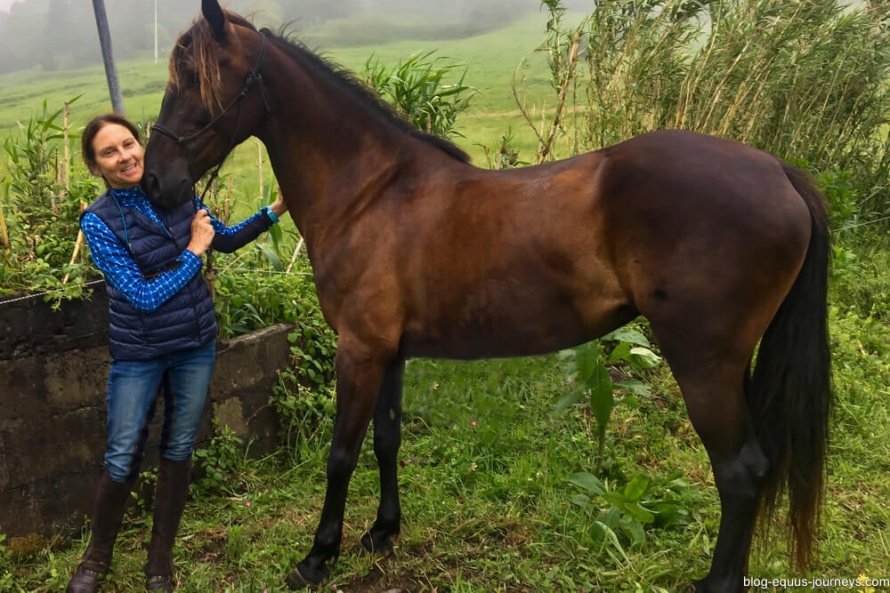 "It was for me, the most magical week! Anja, Victor I am grateful for the impeccable attention to detail and making me love the Island and your horses. Equus Journeys - thank you for awakening me to all the wonderful horse riding vacation experiences available around the globe. This might have been my first horse holiday, but most certainly it will not be my last."

Thank you Eli for sharing your horseback adventures with us!

More information:

You might also enjoy reading: