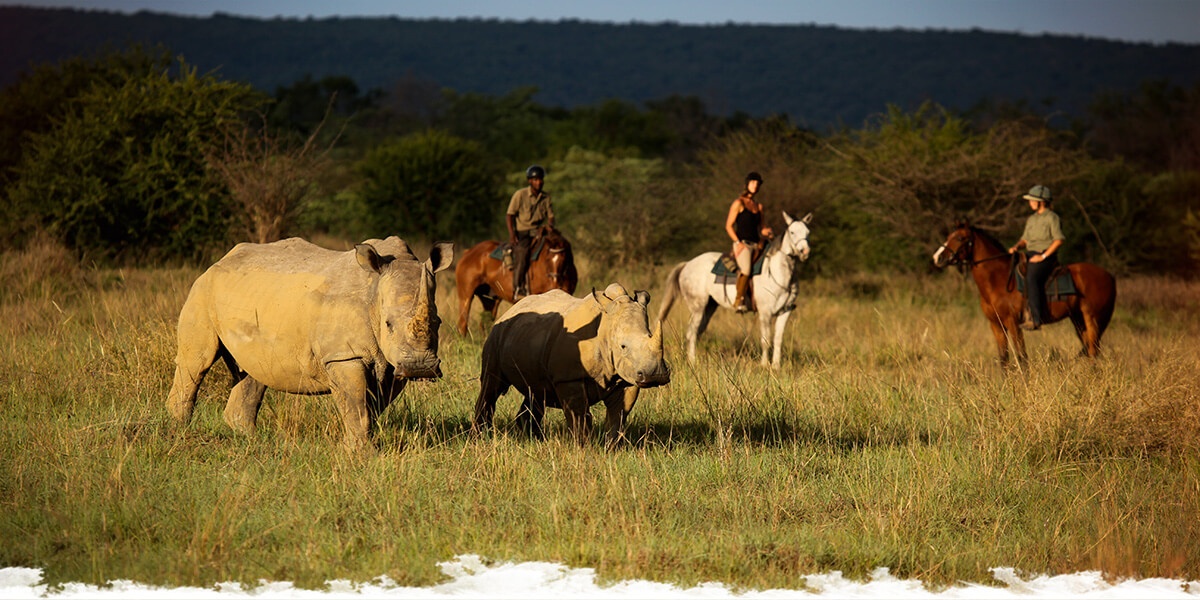 Save the Waterberg Rhino
"To every person out there who has had the unforgettable experience of encountering a rhino. To each of you out there who has always longed to do so. To anyone who calls themselves a lover of nature, a supporter of conservation, a human being, let's stand together as a nation proud and DO SOMETHING." -Elise Daffue

Horseback riding safaris
are an incredible opportunity to get close to the
African wildlife
and experience the bush in an eco-friendly way.
Ant's Lodge riding safari
is not only notorious for catering families and individuals with a luxurious riding holiday in the African bush, but it is also dedicated to protecting Africa's incredible wildlife.
Rhinos
have become an iconic figure, their majestic nature and appearance is surely breathtaking, but their hard fight against extinction is becoming more and more critical each day. At Ant's, in the
Waterberg
(north of the country) this species is highly protected and riders are able to
admire rhinos from up close. However, could you imagine not ever seeing them walk this world again?
Save the Waterberg Rhino

Save the Waterberg Rhino
was founded by Ant and Tessa Baber, Victoria Crake and Gustav Collins. Ant and Tessa had owned a reserve in the
Waterberg in South Africa
for many years, yet it was not until December 2011, when they spotted one of their
white rhino
cows poached together with her 11-month old baby, that they decided to take action. The horrific sight devastated them and security around the rhinos was reinforced. At the end of July 2012 another of their white rhino cows was
poached
, but this time her 18-month baby managed a lucky escape. The Babers quickly realized that reinforcing security was not a lasting solution and that more needed to be done. The
rhino calf survivor
inspired them to go the extra mile and this is how the
'Save the Waterberg Rhino' foundation
was born.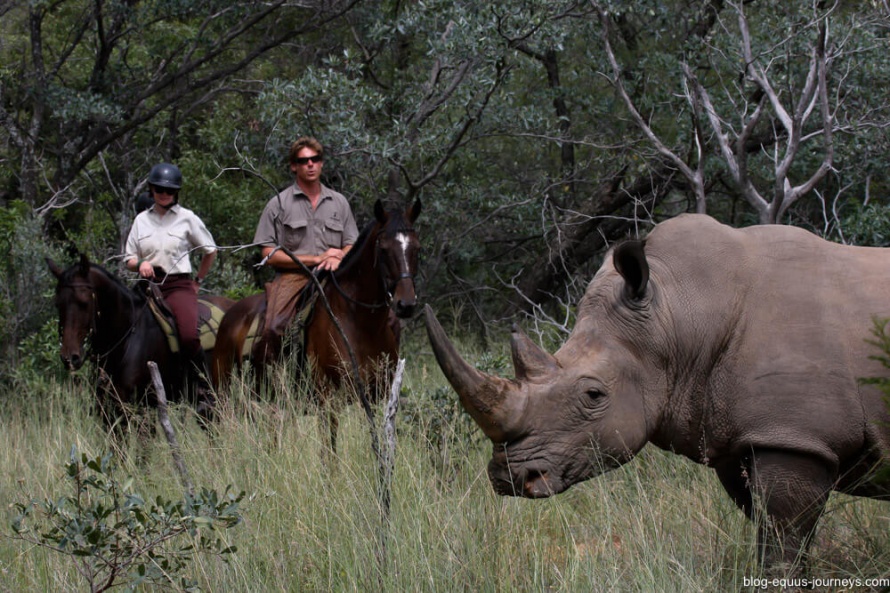 There are about 19,000 white rhinos in South Africa and we estimate that 20-25% of these numbers are in private ownership. With the increasing demand for rhino horns in the Asian market, poaching has exploded on the African continent and private rhino owners have come under pressure to protect these magnificent creatures.

Owners have had to tackle this issue and have been facing the
battle against rhino poaching
for years. Every day, they are playing the most important role in
rhino conservation
, fighting for the future of the species. However, the cost of protecting small populations of rhinos is enormous, and ranges from $2,000-$28,000 annually per rhino. Save the Waterberg Rhino has teamed up with
The Waterberg Biosphere Reserve
and
StopRhinoPoaching.com
in the hope of
raising
funds
to protect the rhinos in private ownership around the Waterberg area. The team is composed of members of the community, rhino owners, rhino specialist and security experts. Their
mission
is to
protect and conserve the rhino populations
in the Waterberg Biosphere area in order to
preserve the natural environment
and
benefit local communities
through the enhancement of
security, education and sustainable social uplifting.
Facts about rhinos

Rhino Populations

Worldwide, just five species of rhino remain. The white and black rhinos are the only species left roaming the plains of Africa, making up for 90% of the world's rhino population. These species are heading rapidly towards extinction, and without appropriate action and education, we cannot ensure their survival.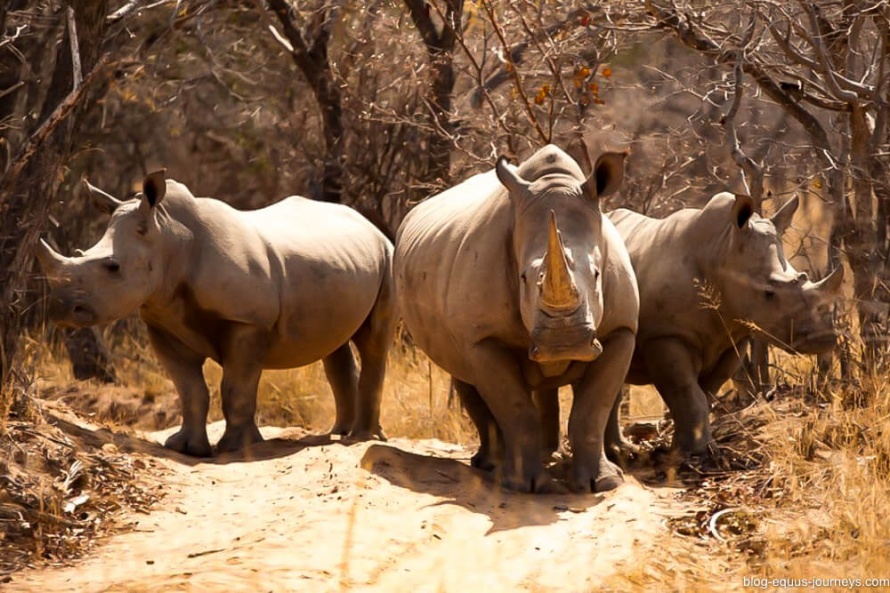 By the end of 2016, over 6,700 rhinos had been illegally poached in South Africa. More than 1,000 rhinos are being poached each year, meaning at least 3 rhinos are possibly killed every day. The poaching slaughter is not just terrifying, but it is also barbaric, with poachers often hacking off the horns while they are still alive.

Rhino's Horn

Poaching has increased at an alarming rate over the last few years due to an increasing demand on rhino's horn in East Asia and the Middle East market. Traditional Chinese medicine beliefs of its curative powers is the main reason the horns are so valuable. On the other hand, the horn is also seen as a symbol of power in some cultures, which means it is only being used as an ornament to depict status in society.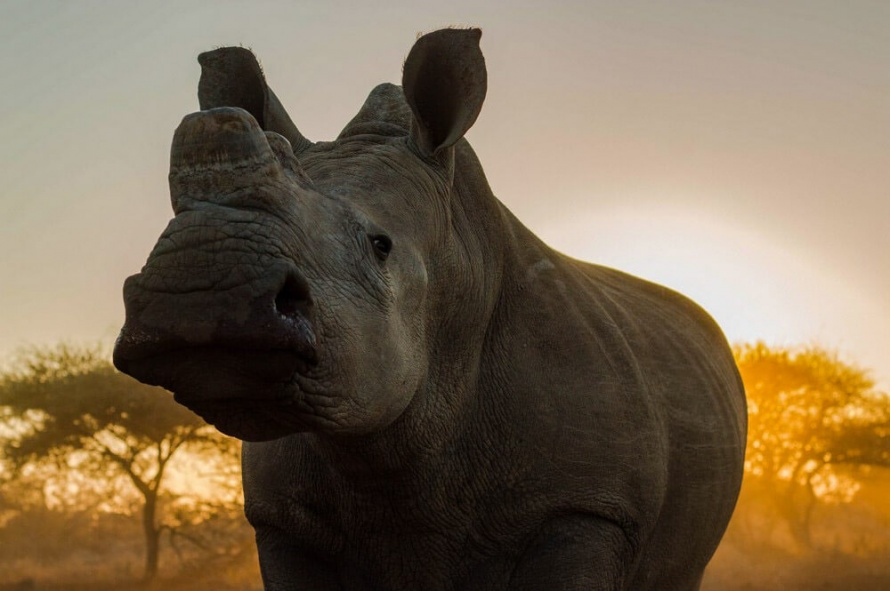 The rhino horn is made up of keratin, the protein found in hair and fingernails. In the centre of the horn there are dense mineral deposits of calcium and melanin, which is actually very similar in structure to horse hooves! Although the horn contains a great amount of Keratin, there is no scientific proof that rhino's horn mineral composition is an effective cure for life-threatening illnesses, like traditional Chinese medicine likes to claim. In other words, the Rhino's horn "medical miracles" are just a perception that has been in Asian tradition for thousands of years.

The solutions

Every day we are getting closer to not seeing rhinos ever again. But the solution to saving them can be as complex as the poaching issue itself. A multi-faceted approach has been required to address the socioeconomic challenges that surround this issue. Employment, education, reduction of demand, law enforcement (international and government cooperation), political will and cross-border support with neighbouring countries are just a few of the components that are making a difference in the Rhinos survival.

Even though it seems like there is much to be done, the Save the Waterberg Rhino foundation is already allocating resources. In the last few years, the foundation has been able to achieve multiple goals thanks to fundraisers and working in close conjunction with private reserves, rhino owners, APU's and the South African National Parks.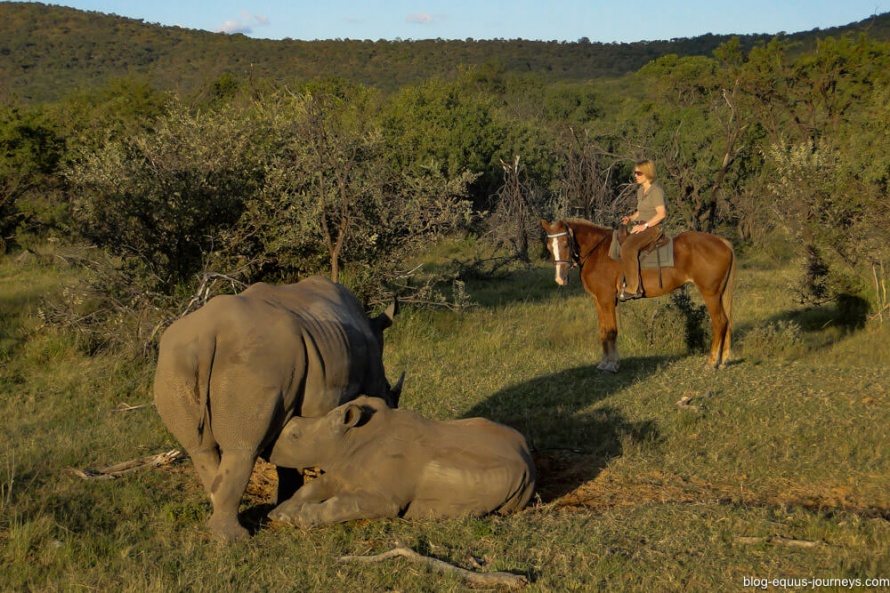 Through funding and sponsoring, the foundation has managed to procure achievements such as a responsive trailer, high tech equipment, areal patrols, a Rhino response team, security workshops, environmental education programmes of rhino conservation, awareness programmes, employment of staff, and many others. All of this progress has managed to make the life of the rhino's more secure, but yet there is much more that can and must be done in order to preserve these magnificent animals.

What can we do to help

Donations
are the most effective way to help rhino owners in the fight against poaching. Owners have been evaluating the problem year after year and have determined a plan to direct funds effectively to generate the greatest impact. However, there are other ways to help as well, and the first and most important thing is to
keep yourself informed
. You can subscribe to the
Save the Waterberg Rhino
newsletter to be constantly updated about the poaching crisis.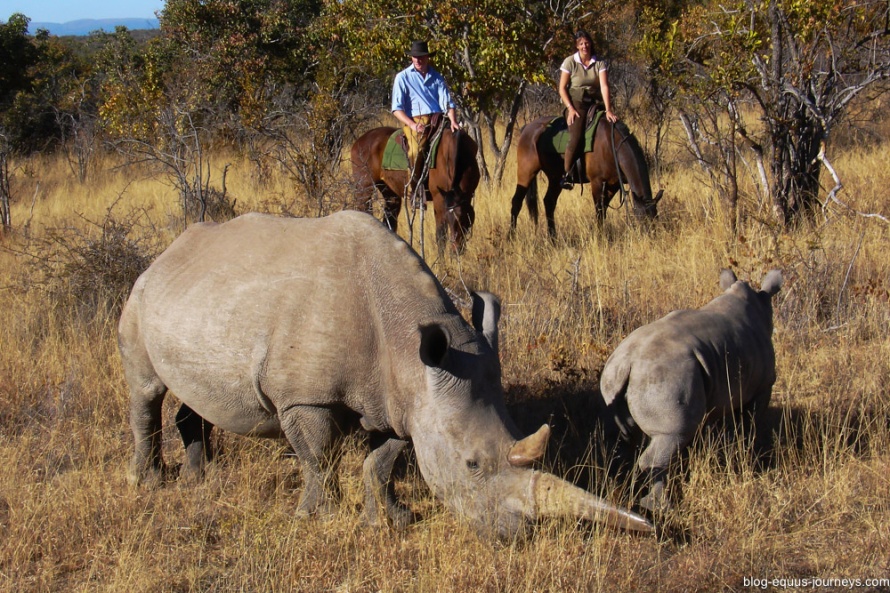 When on a
riding holiday
at
Ant's Lodge
, be sure to ask your guide and host for
more information
. They will be happy to speak to you about the issue and
introduce you to some of the rhinos at the reserve
. When coming back home, don't forget about what you have learned and seen,
spread the word and inform others as well
. Returning home with a small booklet or poster and putting it up in the office or school can spark interest in others and they might want to be part of the cause.
If you are ever lucky enough to spot a Rhino, just remember you might have been one of the last few humans to have ever been in the presence of this creature. If we do not act NOW, we could be looking at a future in which this iconic species is wiped out.

More information:

For more information about Ant's Lodge, please visit us at
Equus Journeys
.
You might also enjoy reading: