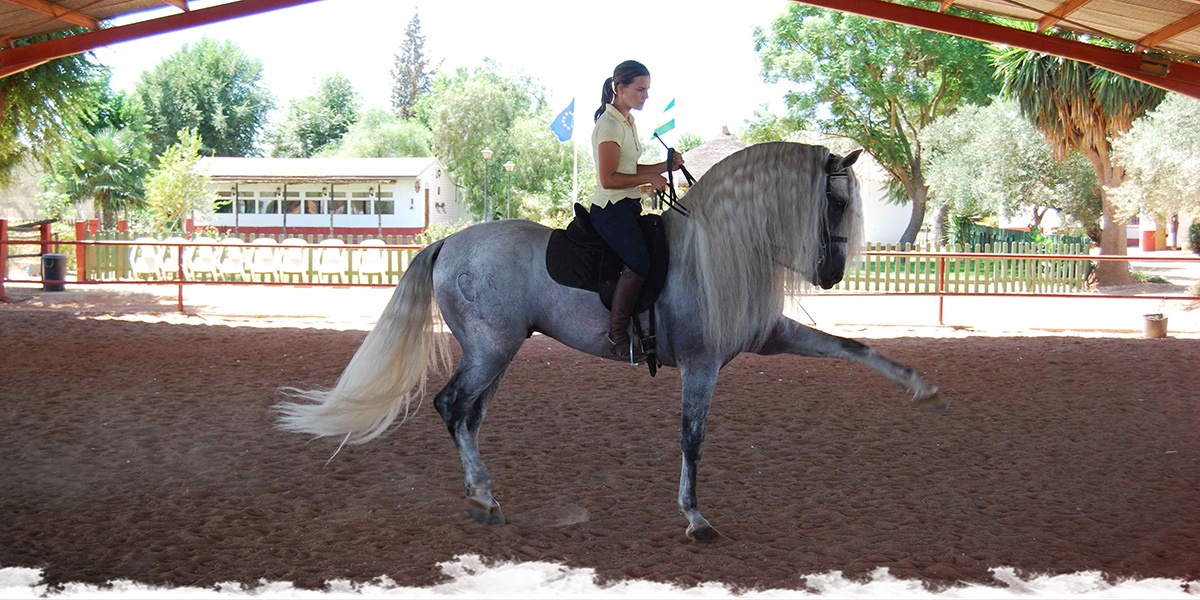 A week at Epona Equestrian Centre

Equus Journeys rider Lesley is no stranger to our school of dressage based near Seville, Spain - and on her 4th (and likely, not her last!) visit, she was greeted by Fernando once again with the words "You are family". This epitomises the warmth and the hospitality that is extended to all visitors, old and new. Lesley recounts her day by day during her time at Epona on the "High School Dressage" training programme.
Day 1: Welcome back to Epona

We were picked up by Fernando from our lovely hotel in Carmona and taken to the Epona School. Vivi (Fernando's daughter) asked the other riders a few questions about their riding ability and previous experience. After that, horses were duly assigned for our training!

We were split into a group of 3 and a group of 2 based on our probable abilities. I was not surprised to see that Vivi was on point with her judgement, and we all stayed in our assigned groups all week. My first lesson was on Naranjuelo, a beautifully trained grey Andalusian stallion whom I've ridden before. Lesson 1 was getting to know our horses and for Vivi to see how we rode/handled the horses so it was walk, trot, canter, suppling work and basic lateral work.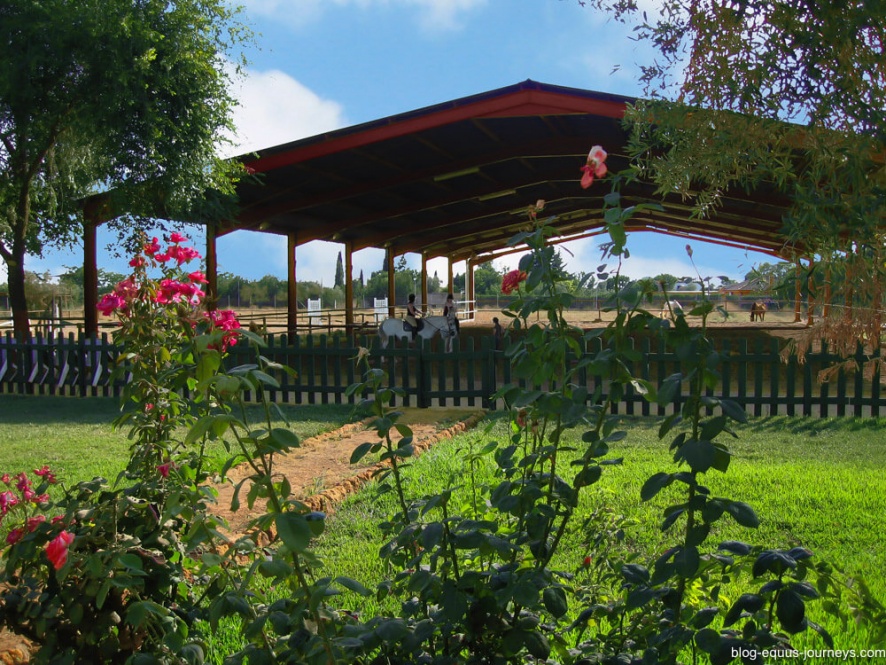 Soon after this lesson had finished I was riding Gavilan for a lunge lesson. As much as this is painful, it is also very illuminating as to where issues are with position, balance and posture. Many exercises later my legs felt 6" longer and my core muscles hurt but it was very helpful.

The second lesson of the day was on Abeitar who is one of their youngest horses. Most of the lesson was spent working out where the buttons are and also getting my brain around riding a horse with a completely different way of going.

Vivi is so knowledgeable about all the horses and their training, she knows all their quirks and is very good at helping each rider to get the most out of each session.

Day 2: The Andalusian School of Equestrian Art

This morning we went on a short trip to Jerez, the Andalusian School of Equestrian Art. The school is on beautiful grounds with amazing facilities. You can watch horses being worked; under saddle, in hand, lunged, driven and on the horse walker. It felt incredible to be able to watch some very good riders being instructed by excellent professors and to see such beautiful horses being worked at all levels.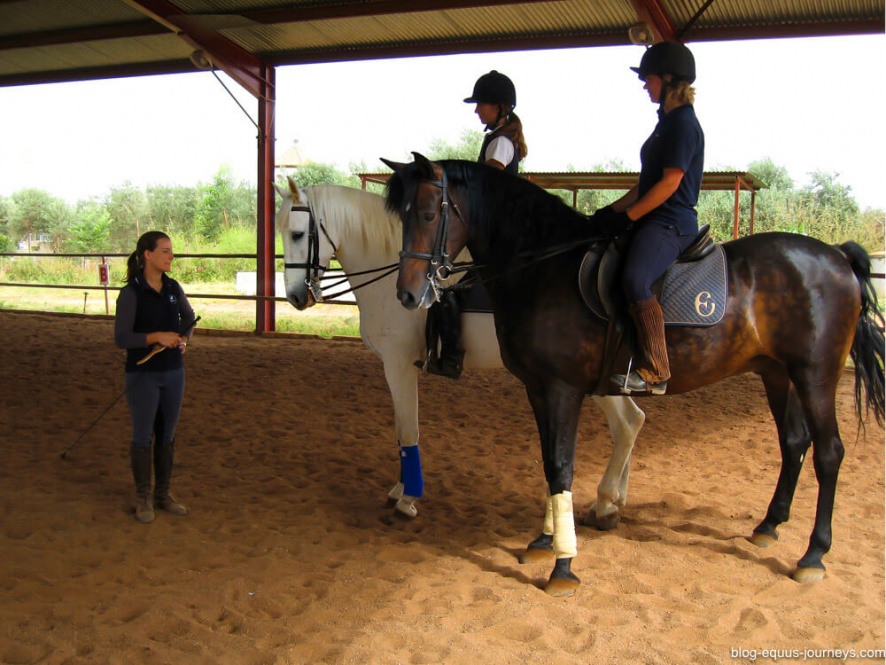 After driving back to Epona for lunch we had another lesson. This afternoon I rode Albeitar and Vivi spent some time telling me not to allow too much right flexion – maybe by Friday I may have it in my brain! Today's lesson built on what we'd done the previous day so more lateral work such as half passes were introduced. Another superb session where you can't fail to learn something or have a light bulb moment. Watching other lessons is encouraged and it really is very helpful in order to progress in training or to get some new ideas you can try at home.

Day 3: Exemplary horses

We woke up this morning to high winds and rain; exactly as the forecast had said!

We were all thinking that the horses were going to be a bit cheeky today, but to our surprise they were exemplary! Despite branches banging on the roof of the arena, flapping tarpaulins on neighbours' fences, the wind howling across the arena which is roofed but has no sides and rain being driven in at one end, the horses were nothing far from perfect.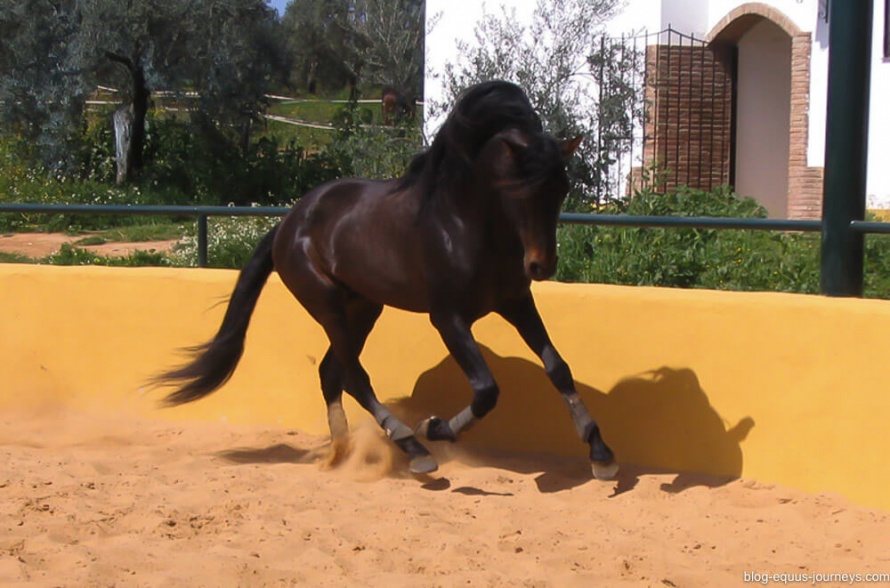 I had Naranjuelo for both my lessons today as Vivi considered the elements would be too much for young Albeitar. Many 'light bulb' moments happened as I concentrated on instructions being shouted above the weather. Vivi picked up on things my trainer back home had picked up too - why can't I realign my brain and take it on board?

Yet more building on movements and exercises from the previous days. Today, because of the weather we did our canter work as a group which included some flying changes. In the end, we all attempted some piaffe. Those horses are saints!

Day 4: Canter work

This morning it was a beautiful Spanish sunny day and Albeitar was my partner for the day. Despite my old brain getting addled, Vivi patiently worked with me through some confusing canter work but we came out at the end having achieved some good work in canter half pass and counter canter while NOT allowing flying changes.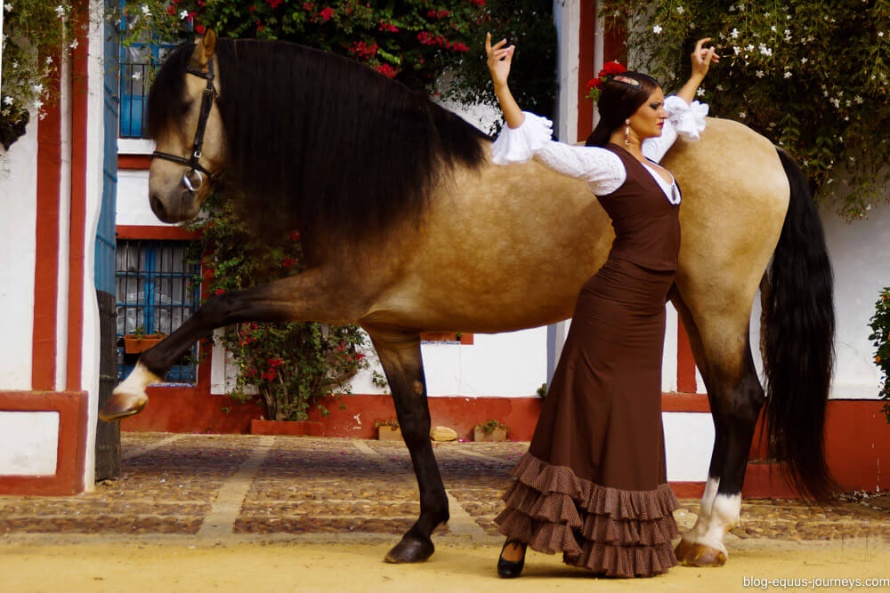 After lunch we were back to the hotel for a rest then in the evening, a trip to Seville was arranged so we could all enjoy a flamenco show and a meal.

Day 5: An individual lesson with Rafael Soto

Today we started our individual lessons with Rafael Soto. I was volunteered to go first so at 8.15am I was in the saddle on top of Albeitar. Rafael is a sympathetic and brilliant teacher and also knows most of the horses at Epona. My lesson on Albeitar was really good and I finally got him between hand and leg. This resulted in some very nice cadence and a super ride. We even managed some baby piaffe at the end.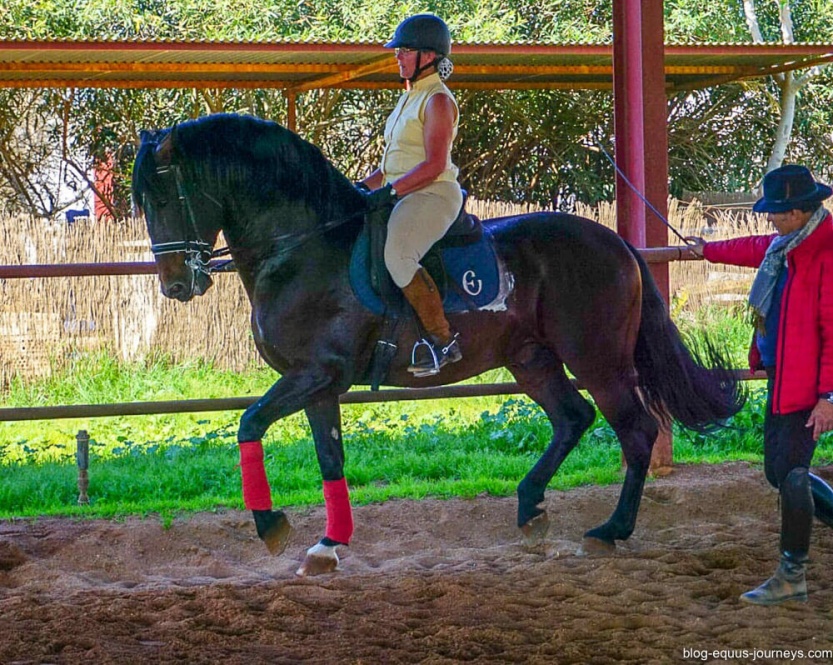 My second session with Rafael on Naranjuelo was again superb with tempi changes, full and half pirouettes and passage. I really felt that I had achieved a lot.

It is so useful to watch the others riding too and to hear Rafael's comments on achieving different movements. He quickly grasps the rider's level and with that, he starts building-up the horse and rider partnership.

I also had my second lunge lesson today which concentrated more on my upper body control and core. Very hard work but the benefits are so obvious.

Day 6: Improving my riding, posture and relationship with horses

On this second day of individual lessons with Rafael, I was happy to be riding Albeitar once again. This time I was able to quickly pick up where we'd left off yesterday. A very good, positive ride which left me smiling and with a huge sense of achievement in improving my riding, posture and in building up a rapport with Albeitar.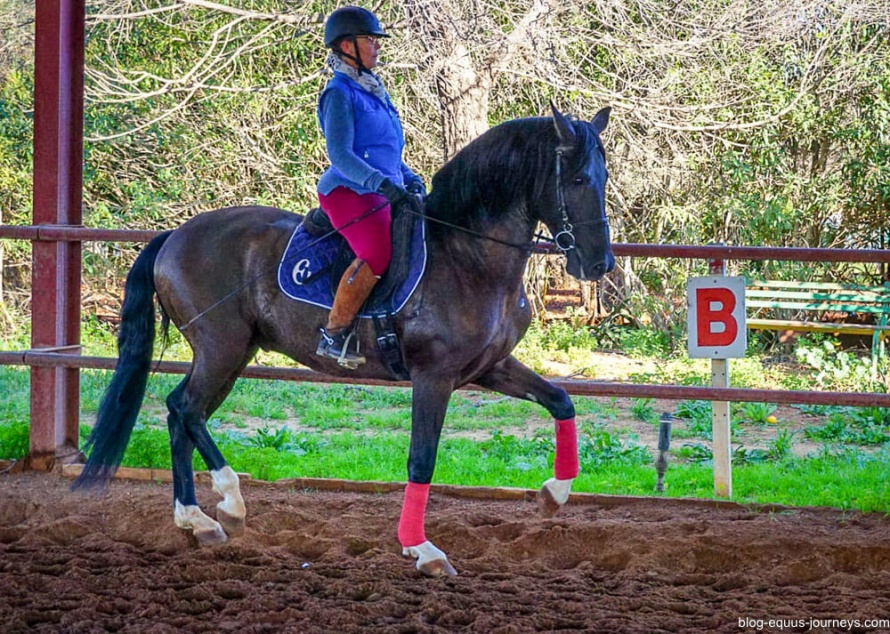 My second session on Naranjuelo was awesome. The 45 minutes passed by so fast and they seemed to include every movement I know. A couple of brilliant canter pirouettes – well that's what they felt like to me! Tempi changes, medium trot and canter, piaffe and the highlight was the final passage down the centre line. Fantastico.

Day 7: Final thoughts

All in all, the week is very informative and helpful if you are a rider looking to improve your overall riding skills. It is a great exercise to understand the "Hows" and "Whys" while at the same time addressing the issues. I enjoyed my time with likeminded people and Vivi's excellent training of the horses and riders is a perfect preparation before being handed to Rafael who polishes the edges off.

For more information:

You might also enjoy reading: