Louise's visit to Zapata Ranch
"My first but not last ranch vacation!" - In April 2021, Equus team member Louise decided to treat her family to a ranch holiday. They enjoyed a lovely stay at
Zapata Ranch, in Colorado
. Louise tells us more about their riding adventures on the blog.
A family ranch vacation in Colorado

As any horse enthusiast and Mom will know, it's a dream to be able to ride on vacation with your family! My boys, James aged 12 and Adam aged 10 are both very sporty and have ridden sporadically since they were little. Not because they wanted to, but because I thought it would be good for them. Then a couple of years ago I was on a
riding safari in Zimbabwe
(
read my ride report here!
) when I decided that really I didn't want to do this without them. They would have to learn to ride in order to experience the thrill of being off the beaten path on a horse.
So for the last few months we hired a couple of ponies and have been going trail riding once a week. James almost immediately relished the adventure of being out on a horse. The more mishaps we had the more he enjoyed it. Adam on the other hand became fearful when he felt out of control and I worried I had over faced him. So I ended up going twice a week. Once with James for some faster rides and then a slower ride with Adam; where he got to set the pace.

So what would be my first choice for a riding vacation that would suit everyone, including my husband who would have preferred to spend all his spare time on a mountain bike? Zapata Ranch seemed the perfect fit. We flew into Colorado Springs where we spent a couple of nights, and rented bikes for a day to explore local trails. It was too early in the season to get to the top of Pikes Peak but we were happy to experience some of the lower trails.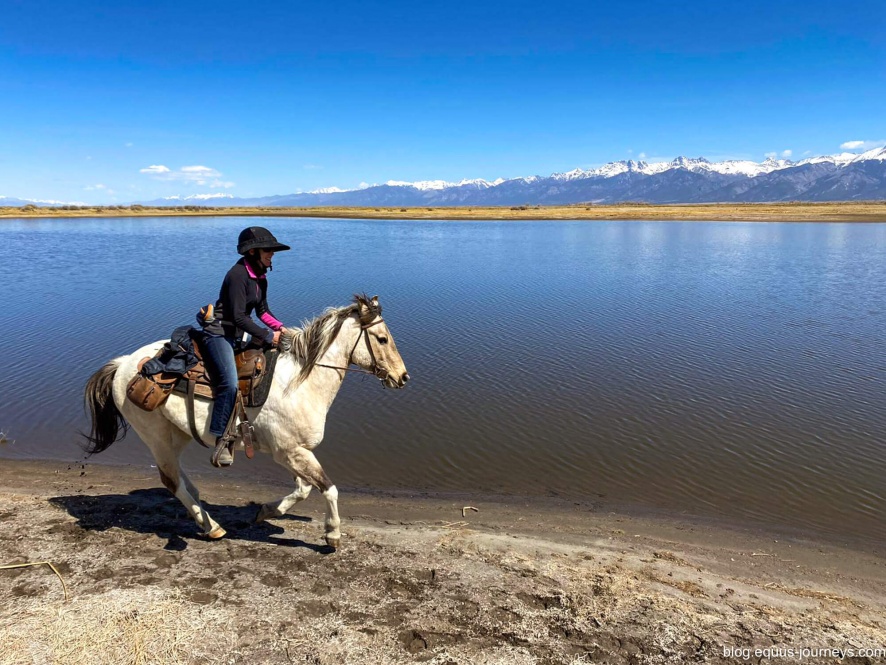 Ranch holiday at Zapata Ranch

Zapata Ranch is an easy two and a half hour drive from Colorado Springs (or a four hour drive from Denver) and offers tailor made riding vacations for families and individuals. They called me the week before to ask what our expectations where for this vacation and on arrival we had a custom made itinerary waiting for us. Skye the programs manager had matched us perfectly to our horses.

Our first ride of the week was in the Great Sand Dunes National Park, a short trailer ride for the horses from the ranch. We got to try the horses in the corral before they were loaded into the trailer. So far so good. The western saddles are much bulkier than our usual English saddles but comfy and the horses seemed well mannered. I was somewhat nervous as the boys had never ridden more than 40 minutes at a time and we were headed out on a possibly 6-hour trail ride! Luckily Zapata's wrangler Lauren had things under control. A lovely ride through juniper trees and up and down some soft sandy banks soon brought smiles to everyone's faces. Lauren had taken on board all my concerns and was brilliant at going off ahead of our little group for some canters with James while Adam could hang back with the rest of us at a more sedate speed. Everyone was happy!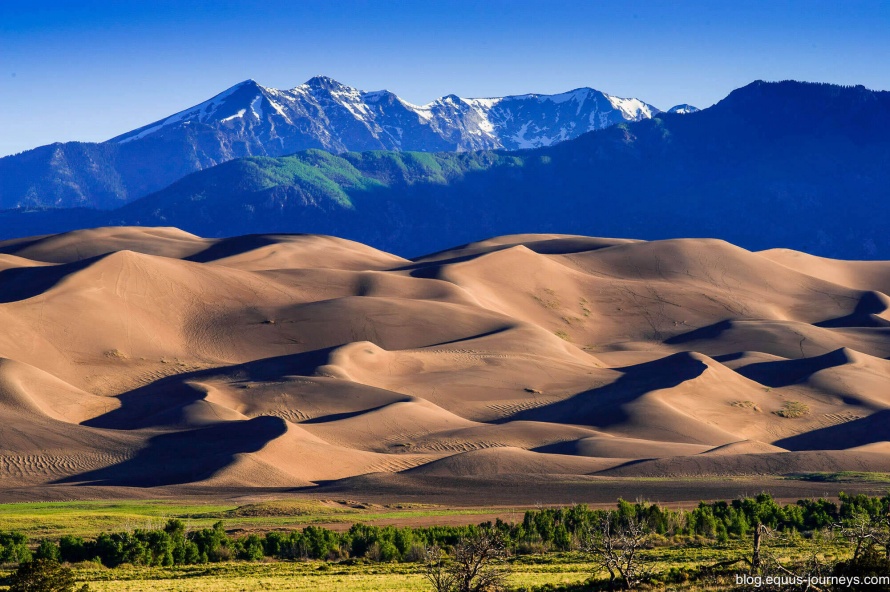 The scenery was so varied that the 6 hours passed in a flash and especially as we got to enjoy a delicious packed lunch while the horses were tied up at a picnic spot. Did I mention the food yet?! Chase the chef is very adept at making ranch food into something a little special. Smoked salmon with dill, capers and a lemon vinaigrette on arugula for lunch on a picnic? Delicious! The boys had pulled pork sandwiches or brisket sandwiches with the option of peanut butter banana sandwiches for those who preferred.

A faster canter in the riverbed at the foot of one of the magnificent sand dunes had James delighted with his pony CB aka Curly Beef. Adam was equally happy with Murphy who was really patient and did what he was told. Both ponies were in their late twenties more or less, real school-masters. Resident intern Abby then took us all for a walk in the afternoon to show us the different eco-types and some of the trees and grasses up close. Much more interesting than anything the boys had learned over the last year of virtual learning from home!

Learning about conservation and ranching practices

The rest of the week followed a similar pattern, coffee at 7.30am followed by a delicious breakfast out on the porch with a view of the dunes and the Sangre de Cristo Mountains. Then we would head out with our wrangler Lauren for the morning ride along with our packed lunch. This included riding on the 50,000 acre Medano preserve where the ranches' 2000 or so herd of bison roam free. This is all part of the Nature Conservancy's research into how bison are less destructive on the prairielands than cattle. The Nature Conservancy actually owns Zapata ranch and the Medano preserve, while Ranchlands manages the farm/preserve for them. This includes having the guest ranch Zapata with cattle that are raised specifically with this ecosystem in mind and managed appropriately. And the Medano reserve with the bison nearby. The Bison are sold of annually for meat and or breeding and a certain number are given to Native Americans so they can start their own bison projects.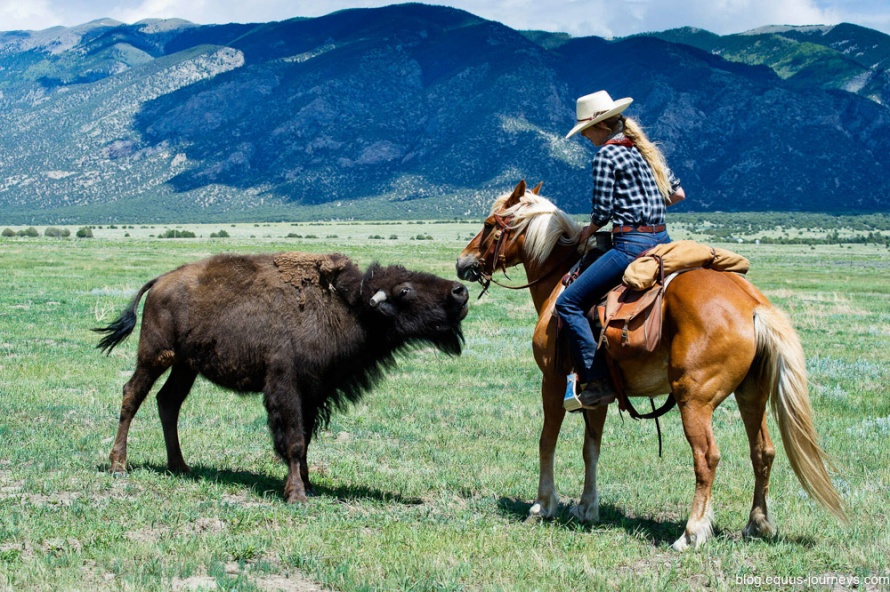 Approaching the bison on horseback reminded me of approaching wildlife in southern Africa; you need to do so gradually and very respectfully. Any sign that the bison is unhappy and you retreat. The Medano preserve is also home to the 100-year-old Teofilo Trujillo home, which has been restored and is a national historic landmark. We had our picnic here one day and appreciated how hard it must have been for the original settlers to live here, as it's a very desolate windy spot without many trees in the middle of the plains. Speaking of wind, it does get windy fairly frequently as the locals like to remind you; this is why the sand dunes are here in the first place!!!! The prevailing winds come up against two mountain passes and deposit the sand from the San Luis valley into the great sand dunes National park.

Great for non-riding activities too!

One afternoon we hiked up Zapata falls which was still frozen, and when we continued up the trail past the falls we got stunning views of the valley and dunes. Another afternoon we tried sand boarding, also an epic and very sandy/windy experience. It is much harder than you would think to climb up the almost 700 feet tall dunes. Trying to balance on the boards on the way down is not easy! We found sand in our pockets/eyes/noses and everywhere for days afterwards. We also got to spend an afternoon rock climbing in nearby Buena Vista and another afternoon mountain biking in Salida. Both were great experiences and a good way to break up the week and have some variety for the boys. The last afternoon of our stay the boys and I got to take part in some leatherwork too. This was really fun and we got to braid leather keyrings and stamped a bunch of leather with every single person in our family's name!

The ranch has a really cute store where you can buy custom made hats, western shirts, neckties and other locally made/sourced goods. My favorite part of the week however was seeing how both boys gained in confidence around the horses. They wanted to help put on their ponies's bridles and take them off at the end of the day. They actually almost came to blows when discussing which was the better horse, CB or Murphy! Murphy initially was a little sticky going through water but Adam managed on his last couple of rides to get him through with confidence. He was so proud of his horse and this made my week. He also got much more confident with some trots and when Murphy jumped a little pipe in the road and broke into a canter he went with it and maybe even enjoyed it.

Colorado itself seems to be a place we would all love to come back to, for
outdoor loving families this is a wonderful state to explore
. We already have plans to come back and will definitely include
Zapata ranch
in our next visit.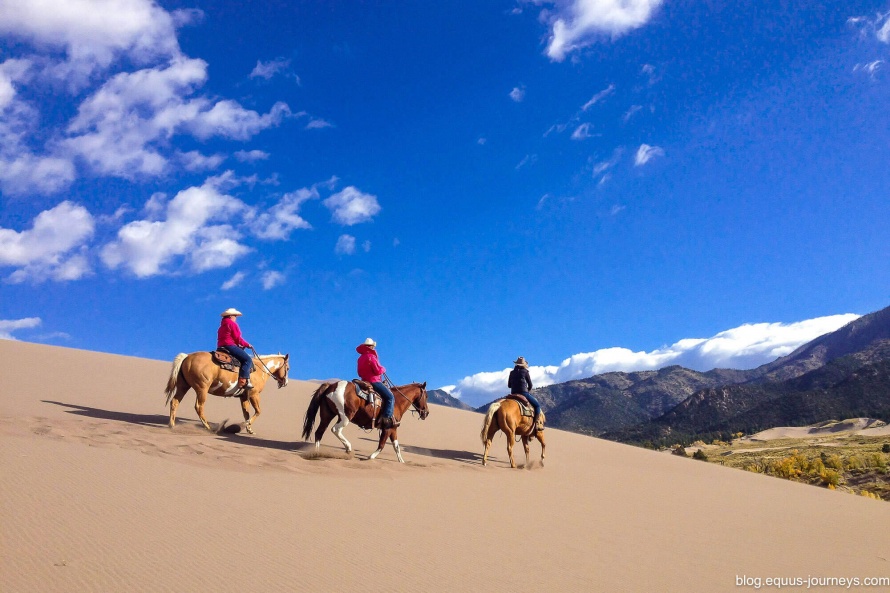 More information

You might also enjoy reading: